You've finally realized that you shouldn't suffer while wearing a men's dress shirt and you're totally over ironing
That's where your friends here at MAN'edged Magazine come into play – because you deserve the best and that includes the best wrinkle-free dress shirts that'll have you looking and feeling good. The best wrinkle-free dress shirts are surprisingly hard to come by. When doing your initial search you'll come up against some not-so-comfortable versions.
In a hurry? Here's our top best wrinkle-free dress shirt recommendation
1 – Men's Wrinkle-free Dress Shirts by Buttercloth ($120)
Want to know who makes the best wrinkle-free shirt? Meet Buttercloth. We're huge fans of theirs. We'll get into the details about what makes them the best below. We're confident that if you wear one of their shirts you'll never wear anything else.
What Are The Best Wrinkle Free Dress Shirts for Men?
Today, we're helping you discover the best wrinkle-free dress shirts for men by highlighting several brands.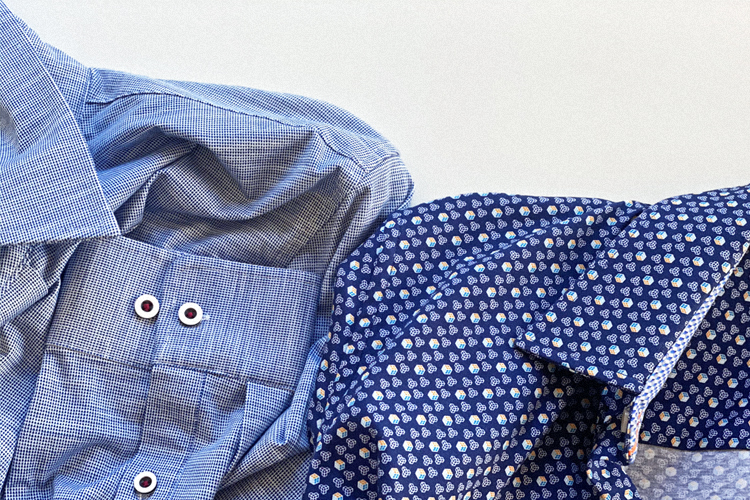 Wrinkle-Free Shirts: what are they?
During the 1950's a legacy men's shirting company first introduced wrinkle-free shirts to consumers. It was more of a wash and go shirt that you basically toss into the dryer.
Sounds pretty cool right? Well, many times this type of shirt never worked. At least in our research.
Every time we tossed the shirt into the dryer it came out with some wrinkles, so we had to still iron the damn thing.
How to Iron a Dress Shirt
This leads us to our next point. We're not saying that we wouldn't ever iron again, but it is super helpful to not have to depend on it in order to look good.
In fact, we think every gent should know exactly how to iron a shirt, so if you do indeed want to learn how to iron a shirt in two minutes, you can check out this video here that'll help you.
But, if you're wanting to avoid his annoying chore like us to maximize your time then keep reading.
Do Wrinkle Free Dress Shirts Work
As we mentioned before, they traditionally kind of work, but there's never been a shirt that just magically looked wrinkled free.
That is until now.
Things to Consider When Buying the Best Men's Wrinkle-free Dress Shirts
1: Quality
By now, you've probably heard the saying "you get what you pay for".  This is extremely true when it comes to buying a solid dress shirt.
Now, add into the mix that you're wanting a wrinkle-free dress shirt and you're going to want to make sure you buy something of quality.
Next, let's talk about how quality and price are intertwined.
2: Price
For starters, price is a huge indicator of whether or not you're going to buy something of quality. We totally understand that getting a great price is important especially given today's economic situation.
But, usually, when a men's dress shirt is priced under $20, you're not going to get the best quality. If a shirt is constructed in a way that will allow you to move freely, is made of quality fabric, and has minor details that enhance how you feel/look well those things cost.
Every seam that is sewn in a men's dress shirt costs.
All of this being said, we don't think you need to spend over $500 for a single men's shirt either.
You need to find one that fits well, which takes us to our next thing to look for.
3: Silhouette/Fit
Now, we must consider the silhouette of the shirt. For instance, is the dress shirt a regular fit, athletic fit, or slim fit?
Remember our #1 pick above? One reason we totally dig their products is because of their fits available.
Why do we love this men's shirt?
For starters, if you're looking for a solid men's wrinkle-free dress shirt, this is it. Stop your search now because you've just found your new favorite best friend.
Non-iron Slim Fit Dress Shirts
Looking for non-iron slim fit dress shirts? You're in luck because this brand offers several fit sizes
Non-iron Athetlic Fit Dress Shirts
Need a wrinkle-free shirt for more of an athletic fit? You're in luck too because they're regular fit offers a great shape enhancing style. Read more about the athletic fit breakdown in our recent article here.
Wrinkle Free Short-sleeve Shirts
Do you rather a short-sleeve wrinkle-free shirt? Yeah, they got those too.
4: Occasion
Next up, we must consider what the purpose and occasion are for the dress shirt.
Are you looking for something casual to wear during brunch, making epic cocktails when your friends come over, or something crisp for work?
For example, if you're looking for a stellar work from home men's dress shirt that feels super comfortable, again we'd have to point you to our #1 pick above.
What about a dress shirt for work?
Yes, our #1 pick also offers more traditional colorways like white, black and blue.
Here's why we can't stay enough good things about them.
5: Flexibility
One of the most important factors when building this list is a shirt's flexibility. We don't mean in terms of style, but literal flexibility.
We cannot stand wrinkle-free dress shirts that feel like cardboard. There's no faster way to kill our vibe than by wearing an uncomfortable shirt.
Our #1 men's shirt pick offers a 6-way stretch that'll have you feel comfortable and looking sharp.
15 Best Men's Wrinkle-free Dress Shirts
Now that you've it this far, we're finally ready for you to meet the best wrinkle-free dress shirts that'll have your wardrobe looking like a million buck.
Here's our top pick. The head honcho. The shirt that we call the best fitting shirt on earth.
#1 – The Buttercloth Men's Dress Shirt
If you haven't noticed, we've been ranting and raving about Buttercloth Men's Shirt for a while now. They have completely stolen our hearts and taken up space in our closets. Buttercloth has quickly grown in popularity due to being on ABC's Shark Tank. This men's shirt checks all of the boxes from the above list of things to consider making it our number one choice.
In fact, we love them so much that we've even put together this unboxing video so that you can be excited about ordering one for yourself.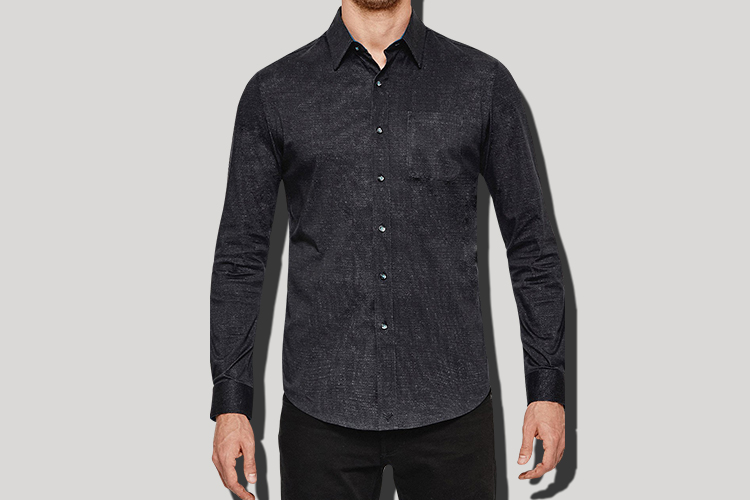 Unboxing of Buttercloth Shirts
How to Purchase a Buttercloth Shirt
Click the image below to get your Buttercloth gear and received 15% off for being a new customer.

Of course, if you're like, we might want to just peruse the rest of this article to see what other options are on the market. We totally get it.
Here are the other 14 wrinkle-free shirts for guys we've found:
#2 – The Leeward Dress Shirt by Mizzen + Main ($125)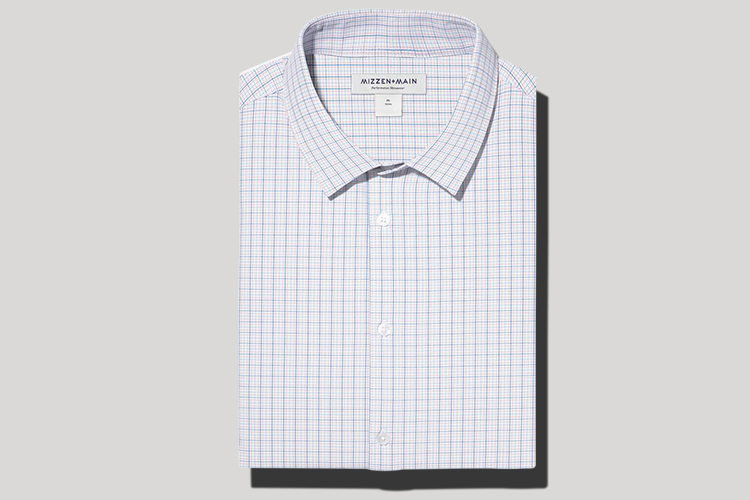 This men's shirt offers some pretty solid design details. Our top two are that the fabric of this shirt is great to wear during those really hot days when you don't want to sweat through your work clothes. The other is that the fabric offers a blend of 85% poly and 15% spandex, so the shirt should have some flexibility in terms of movement. Check it out here.
#3 – The Daily Grind Wrinkle Free Dress Shirt ($98)
This daily grind dress shirt offers what we'd call a more elevated dress shirt option to wearers. This particular style has a pocket detail and is made of 100% cotton, but feels like silk. It offers a great fit although the shirt does tend to run a bit tighter, so adjust ordering properly. Check it out here.
#4 – The Standard Fit Dress Shirt from Banana Republic ($80)
We've been totally feeling the designs coming out of Banana Republic as of late. This shirt doesn't let us down. It's made of 100% cotton, which means the fabric is breathable. The shirt offers a clean looking spread collar and french placket for a clean look. Check it out here.
#5 – The Blue Skull Contrast Dress Shirt by Twillory ($99)
Twillory shirts are another shirt option for men. Friends like blogger Adam Gonon have been a longtime favorite, so of course, it has to be on our list. This particular shirt is a high caliber dress shirt. It feels good, fits well, and doesn't feel like it's going to rip. Check it out here.
#6 – The Gingham Dress Shirt by Nordstrom ($40)

This private label Nordstrom men's dress shirt is made of stretch cotton. Its fabric content is 98% cotton and 2% spandex allowing you to be able to move freely. We totally dig the button-down collar and two-button wrist buttons. It looks like even private label brands are getting in on the wrinkle-free shirt game. Check this shirt out here.
#7 – The Supima Large Lavender Gingham Shirt by Proper Cloth ($105)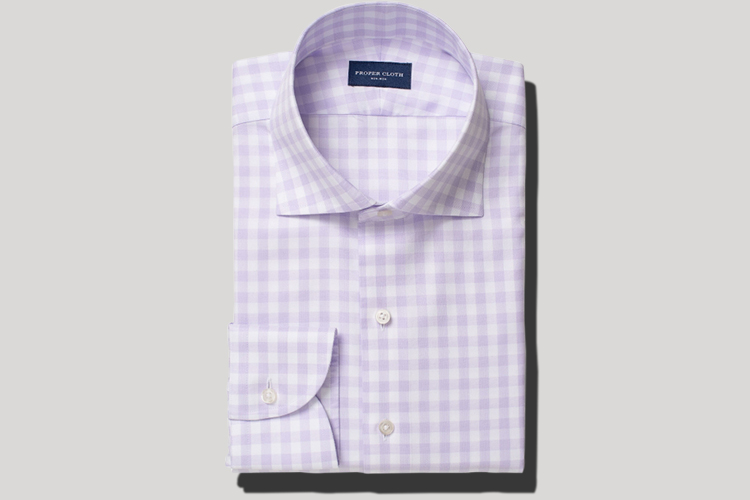 This shirt is yet another non-iron dress shirt option. It's rather straight forward, but we totally enjoy the lavender gingham. Check it out here.
#8 – Blue Pure Cott0n Denim Shirt ($98)
For those days that you want to be a bit more casual, having a denim shirt in the rotation can help. This Orvis dress shirt offers a buttoned-down collar, button pocket, and front button placket. Check it out here.
#9 – The Charles Tyrwhitt Classic Collar White Dress Shirt ($120)

#10 – The Calvin Kelin Plaid Dress Shirt from the Men's Wearhouse ($45)

#11 – The Spread Collar Dress Shirt by Buttoned Down ($53)

#12 – The Castello Shirt by Untuck It ($99)

#13 – The White Twill Men's Dress Shirt by TM Lewin ($79)

#14 – The Commuter Shirt by Rhone ($118)

#15 – The Traditional Land's End Oxford Shirt ($55)

Conclusion
To bring this to the end, we want to leave you with some final thoughts.
After considering our five points above (quality, price, fit, occasion, and flexibility) there's truly only one shirt brand that we would recommend. Hands down it's Butter Cloth.
With an average price of $120, we're confident that you will immediately fall in love with this brand. Whether you need a more formal look or want to wear something a bit bolder, they have your back. They offer plenty of fits so you can find your perfect size. We've been wearing their shirts for the last couple of years and have not looked back.
Plus, with their 30-day money-back guarantee and 15% off for first-time customers, there's little risk involved.
Check them out by clicking the link below and let us know how you rock your new favorite wrinkle-free dress shirt.
-The Team at MAN'edged Magazine