Here's what you need to know about men's athletic fit dress shirts
Unsure of which men's dress shirts to buy? Or maybe you're just looking for the perfect dress shirt to wear to dinner, but are not sure how to shop for one online. In this article, we'll break down the basics of men's athletic fit dress shirts, compare it against a slim fit dress shirt, plus give you a few other tidbits to help your style.
Searching for a solid men's dress shirt can be hard, but we've found one that'll make you wish you read this article sooner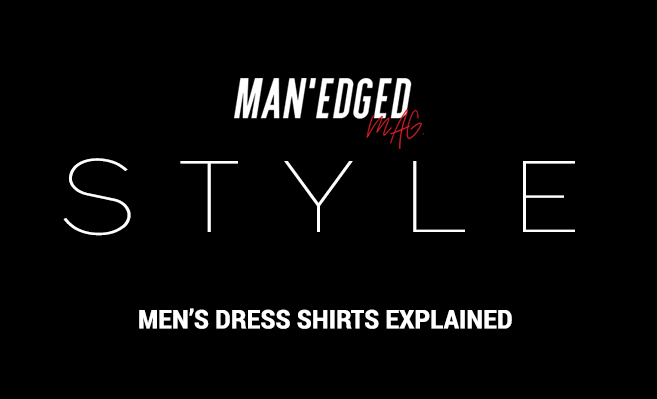 There are so many men's dress shirts available today. It's a challenge to find one that fits great. Sometimes it may even seem like every dress shirt is made only for a skinny guy or for anyone with no curves. We're not talking muscle fit shirts. That's something else entirely, which we'll cover in a second.
We are talking about solid, great fitting, athletic fit dress shirts that are made to last.
Men's Dress Shirts: Common Questions
Before we get into the best men's dress shirt. Let's talk about the specific dress shirt we have in mind: the athletic fit dress shirt. There's a chance you've been wondering about some of these questions too:
What Makes a Men's Athletic Fit Dress Shirt Different from a Men's Muscle Fit Shirt
?
First, we've got to differentiate between two men's dress shirt styles that many guys get confused about.
Men's Muscle Fit Shirts
A muscle fit shirt is for guys with muscles. We're talking like no body fat. This shirt is really only great for pro weightlifters. We're talking about the dudes who stand and pose in the gym mirrors. Those that compete, etc.
If you literally have traps bigger than your head, this shirt is going to be your best friend. This men's shirt style is usually tailored, but with some extra room for the mass of the pecs, shoulders, and of course those sexy biceps. Typically, this style of dress shirt tapers down at the waist.
Now, we've tried these out and to the everyday run of the mill gent they might do the trick. The issue we have is that they feel just so freaking uncomfortable. There's nothing worse than feeling confined by a men's dress shirt.

What's the difference between Men's Athletic Dress Shirts vs Slim Fit Dress Shirts vs Muscle Fit Shirts?
Next, is the dress shirt that's mainly for slim/skinny guys.  
The Slim Fit Dress Shirt Explained
This shirt is great if you have a slim waist and not many curves around the body. If you have an athletic build or even a remotely v-shaped body, you're going to find that this shirt is too small in the upper body.
Don't even get us started on the whole "super slim fits" that exist.
The Athletic Fit Dress Shirts Explained
Now, for the everyday dude who is into fitness, hits the gym and has some minimal to average muscle on their body, this shirt is going to be your best friend.
This men's dress shirt is the go-to for anyone that considers themselves an athlete. 
Do I have to be a pro-athlete to wear an athletic men's shirt?
No, you don't have to be an Olympic athlete or anything of that nature. If you train, workout, and consider yourself even slightly swull, this shirt style is about to be your best friend.
We like to think of this shirt style as the in-between of a men's muscle fit and slim fit. 
How Do I Know If an Athletic Fitting Shirt is Right For Me?
What to Look for
When choosing the best fitting men's athletic shirt, there are a few things you need to look for. Before we highlight what brand we truly recommend and having been testing for well over a year, here are the key things that have made it a true winner above the rest.
Room in the Chest Pec Area
As more and more guys hit the gym or work out at home, the most common complaint we've read about is that their dress shirts feel too snug in the chest. Bro, free your chest man.
You want to find a shirt that allows you to show off your gains and wraps around your chest without it pulling. 
Our favorite men's athletic dress shirt does this.
Length of the Shirt
One element of a dress shirt that you want to have is the ability to tuck or wear it untucked.
That's why it's important to ensure you have an athletic dress shirt that is long enough to give you both options. It's also important to look for a shirt that is slightly tapered so that you can tuck without the shirt blousing.
Fabric Stretch
Next, most traditional men's woven shirts do not offer much flexibility in the fabric. This had literally made us want to rip off our collared shirts one hour after wearing them. They feel uncomfortable and like you can't breathe. Let alone reach for a pen without feeling confined.
The favorite athletic dress shirt we're about to reveal offers a patented 6-way stretch to allow you to move around freely.
Fabric Touch
Now, another critical note to consider when shopping for your men's shirt is how the fabric feels.
Again, any fabric that feels uncomfortable as you try it on is literally going to drive you insane as you wear the shirt during the day.
That's why our favorite shirt that we reveal below literally feels like butter. It's so smooth and paired with the 6-way stretch, it's like wearing your favorite t-shirt yet looks like a sophisticated casual dress shirt.  
Breathability
As an athletic gent and with all that hunky muscle chilling on your body, you probably get warm quick right?
If so, you're going to jump for joy because our favorite athletic men's dress shirt offers a fabric technology that keeps you cool in the Summer and Warm in the winter. 
Here's The Ultimate Men's Athletic Dress Shirt
You've might've heard of them on shows like Shark Tank or if you happen to follow Robert Herjavec on Instagram, but if you haven't here you go.
Meet the Buttercloth Men's Dress Shirt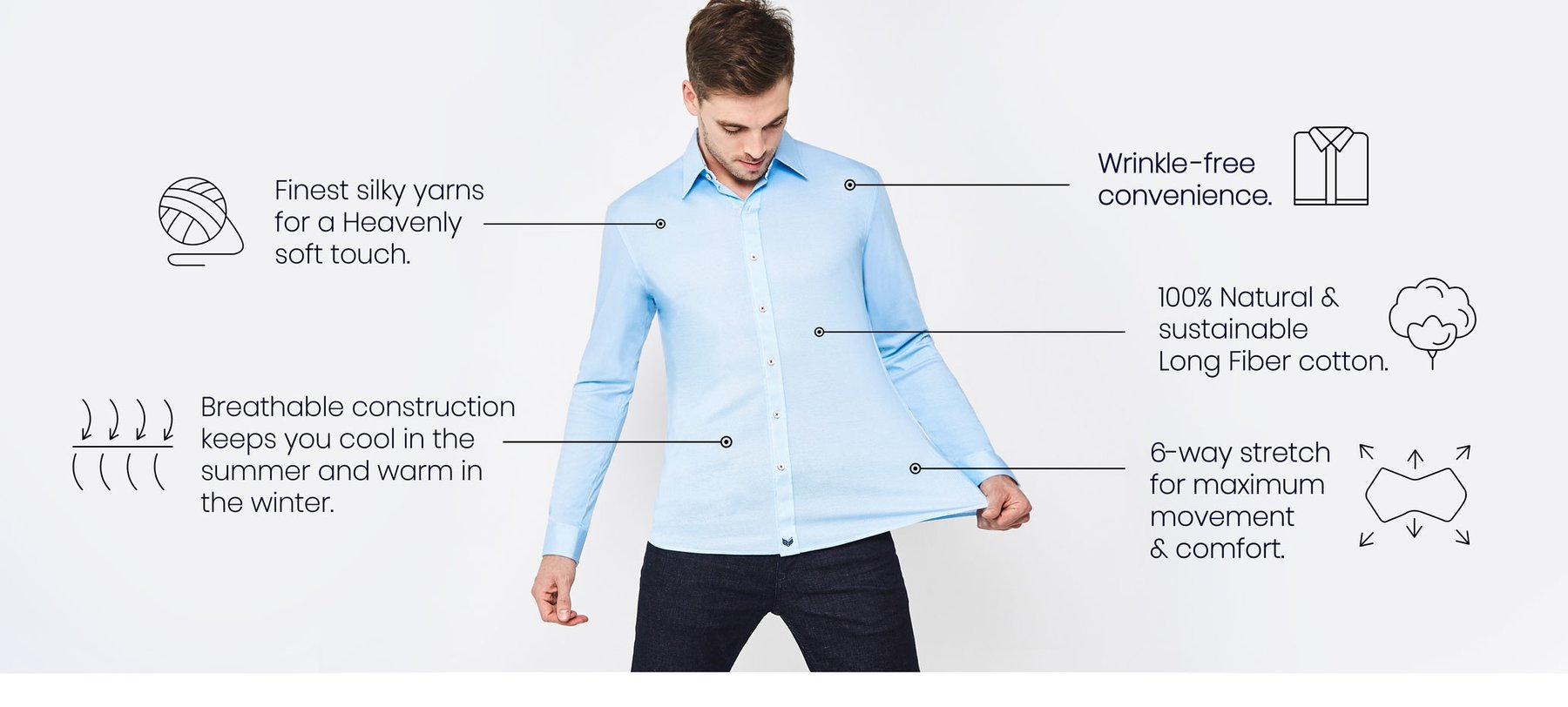 We first discovered this brand about two years ago or so and we've never put another dress shirt on again.
In fact, we had stopped wearing dress shirts all together because they just didn't fit properly and were not comfortable.
Why do we love Buttercloth shirts?
In short- they got us back into a dress shirt again. 
A man and his dress shirt have to work in the symphony. It has to be comfortable. It has to be breathable and it has to fit. 
That's exactly what every single shirt by Buttercloth does and it makes us feel like a million bucks.
Their dress shirts are perfect for the average athletic build guy and everywhere we go we have everyone pull on the shirt to see its magical 6-way stretch. 
Here are several other reasons why we are telling anyone and everyone about this incredible men's shirt:
Buy risk-free! You have a 60-day return window which means you can enjoy and test the shirt yourself without worry.
Enjoy free shipping – must order within USA and spend $95
If you click the link below, new customers get 15% off!
How to Buy a Buttercloth Shirt
Explore what Buttercloth shirt is best for you by clicking on the image below or clicking the shop now. 
Seriously, you're going to thank us later.