SOHO Karen does it again and this time with a daddy hat
As if 2021 couldn't start off any worse, the infamous phone-theft accuser wore a daddy hat during an interview with Gayle King.
Before we dive into what exactly happened, here's a quick breakdown to help bring you up to speed. You might want to grab a cocktail for this one because it's just way too much.
Who is SOHO Karen?
According to Gothamist.com, SOHO Karen is the younger 22-year-old woman from California who wrongly accused and assaulted an innocent black teenager inside of New York's Arlo Hotel in SOHO. Her real name is Miya Ponsetto.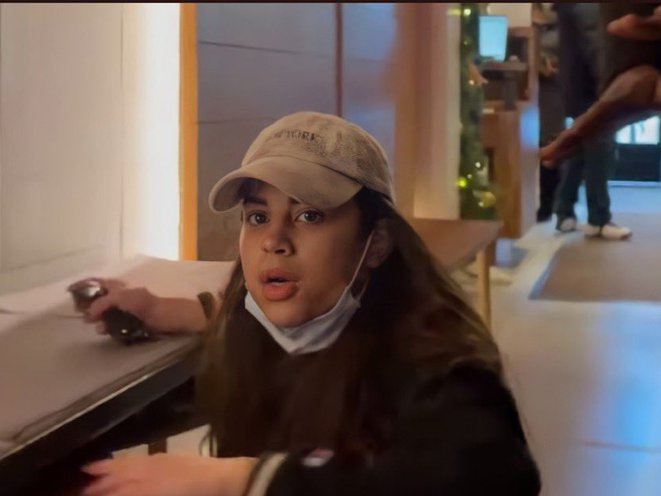 SOHO Karen: What happened?
The day after Christmas, an altercation took place inside the lobby of New York's Arlo Hotel involving Miya Ponsetto (aka SOHO Karen), Jazz musician Keyon Harrold, and his 14-year-old son, Keyon Harrold Jr.
According to Yahoo News, Keyon and Keyon Jr. were headed down from their hotel room to enjoy a lovely brunch. As they walked through the Arlo Hotel Lobby, they encountered Miya Ponsetto.
Ponsetto accused 14-year-old Keyon of stealing her phone. The father pointed out he and his son just got out of an elevator, "Are you kidding me? You feel like there's only one iPhone made in the world?" which can be heard in the video below.
Ponsetto insisted that an Arlo manager help her recover her phone, who then asks Keyon Jr. for the iPhone, prompting Harrold to tell his son not to give it to him. Then the woman tackles the boy in an attempt to get the phone.
Later on, it was reported that an Uber driver returned Ponsetto's lost phone.
Why is this important to know about?
2020 was a year for America to take a long hard look at itself regarding systematic racism.
In situations like the Central Park Karen where a woman called the cops on an innocent black man, black Americans are wrongly being targeted.
It's yet another example of racial profiling that takes place in people's minds.
Watch Soho Karen Wrongfully Accuse 14-year
SoHo Karen. The Uber driver later dropped off her phone at the hotel. pic.twitter.com/ExmlL0oXM9

— First to a hundred wins. BINGO! (@chavo_D_ocho) December 28, 2020
SOHO Karen Interview with Gayle King Wearing a Daddy Hat
Yeah, the phone-theft accuser did something truly remarkable. She not only appeared on a national news broadcast with CBS This Morning's Gayle King wearing a horrendous outfit choice but decided to put her hand to Gayle's face.
Oh, and she decided to wear a daddy hat on national tv too. Yikes.
In this video, she appears to have no true sensitivity to the racial profile that took place, her assault, or respect for anyone including herself.
The 22-year-old woman caught on camera allegedly physically attacking a 14-year-old Black teen and falsely accusing him of stealing her phone was arrested in California.

In an exclusive interview, Miya Ponsetto and her lawyer spoke with @GayleKing hours before she was arrested. pic.twitter.com/ezaGkcWZ8j

— CBS This Morning (@CBSThisMorning) January 8, 2021
'Soho Karen,' suspect in NYC hotel viral iPhone assault case
The above interview took place on January 7th and according to TMZ, the following day Ponsetto was arrested for her cell phone attack in front of her home in California.
Daddy Hat: How not to wear one
We'll make this short.
Look, we love a fun-spirited daddy cap just like the next guy…just don't be a racist asshole and wear one during an important interview.
We hope her actions have consequences.
The Team at MAN'edged Magazine