Prefer to shave dry or wet? No worries, let's discuss the best tools for either!
Electric Razors vs Blades? We've all been there.
Every guy has this battle at some point or another especially when it comes to understanding electric razors vs blades. And let's be real, we're all looking for the best results when it comes to a comfortable shave.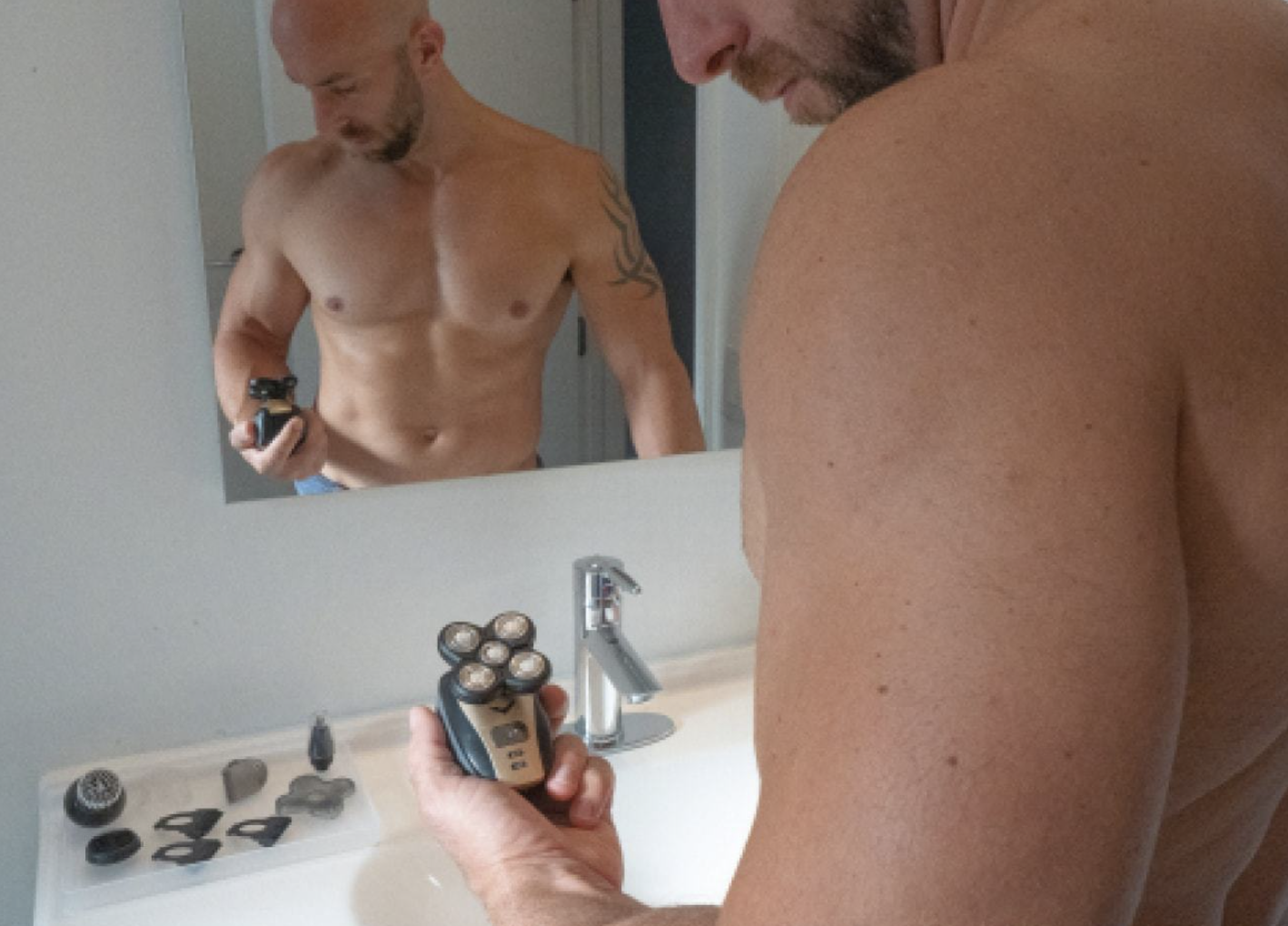 But, how do you decide on your best option for keeping your head cleanly shaven?
Today, we're going to review the main difference between an electric razor and a traditional blade. Plus, give you a great option for a safe, close shave in two minutes or less.
In a hurry? Meet our favorite electric shaver!
Freedom Grooming makes our favorite electric razor on the market, and we're huge fans! With their two-minute timer, flexible rotary blades, and handheld design you can shave anywhere, anytime with ease.
Plus, they offer a 30-day risk-free guarantee so you can ensure it's the right fit for your shaving needs long term.
Electric Razors vs Blades
The key differences
To understand the key differences between electric razors vs blades, we have to speak to the various shaving methods at our disposal. Let's get an understanding of the different types of shaving methods around.
TWO MAIN METHODS
The Wet Shave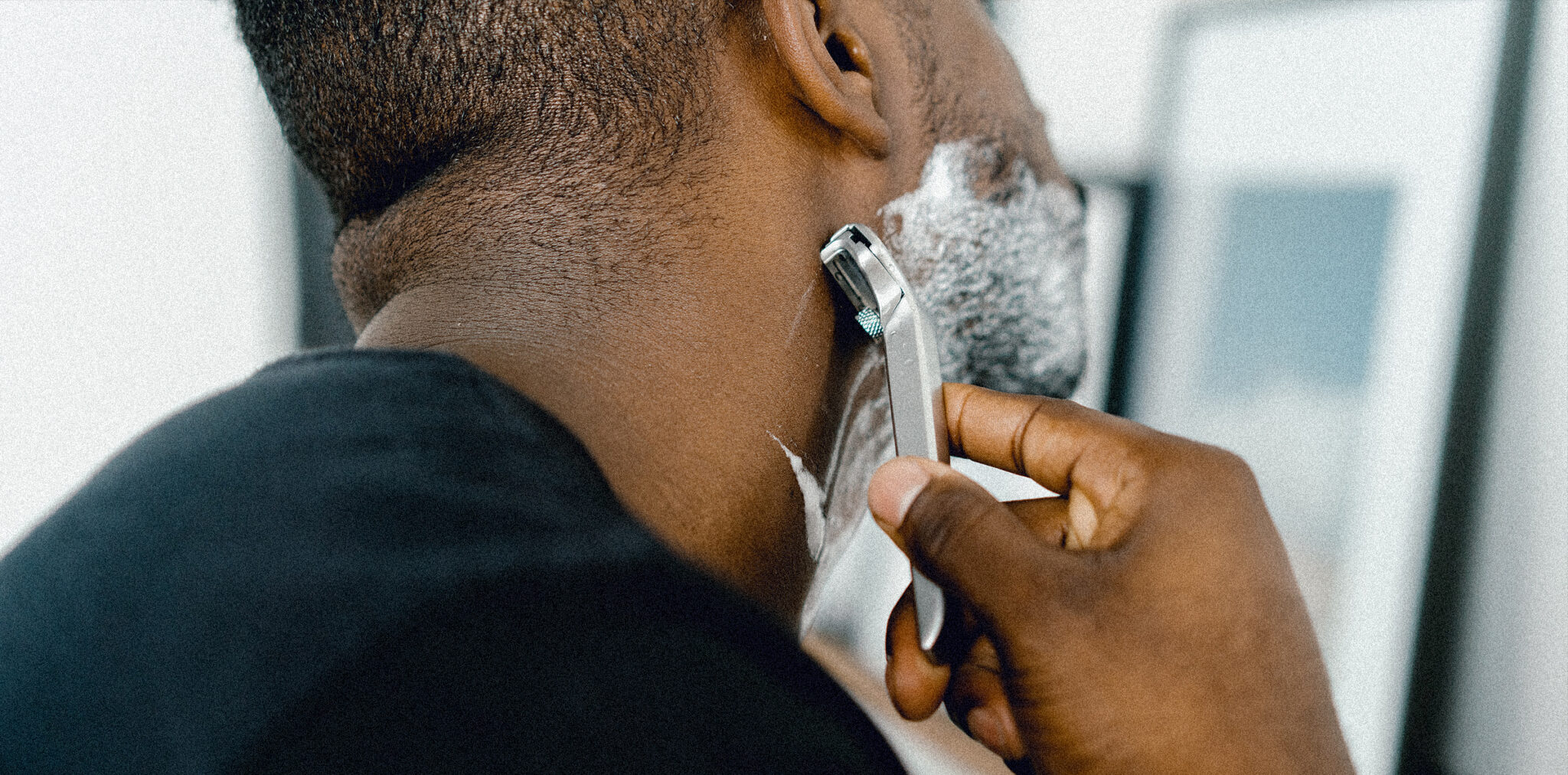 This is where you use hot water and shaving cream to prep and shave with. For those of us getting confused about the different names for wet shave razors here's a quick list of what we mean:
Disposable razors

Razorblades

Cartridge Razors

Single Blades

Safety Razors

Manual Shavers

Manual Razors
These can all be categorized as "traditional shavers," which are better if you prefer a wet shave.
The Dry Shave
In this method, no water is needed and we recommend using an electric shaver!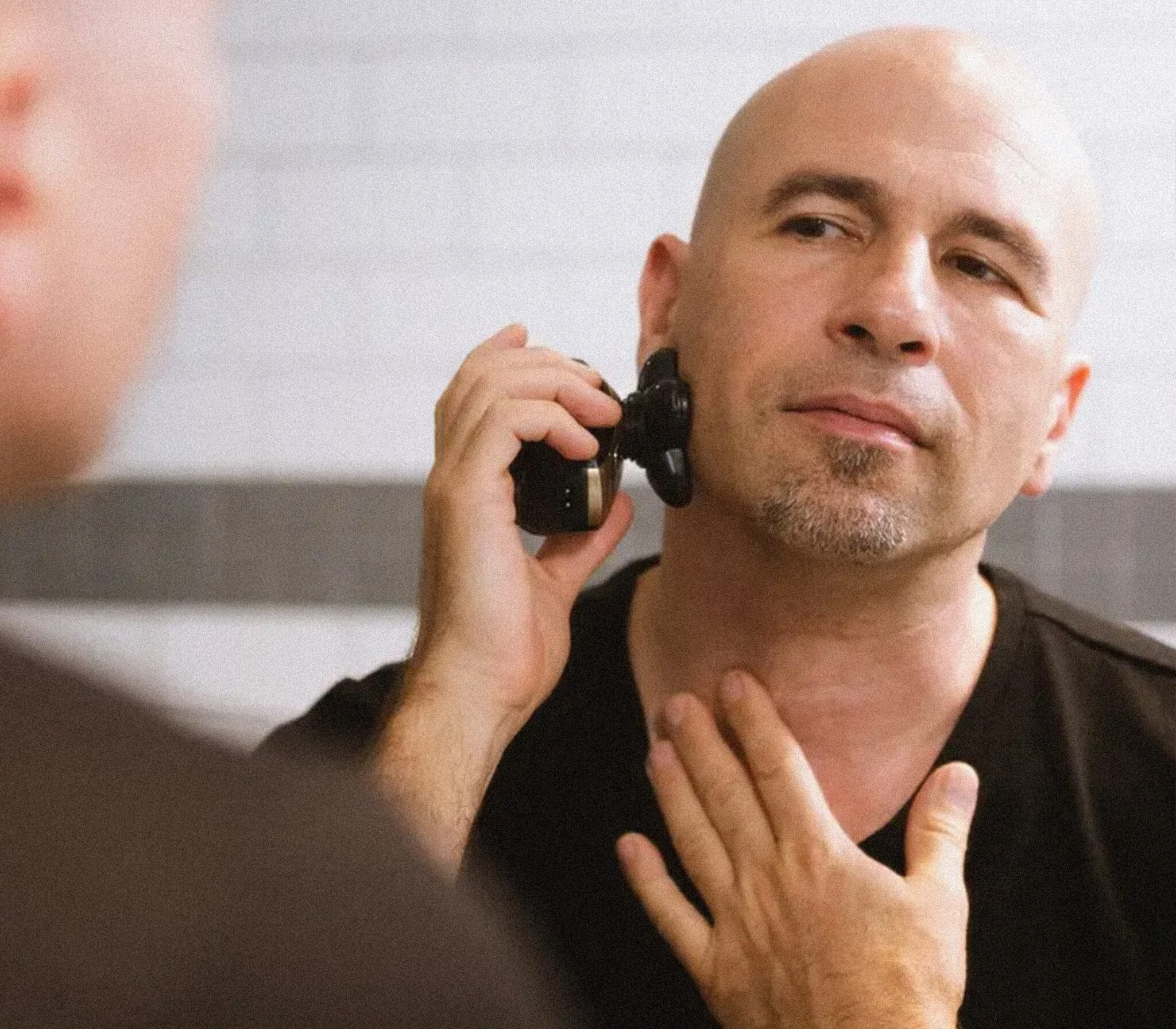 An electric razor (aka rotary shaver) is the perfect tool for dry shaves. They provide safer, closer shaves while saving you money over time. Now, let's dive a little deeper into why we prefer an electric razor!
Why Electric Razors?
Many of us were brought up watching our dads and granddads shaving with cream and a disposable razor during our "early days."
Luckily, we have more options now.
Those traditional razors/blades can be extremely tough on the skin, and technology has improved to allow for safer, skin-sensitive shaves.
That feeling of a sharp blade grazing your skin the first time you trimmed? Pretty nerve-wracking if you ask us.
Traditional razors allow you to cut extremely close to the skin but often lead to a higher chance of cuts if you're not 100% focused on your shave. Rotary, electric razors are designed to specifically combat this and ensure blade safety.
The Scalp's Skin: the difference between scalp care & skincare
According to Yelleskincare.com, "The biggest difference between the skin on your face and scalp skin is hair follicles. Your scalp has more hair follicles and sebaceous glands than the skin on your face and any other parts of the body".
This means that when you shave your head with a traditional razor – you're more likely to experience skin irritation, razor bumps, or ingrown hair. Plus with no protective barrier between the blade and your skin, the chance of razor burn or nicks and cuts goes way up.
Electric Razors
In contrast, electric rotary razors have evolved into extremely accurate shaving devices that feature a protective barrier to keep your skin safe.
Sure, nothing can come as close as an actual blade directly on your skin, but its accuracy in the midst of a crazy morning routine can do more harm than good in practice. Hello, nicks and cuts!
Insert: electric razor.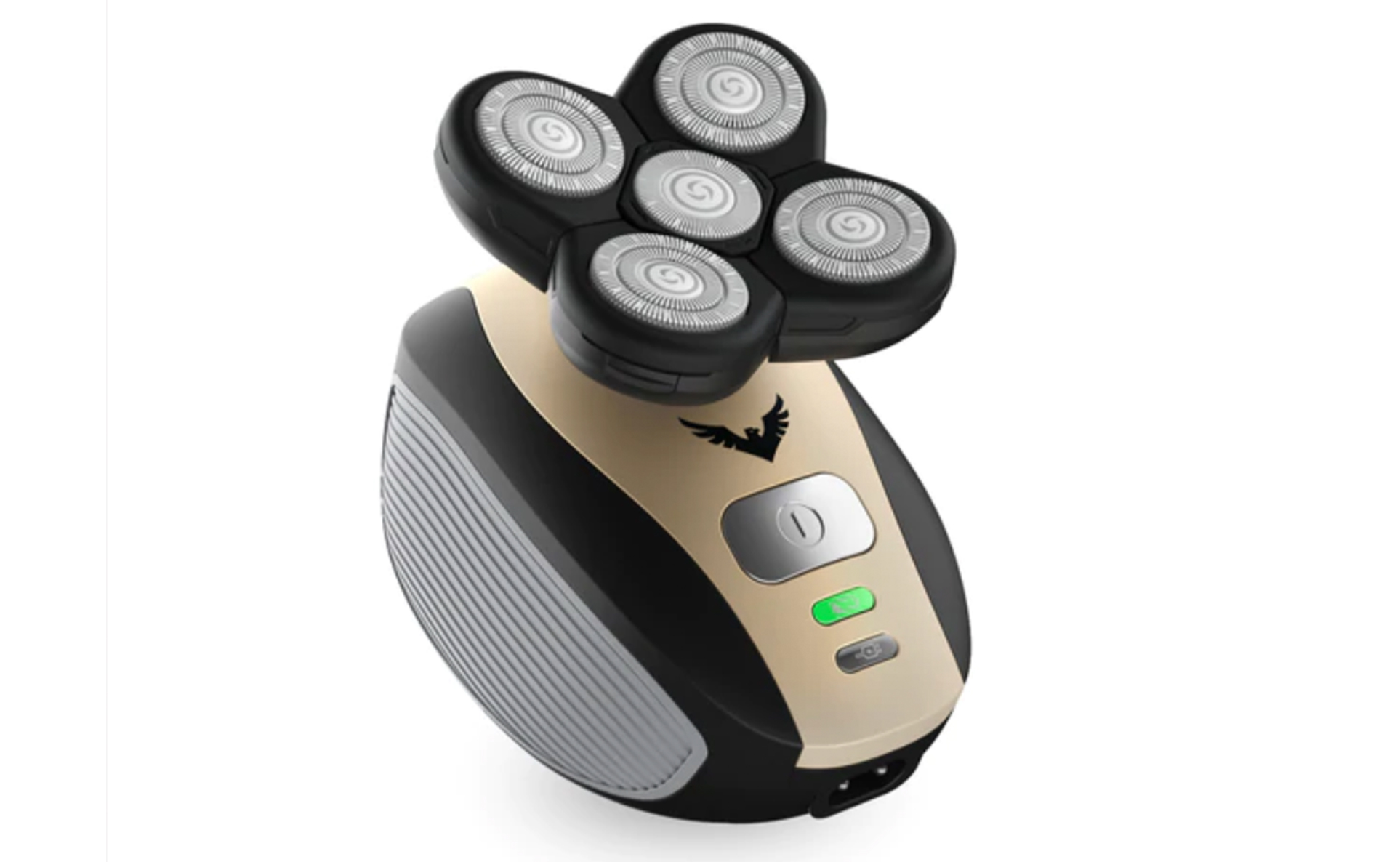 Our friends at Beardoholic.com put it best. "Basically, a good electric razor works as an electrical device that you can use for shaving. It features rotating or oscillating blades that you can find built-in behind the metal guard".
Basically, it helps lift the hair from your skin in order to deliver a skin-safe shave. This also helps reduce the chances of irritation and razor burn, while almost completely removing the chance of nicks and cuts.
But, what is the best electric razor to use?
Best Electric Razor for Head Shaving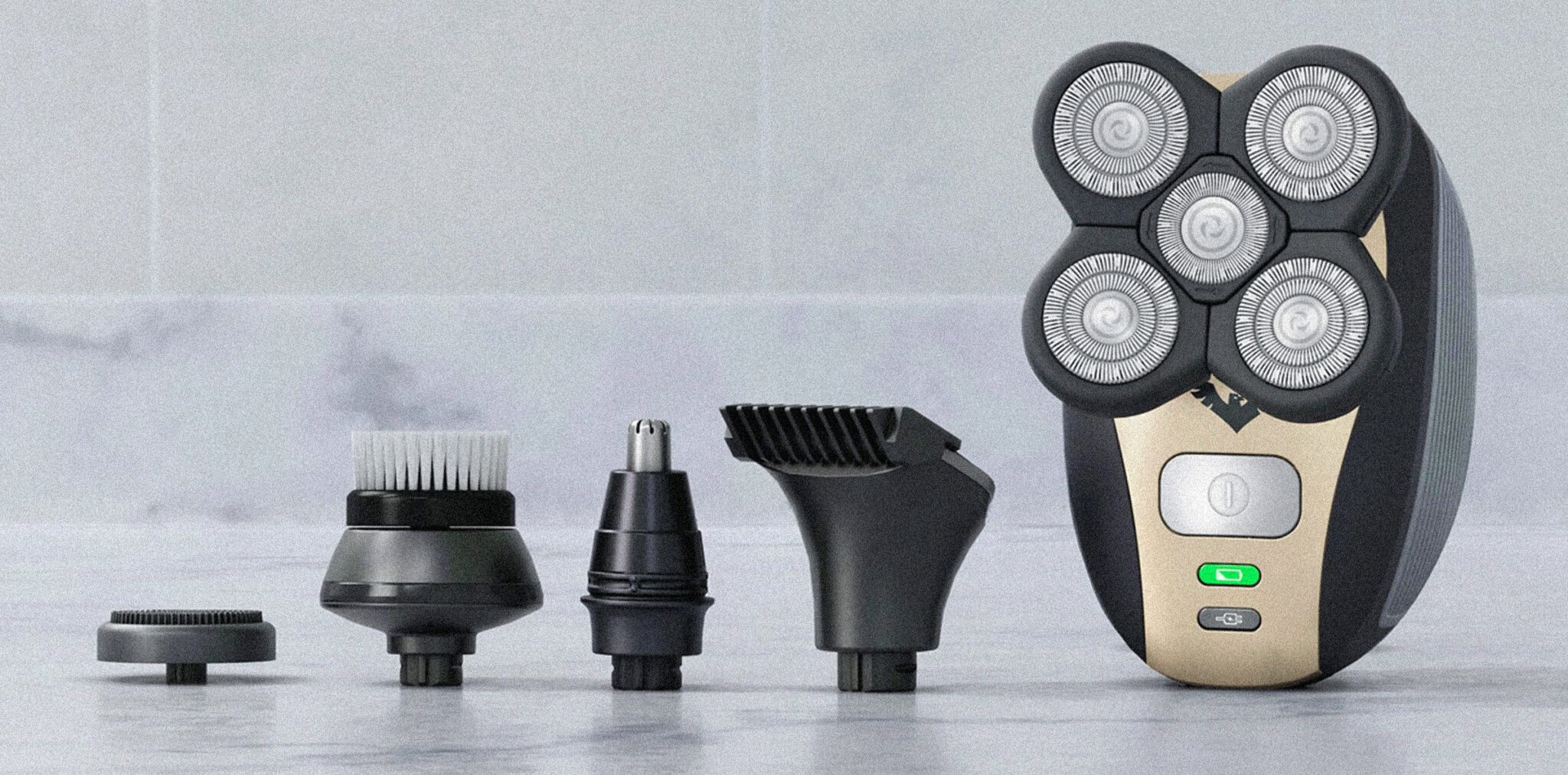 If you're in the market for a premium quality electric head and scalp shaver, we highly recommend FlexSeries Electric Razor by Freedom Grooming.
Here's Why:
Great for Sensitive Skin
Extended Battery Life
Risk-Free Trial!
Flexible Contouring Blades
Ergonomic, Handheld Design
100% Waterproof
Shave wet or dry, up to you!
Comes with RAD attachments
AMAZING REVIEWS! They have over 200K 5-star reviews
Sensitive skin? You'll love the FlexSeries
If you're prone to ingrown hairs or just simply have sensitive skin, you're going to simply fall in love with this shaver. The unique rotary blades help effortlessly cut hair without irritation.
Quality that lasts
Unlike traditional razors that are dull and ineffective after a few uses, the FlexSeries has a 50 shave per blade average to keep your head pristine for the long haul.
Try it risk-free
Freedom Grooming stands confidently behind their promise of giving you easier, cleaner, smoother shaves so they offer a 30-day risk-free trial period to ensure you love your product.
A Bald Man's Best Friend
If you're looking for an electric razor to shave your head, this one's for you. Its handheld design makes shaving easier than ever, and its flexible blade design ensures even the thickest, coarsest of hairs are completely and evenly removed.
I can shave my face and body too?
Oh, yeah buddy.
Another reason why we totally dig this electric razor is because of its ability to safely and smoothly shave the head, however it can also be used for your face and body hair!
It Comes With Attachments Too?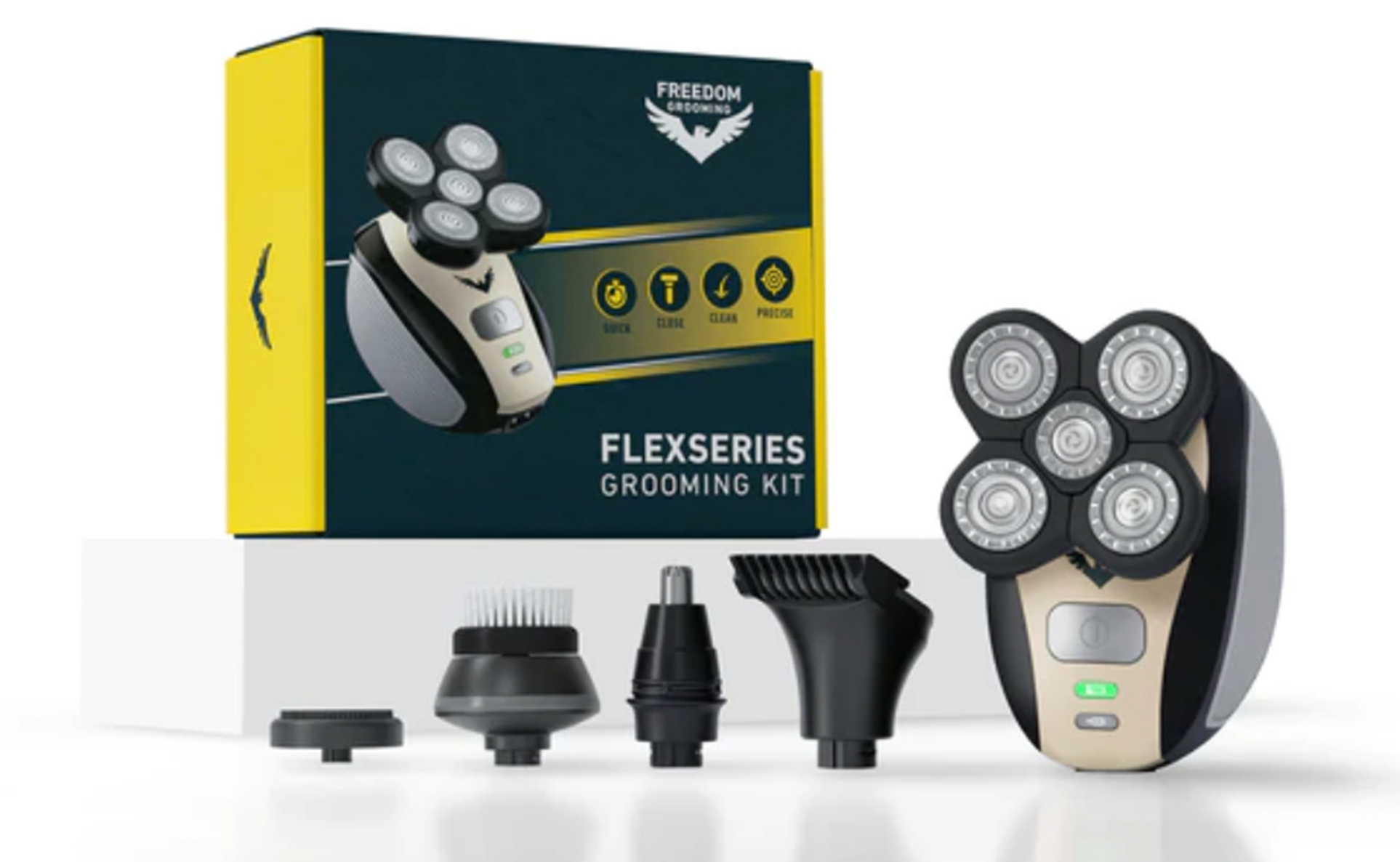 You bet. The FlexSeries literally has you covered on all fronts
You'll enjoy the 5-head rotary blade electric razor. Plus, a precision clip, 3 clipper guards, a nose/ear trimmer, pre-shave massager and exfoliation brush.
Epic, right?
In Conclusion
If you're looking for a clean, smooth, quick, easy shave routine. You've found it with the FlexSeries!
Traditional razors have their time and place, but they come with a high risk of irritation and cuts while being extremely time-consuming. The FlexSeries Electric Razor by Freedom Grooming has everything you need for quick, easy, safe, and smooth shaves to keep you in top form all year round.
Cheers
The Team at MAN'edged Magazine
Need More Grooming Tips and Advice?
Head over to our men's grooming column here.