Lil Wayne's Recent Presidential Endorsement Might Have You Reaching for Some Sizzurp
Another one bites the dust. Rapper Lil Wayne Backs President Trump and the internet is totally losing it.
What Happened?
One of our most beloved Rappers of all Time, Lil Wayne, has officially backed President Trump.
Although we don't recommend drinking sizzurp, we do recommend checking out our drinks section to help take in this news.
At 3:28 PM, TMZ was the first to break the news that Lil Wayne Backs Trump After Meeting Goes Well.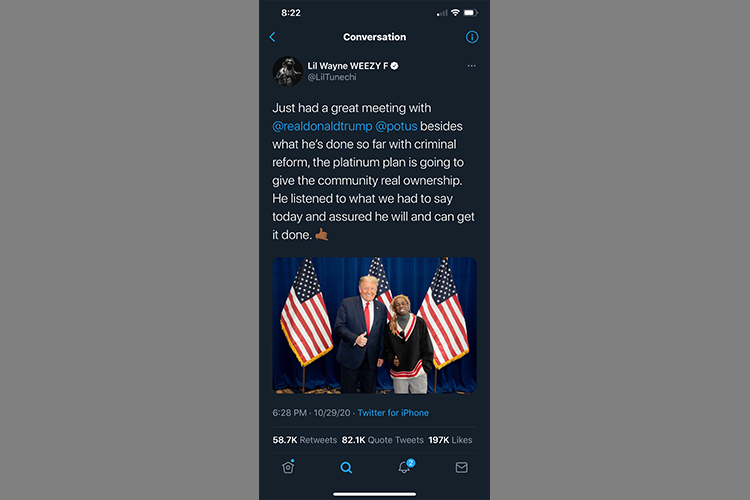 Lil' Wayne, Ice Cube, and 50 Cent All Endorse Trump?
According to TMZ, other rap artists such as Ice Cube and 50 Cent have also endorsed president trump.
Although it's be heard that 50 Cent has completely flipped and no longer endorses the President.
Trouble in Paradise For Cash Money Record Label
According to Forbes, the Cash Money Record Label which Wayne helped manage while founder, the "Birdman" Williams took a break, is also facing turmoil.
Let's be real, the record company has founded acts such as Lil' Wayne, Drake, and Nicki Minaj.
So, of course, the record company has made over $1.8 Billion since its inception in 1998.
Is It All About The Platinum Deal or Just About Money?
Well, we'll never really know.
We'd like to think that these rap artists truly care about the communities that they've made their millions from, but to endorse a President that does not denounced white supremacy seems a bit odd.
Have you seen Rapper Lil Wayne Back President Trump?