Searching for the best men's travel bag but not sure which one is best for you?
Feeling unsure of what men's travel bag to buy for an upcoming trip? You're not alone.
So you're planning a really cool trip and now you need a quality bag to pack your gear in right?
Next, you begin searching online for an epic men's travel bag. 
All of a sudden you're sitting there trying to figure out which bag can actually fit your clothes, your gear, shoes, etc. Oh, wait. What about carry-on size restrictions? Oh boy.
Sure some of the bags look incredible, but they're not really functional.
Today, we are going to highlight an ethical leather bag company based in the UK and India that offers gorgeous men's travel bags and that will make packing for your trip a breeze.
Keep reading below to see why we recommend them and be sure to check out some of our other travel.
how as we use full grain leather the patina it develops with age only enhances the product. Lasting a lifetime and getting better with age.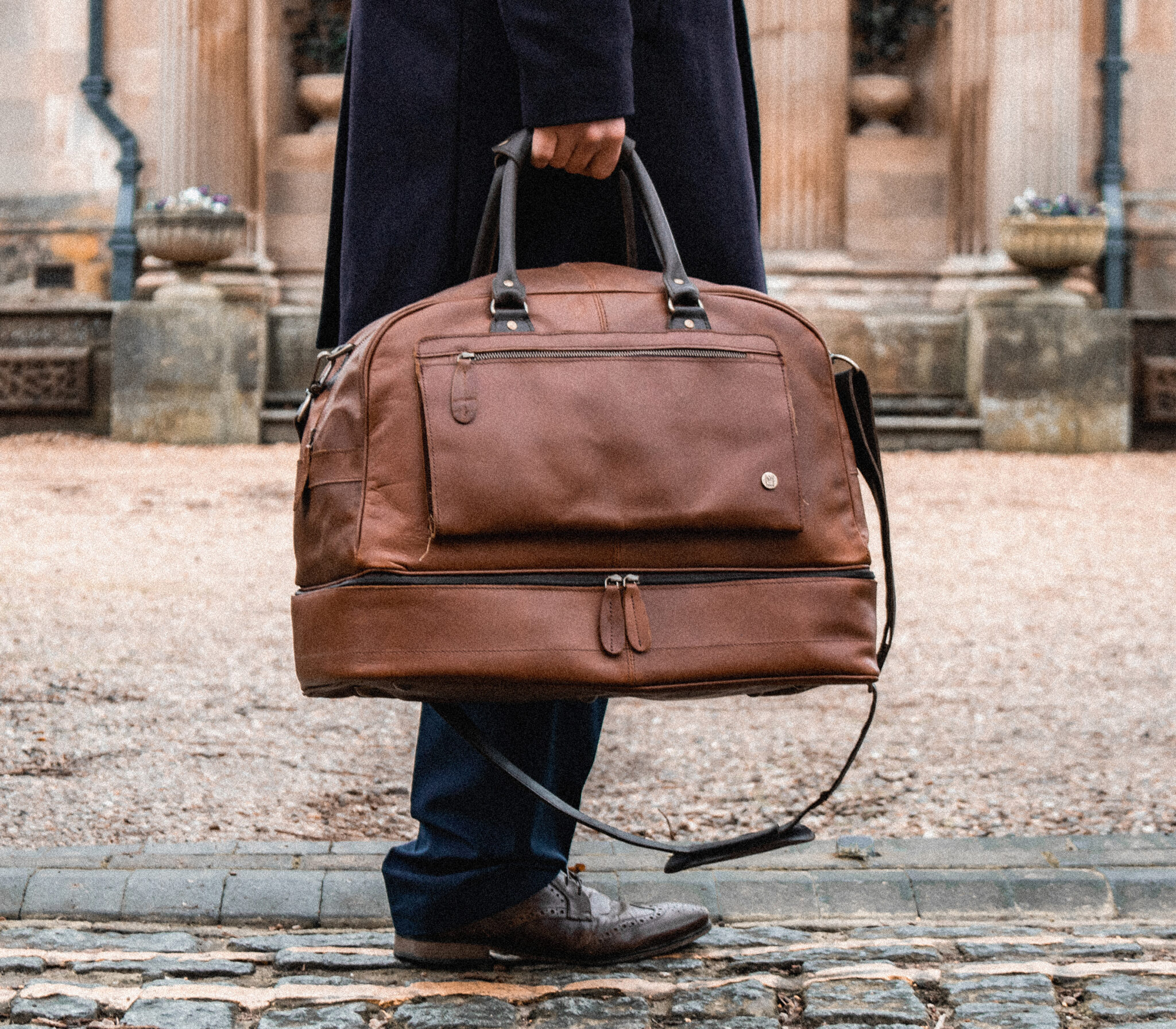 At a glance, here's what we've covering:
Meet MAHI Leather
The Two Men's Travel Bags that'll make travel a breeze
Bag Quality + Durability + Customization
Style of Bags
Ethically Produced Products
Meet MAHI – a Leather Goods company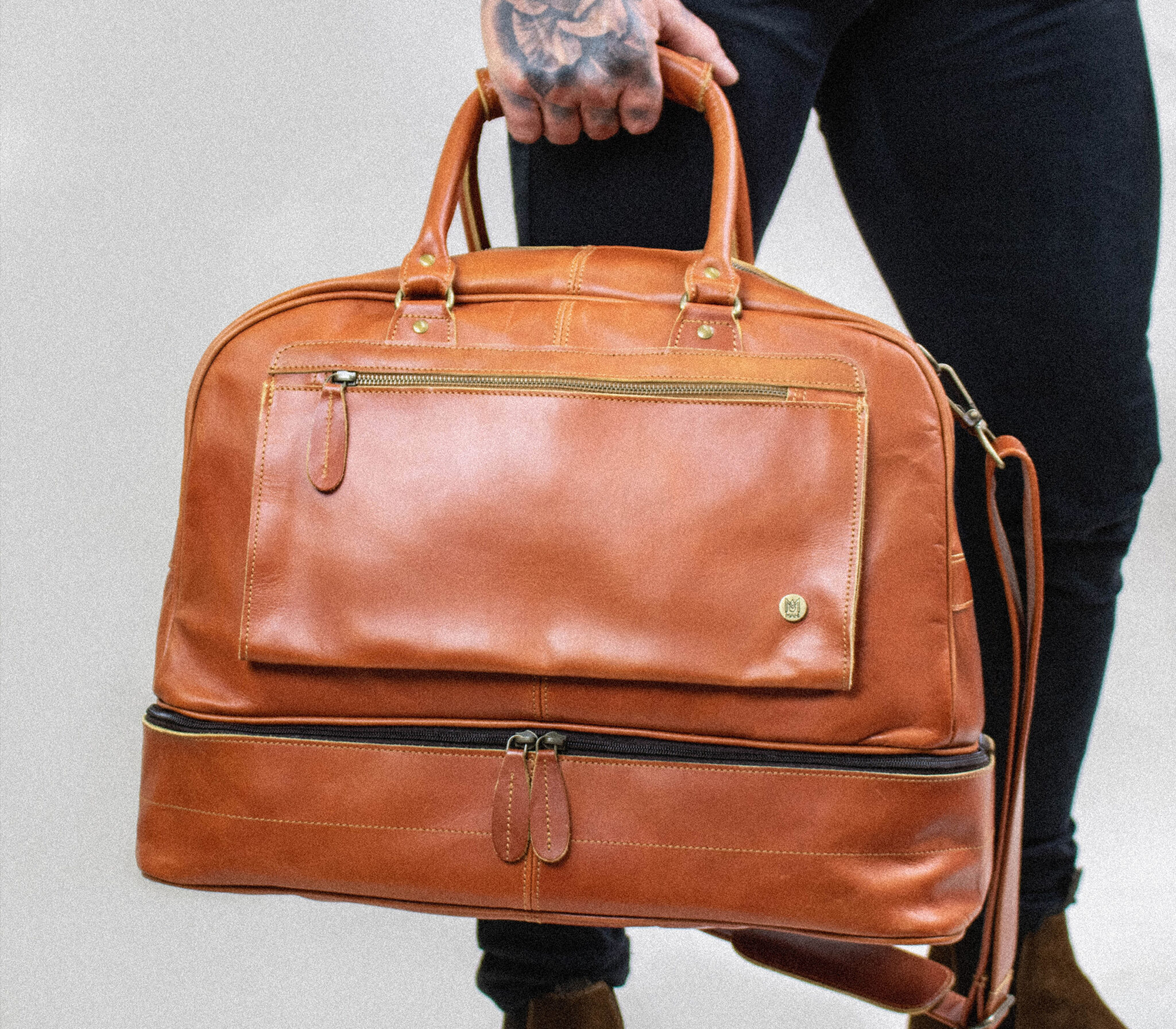 We were recently introduced to MAHI Leather, a UK-based company that produces ethically made-to-order leather bags via their artisan workshop in India.
At first, we were skeptical since we tend to get shown a ton of men's bags, but something told us to look deeper into the brand.
So, we did.
We wanted to feature a men's travel bag that looked great, was durable and practical. 
MAHI Leather did not disappoint.
When we received our package, we eagerly opened the box. The bags were placed into a large dust bag which offered a glamorous unboxing moment.
Then, we pulled out our bag. 
All we could think was, "Wow!"
The look, the touch and the texture of the bags were out of this world. 
Here are the Men's Travel Bags We Tested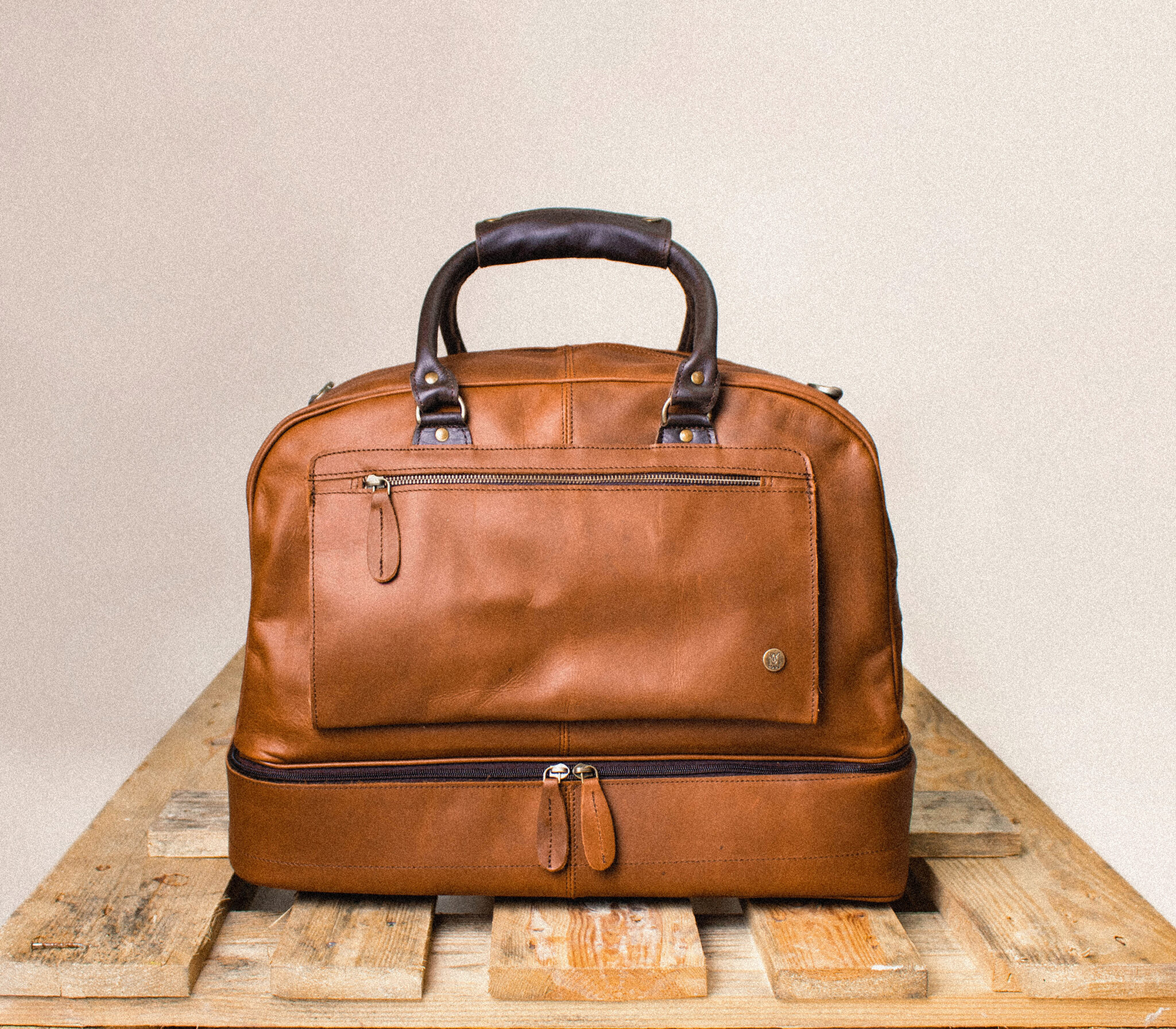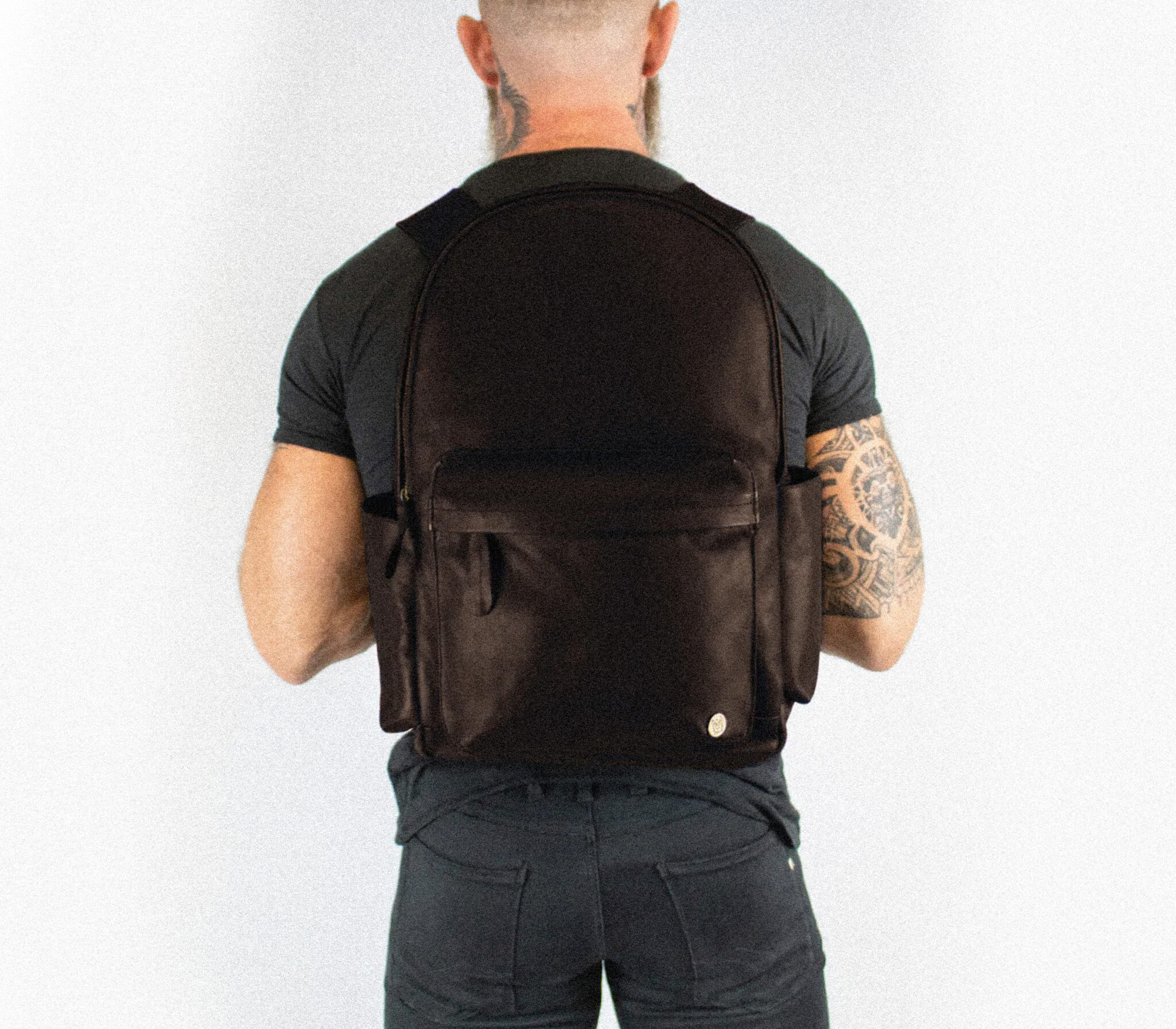 The Two Men's Travel Bags that'll make travel a breeze
Many of us try to avoid the excess luggage fees when traveling by air, so it's critical to find two solid men's travel bags that fit the luggage size requirements but can also fit a ton of gear.
That's why we like this backpack and weekender bag combo.
The MAHI Leather Backpack 3.0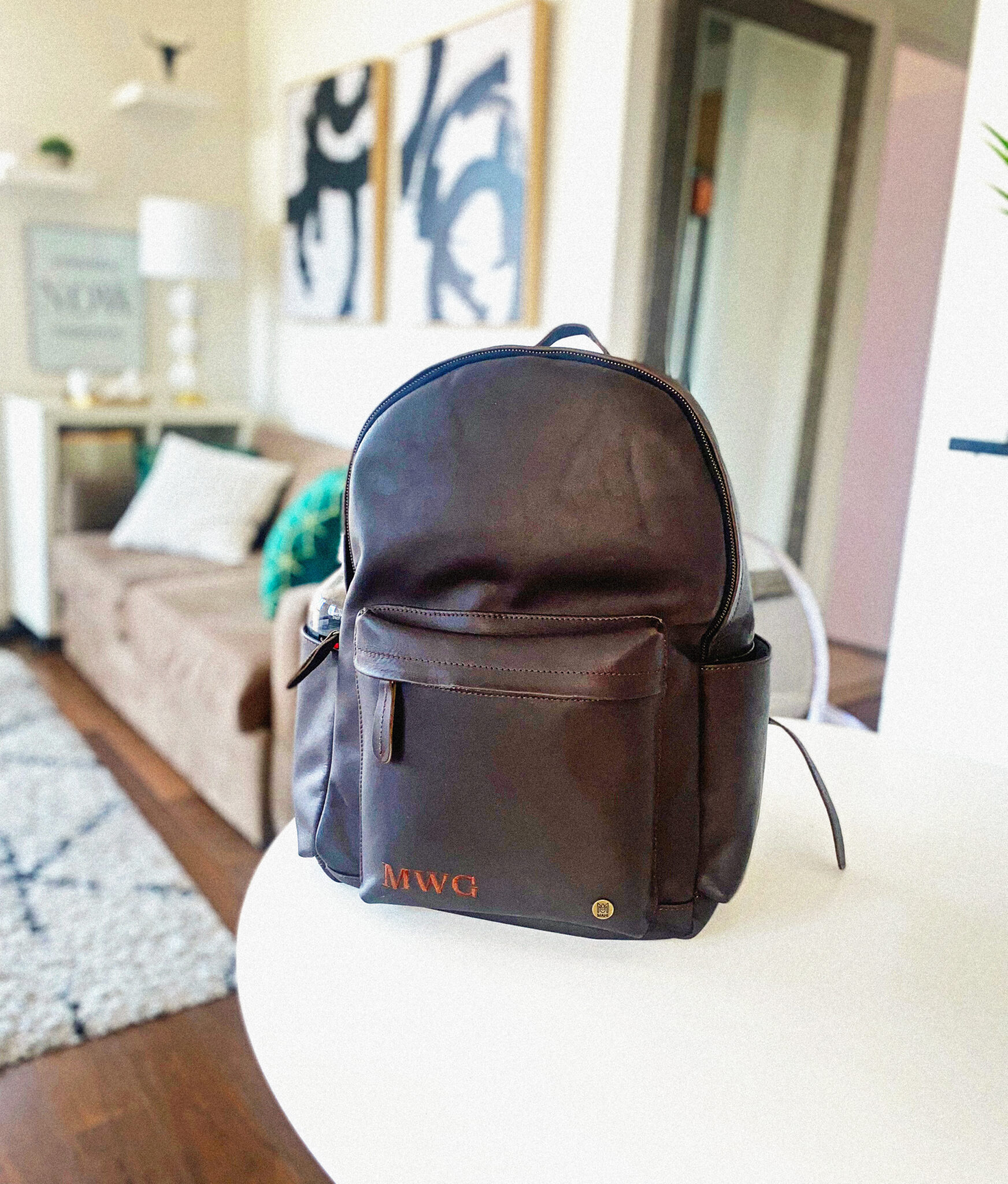 MAHI Leather's Classic Backpack 3.0 has been upgraded from their previous models to feature two side pockets and a brilliant luggage strap should you need to add a last minute suitcase luggage during your travels.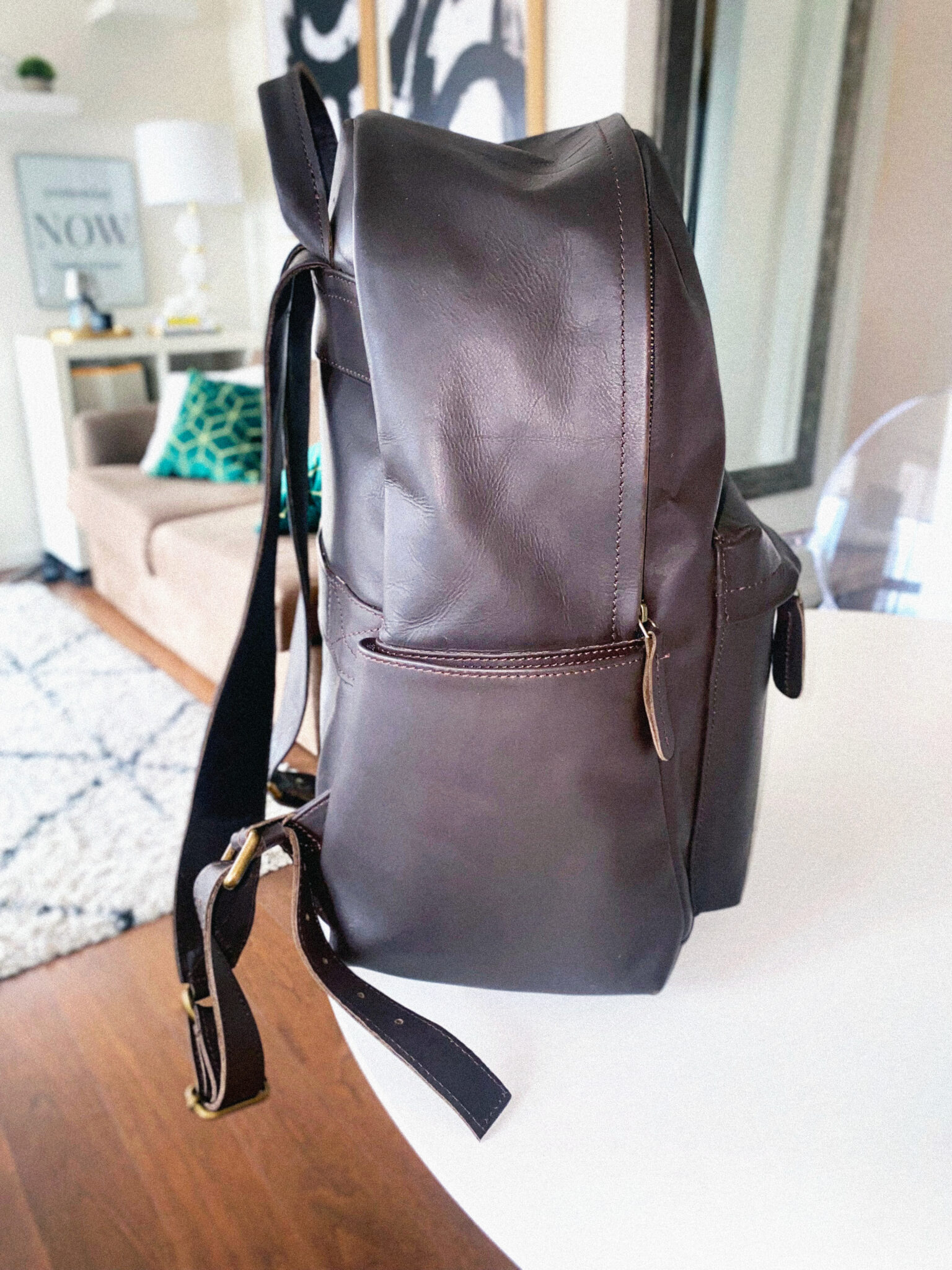 In addition to this, the size of this backpack is truly impressive.
We've been able to fit a pair of running shoes, toiletry bag, extra clothes, shower shoes, headphones, laptop and so many other items and there still seems to be extra room for even more items. All this without feeling big or bulky.
Take this badboy along any plane as a personal bag and you'll be very happy that you did.
The MAHI Raleigh Bag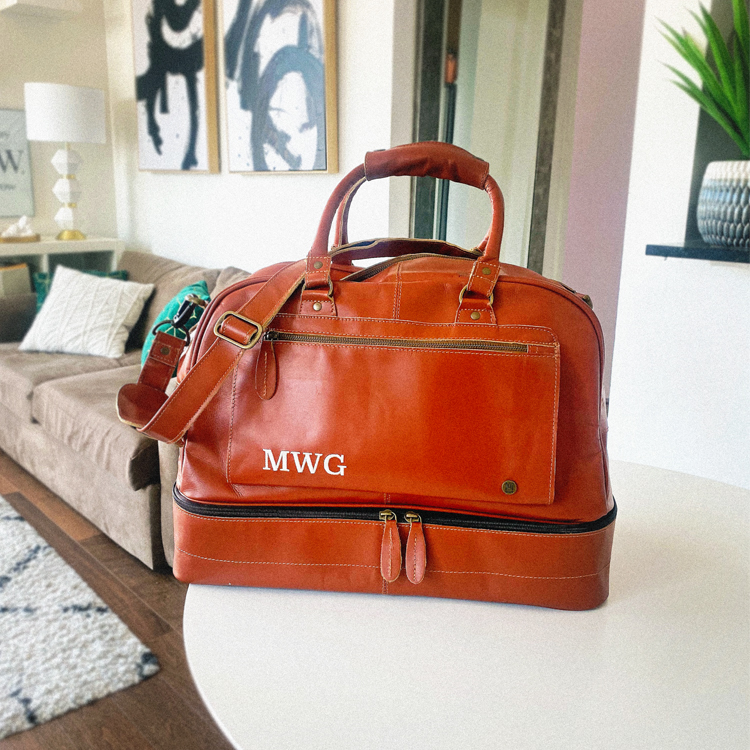 This bag is epic to say the least.
Not only is it stunning visually, but the perfect travel companion. 
Instead of telling you all about it, we're going to show you below.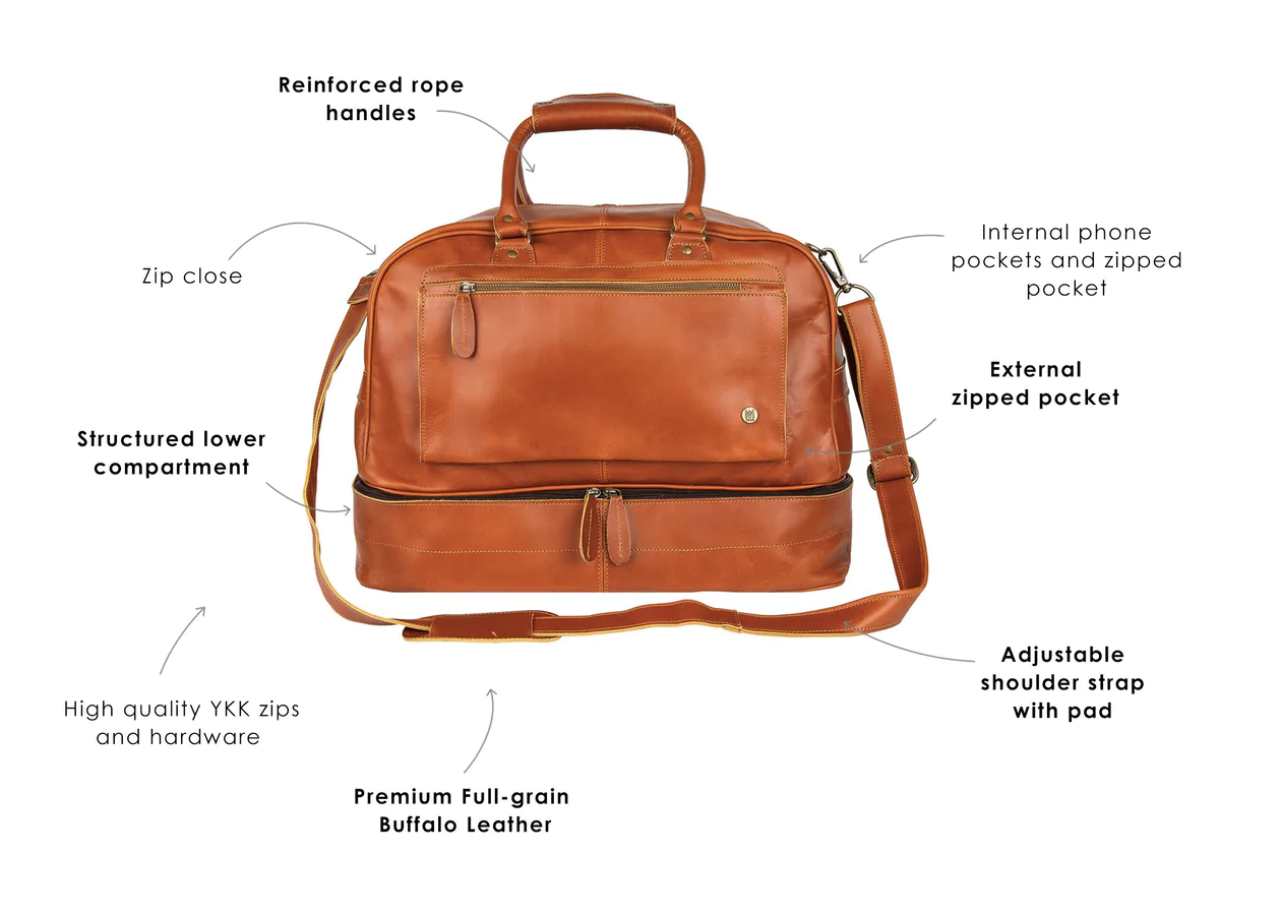 Needless to say, this bag is not only going to easily hold all of your gear, but help keep you looking stylish too.
One thing we truly love about this bag is the lower compartment.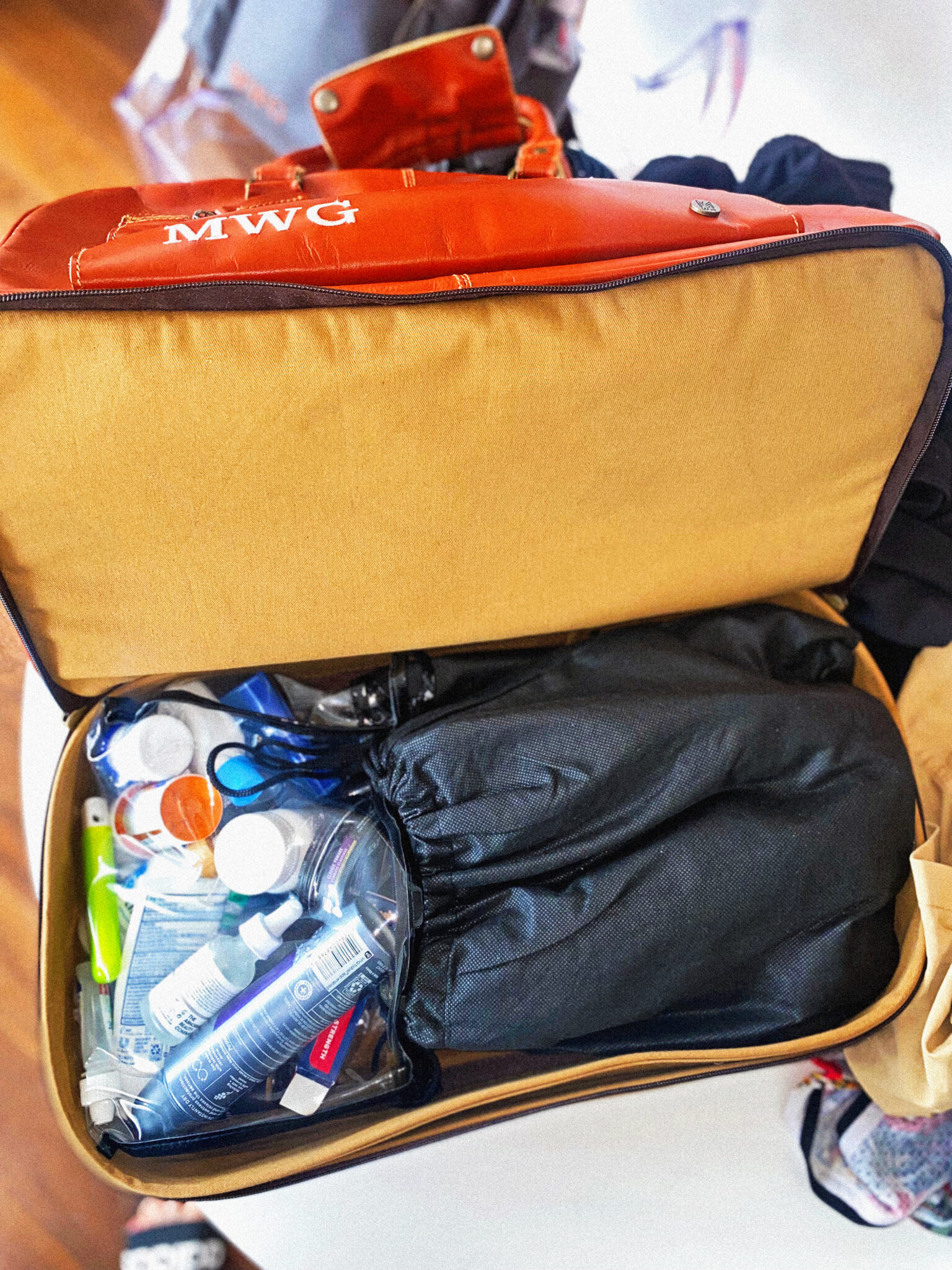 Now, let's talk about the quality.
Bag Quality + Durability + Customization
We've all had a bag that we thought was amazing at one point and then are left to find it breaking apart a month later, right?
That's not the case with MAHI bags. 
In fact, MAHI has outstanding quality that is literally made to order when you buy from them.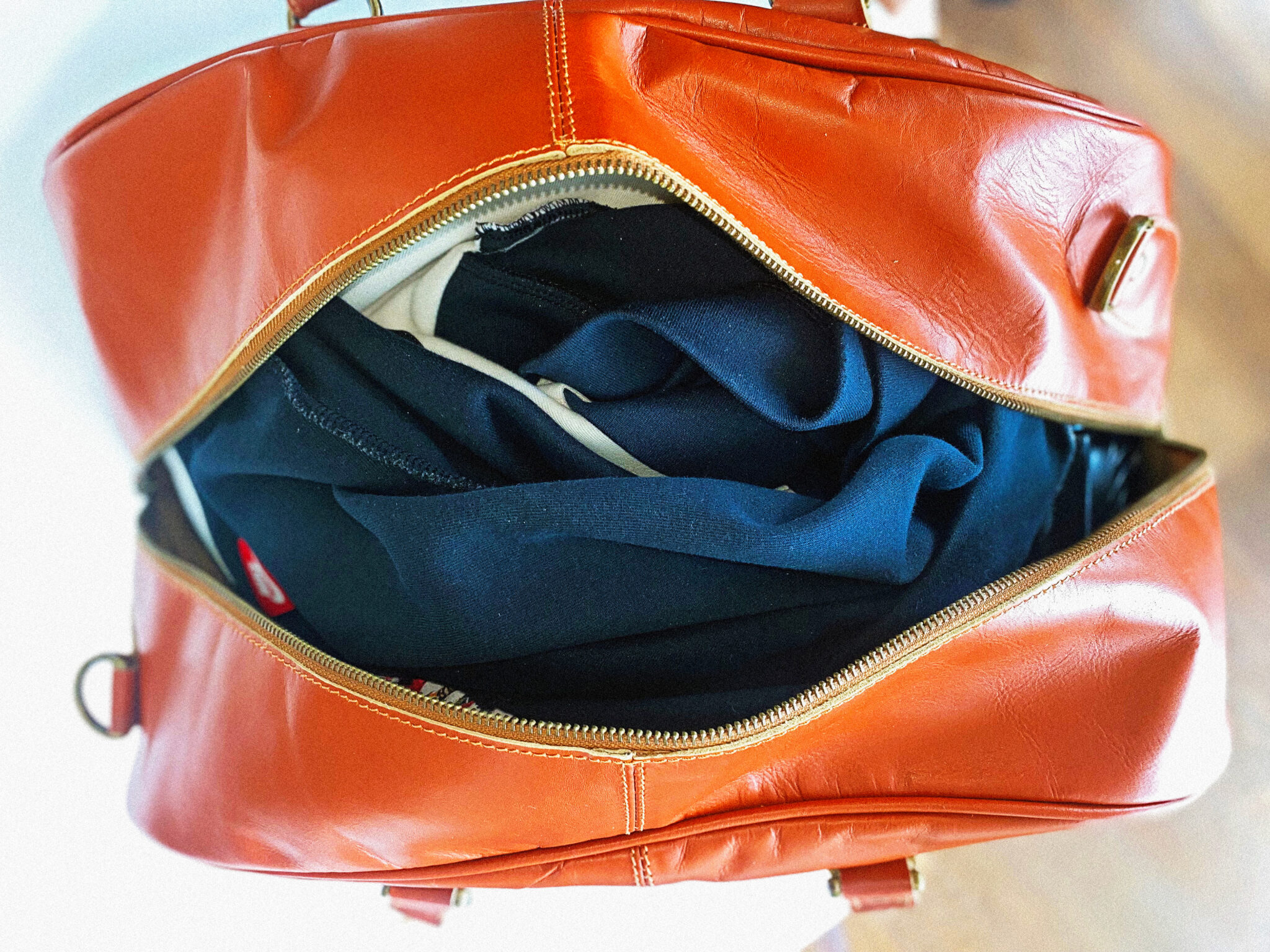 Every MAHI product is handmade to order and shipped directly to you, so you can customize their designs to suit your needs. 
That means that you can change colors, add special features and add some personalization to your gear.
You'll enjoy handcrafted excellence that will last a lifetime because every MAHI is built with the highest quality materials that include:
Premium leather
Robust YKK zippers
Brass hardware
100% cotton linings.
Plus, every MAHI comes with a 100%, 30-day money-back guarantee and 1-year warranty. 
Every order is fully tracked and insured and our customer service team is always on call via telephone or email.
Talk about a promise quality to customers.
Style of Men's Travel Bag – yeah, it needs to look the part too
First, when it comes to style, sometimes travel bags can really lack in this department. 
That is another reason why we are totally obsessed with the men's travel bags from MAHI.
Not only are they functional, but they look so stylish. 
So, sure you might purchase these bags for a travel adventure, but you can rest assured that you will use them again and again when you're back to your day-to-day life.
Fun fact: MAHI uses full-grain leather. So, the patina it develops with age only enhances the product. Lasting a lifetime and getting better with age. 
Ethically Produced Products
Let's talk about the elephant in the room, which is that these bags are made from leather.
Now, yes we understand that leather that comes from larger legacy brands may not be produced ethically and by no means are supporting the endangerment of animals.
That's another reason why we like MAHI.
Responsible Leather Production
The leather they use is a by-product of meat and dairy farming in India. 
Many families raise two to three cows for their own use and rely on the money generated from selling their hides to buy fresh livestock. 
Minimal Waste
Their eather is tanned using Chromium-free Vegetable Dye, produced in Germany under strict EU regulation. 
Plus, their made-to-order model ensures that energy consumption and wastage are always kept to a minimum.
IN CONCLUSION
We stand by these men's travel bags from MAHI. 
They are stunning. They're practical, durable and more important they will help make traveling a breeze for your upcoming trip.
We highly recommend these two bags that you can buy by clicking below.
Should you want to see their full collection be sure to visit MAHI's website at www.MAHIleather.com
Safe travels ahead.
The Team at MAN'edged Magazine
Want to take your cool new travel bag to Miami Beach? Check out this hotel with a rooftop pool that'll help you melt away the stress.