Let's settle the debate once and for all
It's that time of year again when the usual debate comes up amongst friends. How do you properly spell St. Patty's Day?
St. Paddy's Day vs St. Patty's Day – which is correct?
First, let's get right to the point. It's St. Paddy's Day.
What an Irish Whiskey Brand is Doing to Help You Remember This For Good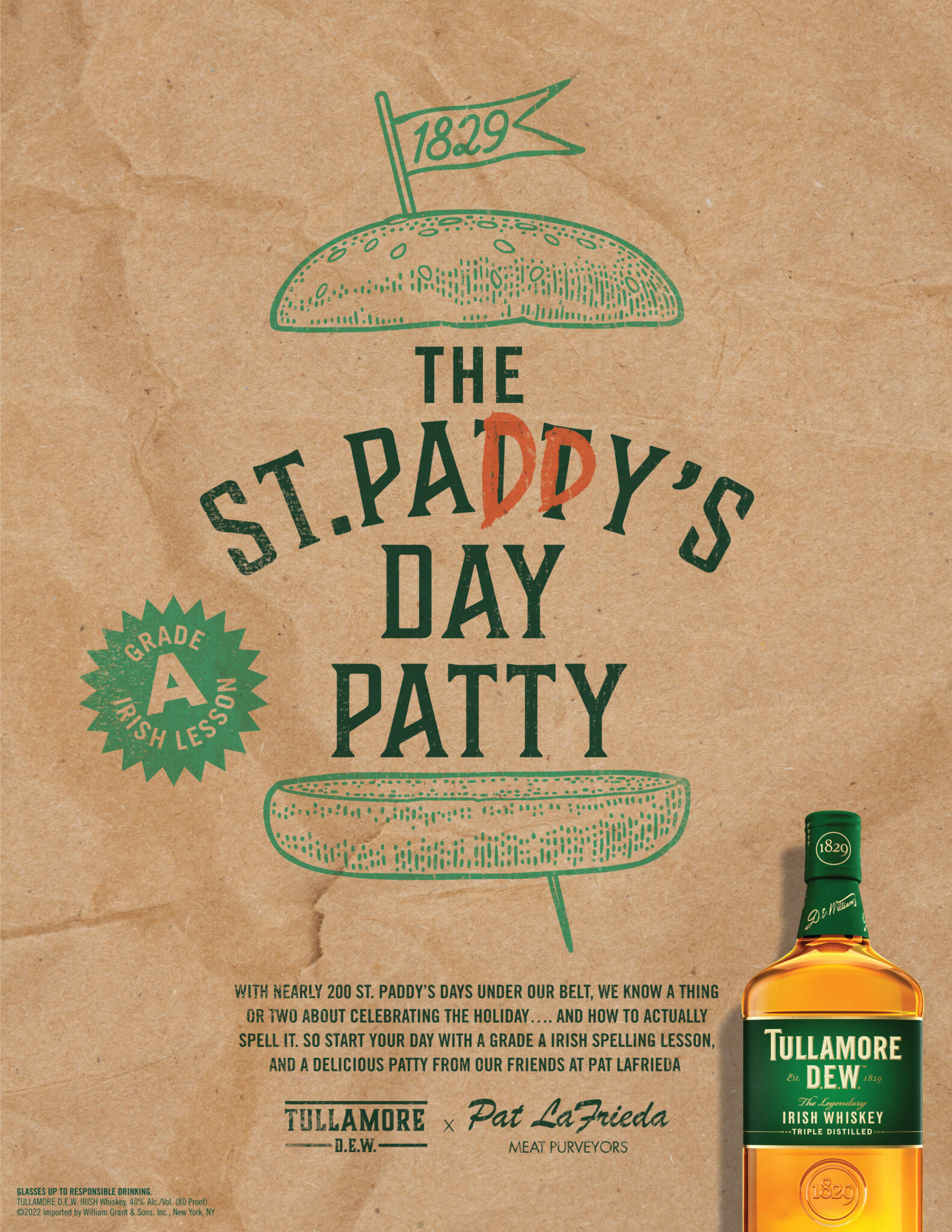 St. Patrick's Day is around the corner, and – with nearly 200 St. Paddy's Days under their belt – your friends at Tullamore D.E.W. Irish Whiskey know a thing or two about celebrating the holiday….and how to actually spell it.
Year in and year out, Americans seem to get it wrong, opting for the use of the double T instead of the double D. This year, Tullamore D.E.W. is setting out to change that…with an appetizing partnership.
Remember Our Good Friend Pat LaFrieda?
To offer a tasty spelling lesson, Tullamore D.E.W. has partnered with acclaimed American butcher Pat LaFrieda to create the ultimate St. Paddy's Day Patty to help fans from making the common spelling mistake between a meat patty and Ireland's national holiday. The specialty St. Paddy's Day Patty is made up of a proprietary blend created by Pat LaFrieda himself and inspired by Tullamore D.E.W.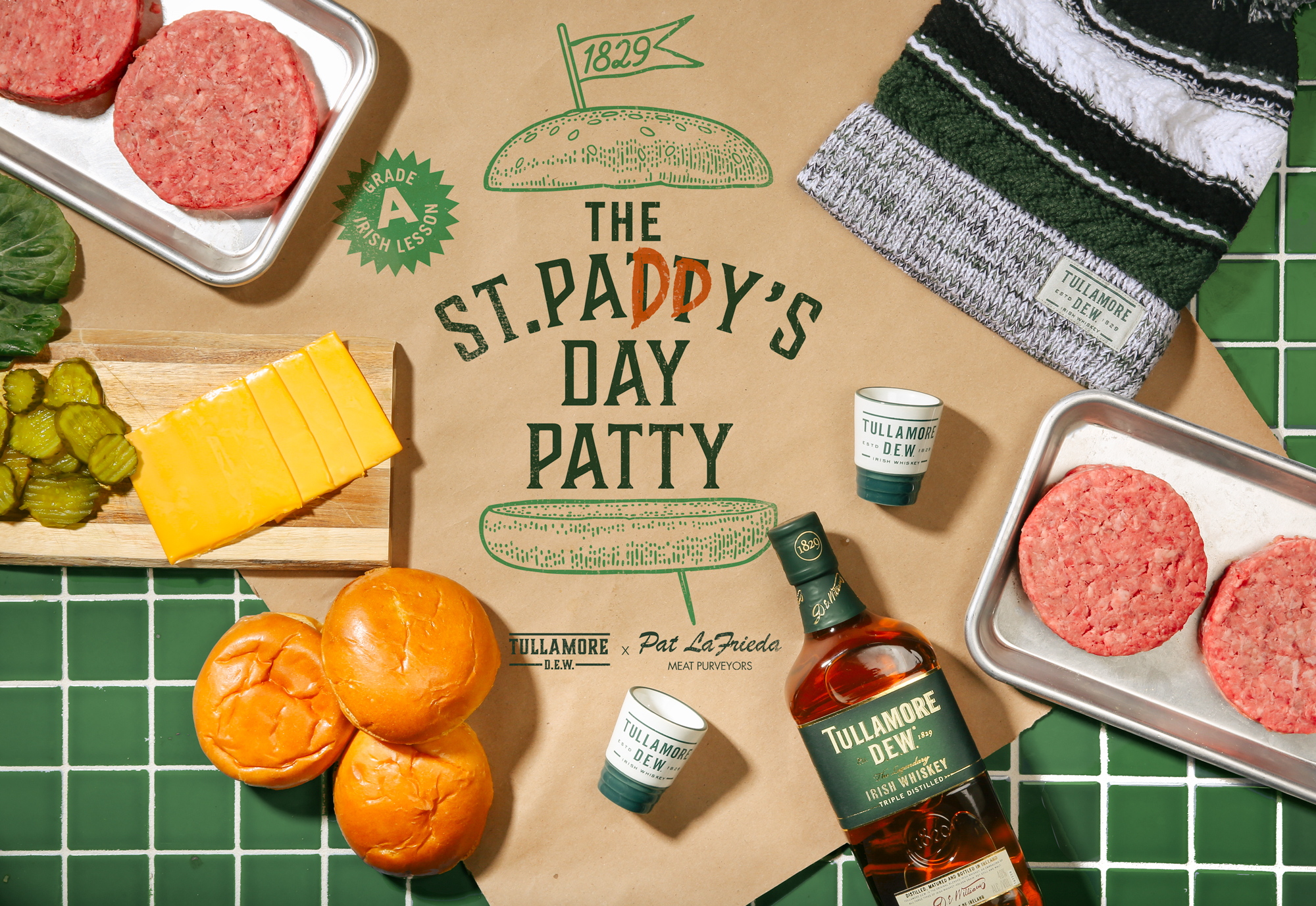 Limited Edition Kits Available
Beginning March 10th, 193 kits will be made available on LaFrieda.com for a price of $84.99 (+ shipping), nodding to the 193-year history behind the Tullamore D.E.W. brand. '
Each St. Paddy's Day Patty includes two Tullamore D.E.W. ceramic shot glasses, one beanie, drink recipe card, Drizly code** to order a bottle of Tullamore D.E.W. to your door and 12 8oz meat patties.
This way, you can celebrate the green holiday with a perfect pairing of Pat's patties and Tully's D.E.W. & A Brew serve created by Tullamore D.E.W. ambassador and Cork, Ireland native Gillian Murphy.
What's New With Tullamore D.E.W Irish Whiskey?
The St. Paddy's Day Patty coincides with the U.S. launch of Tullamore D.E.W.'s new brand platform and advertising campaign "An Unwavering Whiskey in a Crazy World." The campaign aims to highlight the refreshingly, unwavering world of the brand's hometown, Tullamore, Ireland. The local townspeople take center stage, featured in all of the brand's new advertising materials which is going live on OOH and digital channels across the U.S. in the lead-up to St. Patrick's Day.
"This St Patrick's Day we wanted to create something unique that speaks to our rich Irish heritage, but also our witty spirit," said Conor Neville, Senior Brand Manager, Tullamore D.E.W.  "That very personality and character is at the core of this new campaign. Being from Tullamore, a small town in the heart of Ireland, lets us go far and wide without forgetting who we are. Through the latest advertising executions, we are on a mission to playfully remind folks what truly matters, and what doesn't."