A party perfect drink for friends 
Is your schedule jam-packed with as many summer bashes as you can humanly fit? Chances are we're all probably going to hit up a few last summer parties with some friends and rightfully so. After all, we do work hard during winter. To help add to the summer fun, we wanted to highlight the Angry on the Beach summer drink.

A drink for the beach, apartment, or BBQ
We've been highlighting various drinks all month-long in our Pitcher Perfect cocktail series. We've featured cocktails like the Moscow Mule, the Adam's Apple, and one of our favorites the Summer Shandy.
To keep the good times rolling, we wanted to highlight a drink that will help keep a large group of people happy. Without further ado, meet the Angry on the Beach cocktail.
Here's what you'll need to make your new summer drink
Angry on the beach ingredients
4 12 oz bottles Angry Orchard Crisp Apple
4 cups Watermelon Juice
1 cup Vodka
1 cup Cointreau or Orange Liqueur
1 cup Lime Juice
5 cup Orange Juice
1 Navel Orange Sliced
1 Lime Sliced
Watermelon Chunks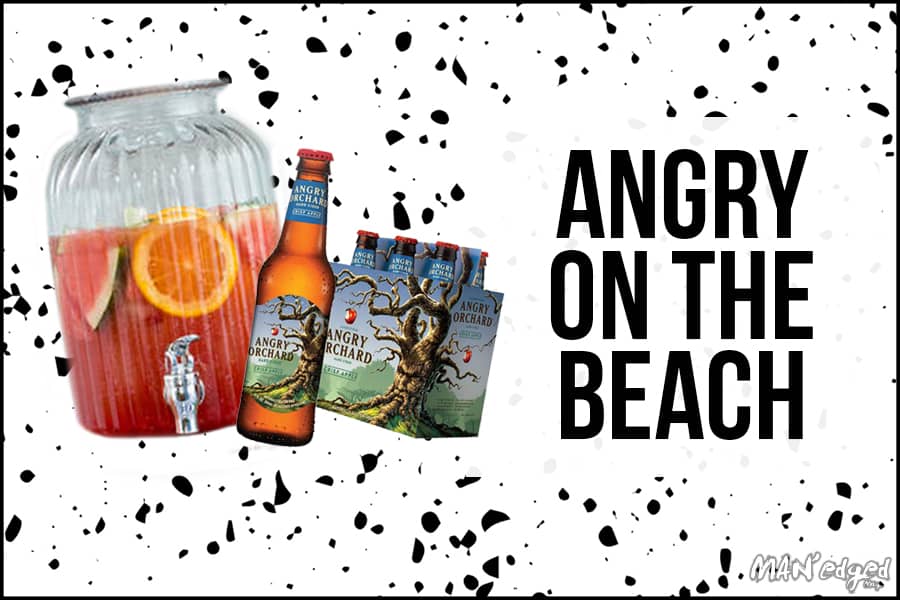 How to make 
In a large container add the watermelon juice, vodka, orange liqueur, lime juice and orange juice. Stir in ice, orange slices, lime wheels, and watermelon chunks. Top off with Angry Orchard Crisp Apple Cider and stir gently to combine. Voila! Drink to your little heart's content.
Show us your creation
If you decide to try out this drink, show us! We want to see your creation Be sure to follow and tag us on Instagram @MANedgedMAG or Twitter @manedgedmag
---
Please, drink responsibly. Must be 21+. MAN'edged Magazine does not endorse underage drinking or drink and driving.