This whiskey drink will help you easily change things up this fall.
Making a whiskey cocktail does not have to be hard
Welcome to the second installment of our weekly drink series.
Click here to read up on all of our whiskey cocktails recipes now.
Our goal is to help you look like the ultimate stud when it comes to cocktail mixing. As some of you know, last week we showed you how to make a great tasting Rye Swizzle.
Today, we're highlighting a drink that many guys seem to enjoy, but not many know how to make.
Meet the New York Sour, which will probably be your new go-to whiskey bourbon drink of choice.
You've been making a whiskey bourbon cocktail wrong the entire time
Listen up gents.
It's time to learn the proper way to make this New York Sour cocktail.
Trust us. We've attempted to make this several times and let's just say we didn't the directions as close as we should have.
 #hotmess #toothirstyfordetails
Anyways, we want to help you avoid all of those disastrous trials. That's why we've put together this easy-to-follow recipe.
What you need for this delicious whiskey bourbon cocktail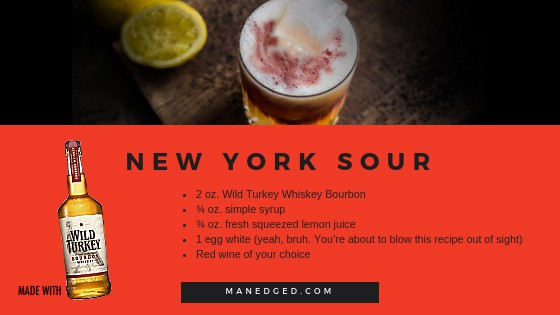 ¾ oz. simple syrup

¾ oz. freshly squeezed lemon juice

1 egg white (yeah, bruh. You're about to blow this recipe out of sight)

Red wine of your choice
Here's what to do
First, you'll need to combine all of these important ingredients into a shaker. That means take everything, the egg white, lemon juice, etc and shake it all together without ice.
Second, add ice and shake again. Yes, a double shake is necessary for this drink.
Next, strain over ice into a glass filled with ice cubes.
Last, is the fun part. Top with some red wine. This is called a "wine floater".
Boom.
Now you're ready to show-off to all your friends.
Cheers,
MAN'edged Mag.
Show us your whiskey cocktail creation
Make one of the above drinks?
Snap a photo of your cocktail via Instagram and tag us @MANedgedMAG to be featured on our Instagram feed.