Looking for a fun weekend getaway from NYC? Grist Iron Brewery and Lodge offers everything you could want
If you've never had a chance to visit the Grist Iron Brewery & Lodge, you're totally missing out. Especially if you're looking to take a few days off from the hectic city life. In fact, even the most hardened of New Yorkers would find peace, refuge, and of course, delicious tasting craft beer at Grist Iron.
We've been a fan of Grist Iron since we first discovered it writing an article about great weekend getaways in the summer when the pandemic first hit.
Today, we're approaching things a bit differently, since it's now officially wintering here on the east coast. This had us searching for the best winter getaway and Grist Iron did not disappoint.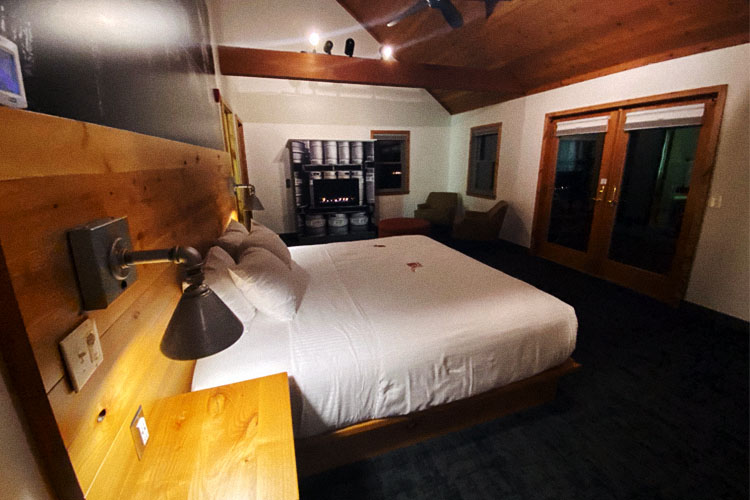 So, if you're looking for a rad place to sip on great tasting craft beer, stunning views of the Finger Lakes, and a cozy place to call home for a few nights then you're going to want to keep reading.
Winter Getaway from NYC: Check out Grist Iron
First, we have to start off with the obvious fact that this is no ordinary winter getaway. As their name suggests, Grist Iron Brewery is indeed a brewing facility, which makes it a true winter wonderland.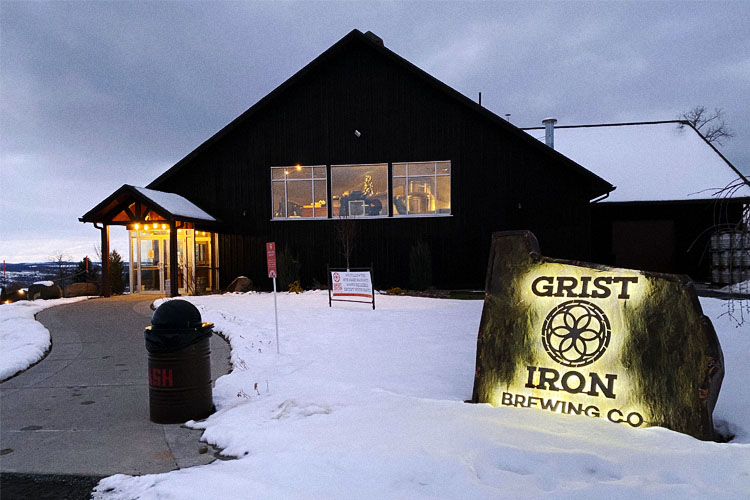 Where Should I go in New York in the Winter?
Second, if you're in NYC and looking for a cozy place to unwind during the winter then you're going to want to book a stay at the Lodge at Grist Iron.
Last Summer, we had the opportunity to stay at the Lodge at Grist Iron. It offered great views and a fun summer lake vibe, but this time we wanted to give it a go during the winter.
It did not disappoint.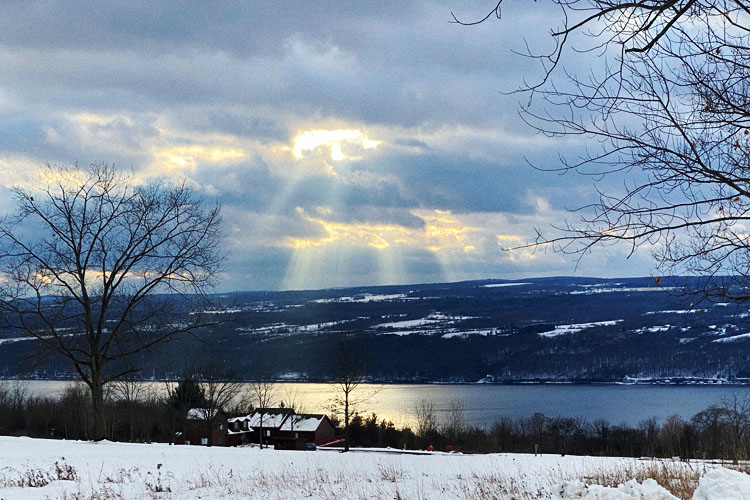 Why is the Grist Iron Brewery so Cool?
In addition to all of the above, we rated our stay at the Lodge at Grist Iron Brewery based on 5 key factors:
Location
Amenities
Cleanliness
Service
Food/Drinks
So, let's dive right in.
Why Stay at the Lodge at Grist Iron
1. Grist Iron Location
Tucked away on the east side of Seneca Lake, you'll enjoy breathtaking views of the middle Finger lake. Plus, it's roughly only 4-5 hours away by car from NYC which makes it the perfect spot to get away and unwind in.
In addition, Grist Iron sits on over 10+ acres of land which is elevated from the actual lake. This means that if you want to open your blinds from your modern room at the lodge, you're going to enjoy a crisp view of the lake right from the privacy of your own room.
So, Grist Iron's location is prime plus it's located on the fun side of Seneca Lake.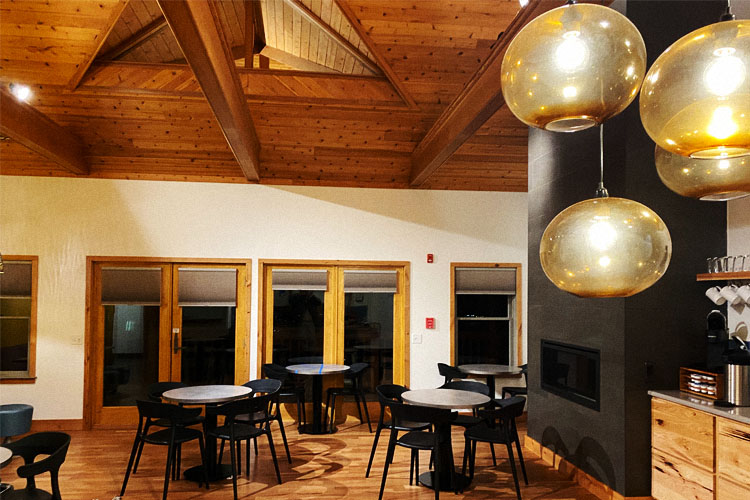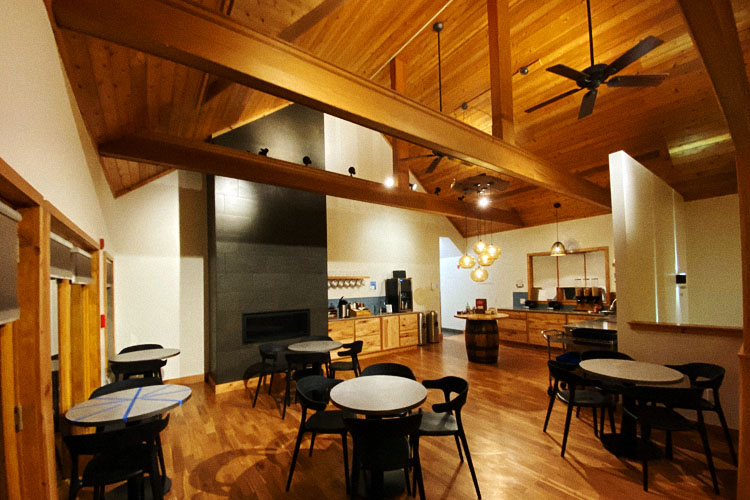 2. Grist Iron Amenities
To help keep this simple, we're going to speak to the lodging experience and the actual micro-brewery later on.
The lodge at Grist Iron offers 9 newly renovated rooms with a simple modern design that feature custom furniture designed by 823 Planning and Design & all the updated amenities you could ever need. The Lodge now features select dog-friendly rooms and offers a continental breakfast each morning of your stay in their open + airy common area with killer views of Seneca Lake.
Every room comes equipped with clean linens, towels, a blow dryer, and an ample supply of beer.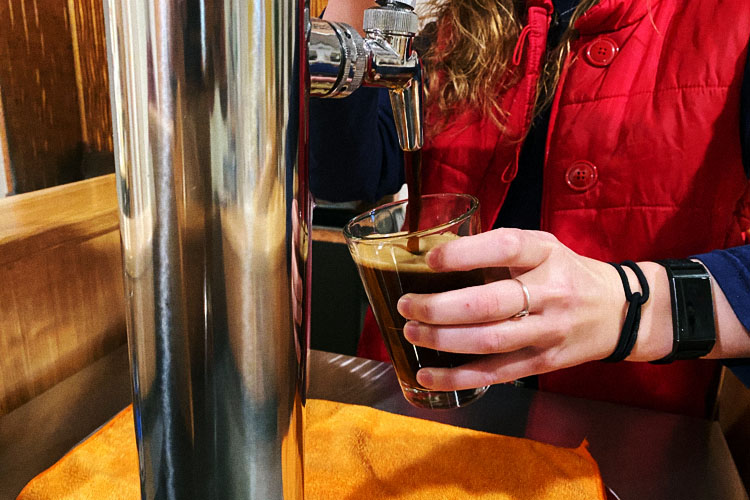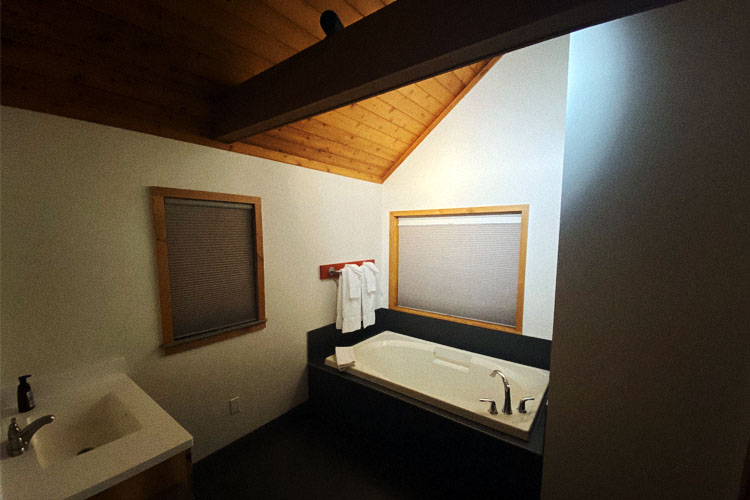 Some other amenities include:
Free WiFi
Air Conditioning
Flat Screen TV
Private Bath
Hair Dryer
Iron & Ironing Board
C.O. Bigelow Luxury Bath Products
Locally-Made Hop Hand Soap
24-Hour Coffee & Tea Bar
Smoke-Free Environment
Use of Fully Stocked Outdoor Fire Pit
Access to Onsite Microbrewery/Restaurant
One of our favorite things to do is to grab an early dinner, unwind in the huge showers of the standard kind rooms, and later in the evening hit the fire pit with a good 'ol microbrew in hand.
Check out the standard king room video tour we give in our recent post here.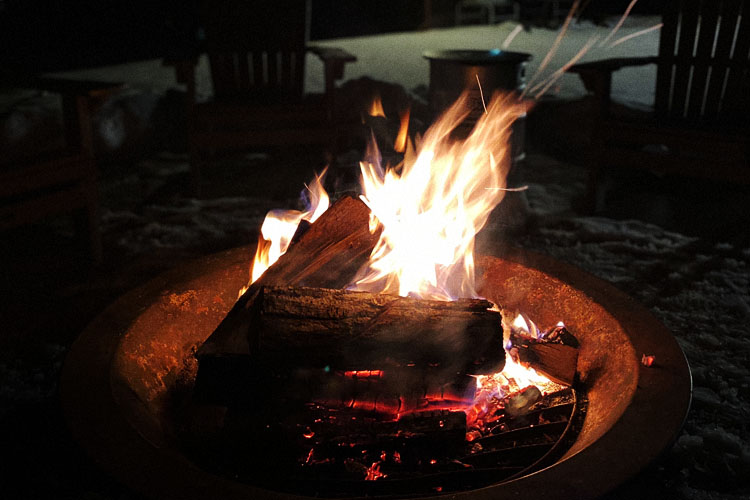 3. Cleanliness
Traveling during a pandemic can be a bit tough especially if you're unsure if a place is clean. We are here to say that the staff at Grist Iron takes every measure possible to ensure their guest's safety. From using top tier cleaning products, practicing social distancing and mask-wearing policies, the Lodge is as safe as can be for a winter getaway trip.
In fact, Trip Advisor gave them a 5 out of 5 in cleanliness, so you know they take it seriously.
4. The Service
During both of our stays, we experienced great service at every touchpoint. Whether it was the receptionist checking us into our room or the wait staff wanting to send out our to-go order at just the right temperature, their service was amazing.
5. The Food/Drinks 
Now, let's talk about the experience this micro-brewery offers.
For starters, Grist Iron Brewing Co. boasts a unique variety of brews that are all created on-site. Their brews are primarily made in the traditional American style with their own unique twist thrown in. You can tell that they have a passion for craft beer that they want to share with everyone.
They produce a wide range of styles and flavors that can satisfy any drinker. In short – you'll be in pure micro-brew bliss.
You'll also fine a menu of fresh pub-style chews that always pair well with what's on tap. Visitors can also extend the fun and book one of our newly renovated on-site rooms available at The Lodge.
Final Thoughts
In conclusion, you literally cannot go wrong when booking a stay at Grist Iron. Whether you stay for only one night or for an entire week, this place is magical.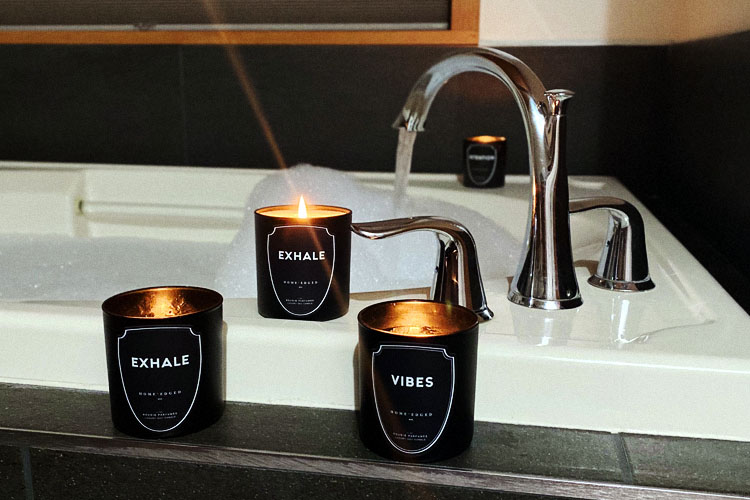 For example, if you just want a place to unwind and be a hermit while enjoying the tasty beer you can do that. Feel like being a bit more social and learn everything you can about the micro-brews on-site? Yeah, you can experience that too.
The point is that this place is a solid choice when looking for a getaway from NYC.
How to Book a Stay at Grist Iron
Book your stay at Grist Iron by clicking here. Be sure to mention that MAN'edged Magazine sent you.
-The Team at MAN'edged Magazine