Stop settling with the basic Moscow mule and get the MAN'edged Mule.
Welcome to the last (#8) installment of our weekly whiskey cocktail recipe guide
Click here to read up on our 8 Pre-Fall whiskey cocktail guide here.
We hope you've been following along with our weekly drink series.
If you've ever found yourself looking down at your drink wondering if there was something better to enjoy, this drink series is for you.
Sure, we love sipping on any Moscow Mule as much as the next guy, but we wanted to take things up a notch.
That's why after trying several variations of this cocktail, we finally landed on one that will not only separate you from the crowd but will probably be one you'll never want to share.
What you need for the MAN'edged Mule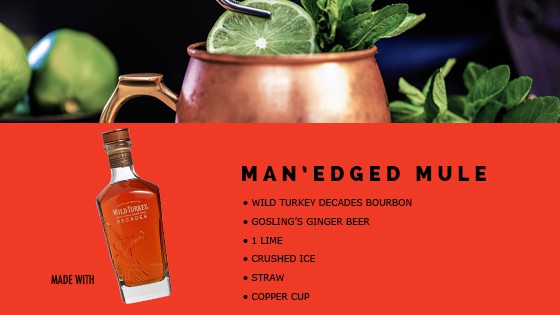 Wild Turkey Decades bourbon

Gosling's Ginger Beer
1 lime
Crushed ice
Straw
Copper cup
Here's what to do
First, you need to cut up some limes. Keep them rather thick. You should get about 4 cubes from a lime. Also, be sure to do this step because you'll most likely down the first one and it's so much easier to make the next one with everything prepped in advance.
Second, you need to grab a copper mug and filled it all the way up with crushed ice.
Third, you need to squeeze about two of these lime slices over the ice first. This makes a world of difference in taste.
Next, pour approximately 7 oz. of ginger beer over ice.
Then top with 2 oz. of Wild Turkey Decades bourbon.
Lastly, stick a straw in and stir about 4 rotations.
Then sit back, relax, and take a selfie.
Cheers,
MAN'edged Mag
Show us your whiskey cocktail creation
Make one of the above drinks?
Snap a photo of your cocktail via Instagram and tag us @MANedgedMAG to be featured on our Instagram feed.