The easy way to make Kentucky Devil Cocktail
Welcome to Part 7 of our weekly whiskey cocktail recipe guide
Click here to read up on our 8 Pre-Fall whiskey cocktail guide here.
If you've been following along with our weekly drink series, you've learned how to make some really awesome cocktails so far.
In case you missed some of our easy-to-make recipes, here's a quick list of what we've covered so far:
Yes, you should be just as excited as we are to elevate your at home drink selection.
Today we're featuring the Kentucky Devil.
What you need for the Kentucky Devil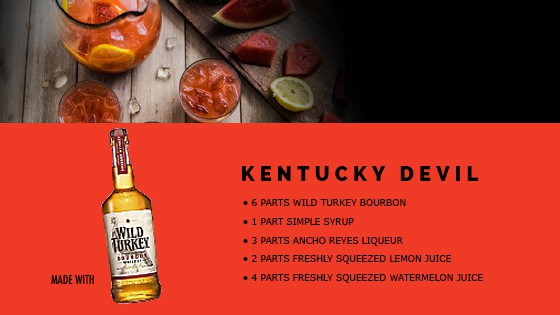 6 parts Wild Turkey Bourbon

1 part simple syrup
3 parts Ancho Reyes liqueur
2 parts freshly

squeezed lemon juice

4 parts freshly

squeezed watermelon juice
Here's what to do
Combine all ingredients into a pitcher

Add ice and stir

Garnish individual servings with small watermelon slices

Call the homies
Cheers,
MAN'edged Mag
Show us your whiskey cocktail creation
Make one of the above drinks?
Snap a photo of your cocktail via Instagram and tag us @MANedgedMAG to be featured on our Instagram feed.