Here's an easy way to make a badass Brown Derby cocktail.
Welcome to Part 4 of our weekly whiskey cocktail recipe guide
Click here to read up on our 8 Pre-Fall whiskey cocktail guide here.
That's right. For today's feature cocktail recipe we're bringing you a delicious Brown Derby and your taste buds are about to be blown away.
Be sure to check out our previous recipes which include the Rye Swizzle, Mint Julep, and the New York Sour.
Stop the headache of making a legit cocktail before it starts
Yes, you read that correctly.
We get why so many guys out there reach for the same 'ol drink.
Why?
Simply because when it comes time to create a drink, it all just becomes too much. We want a drink now. By researching now you're taking a huge burden off your shoulders when it's "drinking" night.
More importantly, you're going to become obsessed with today's cocktail and feel ultra-confident in making it.
What you need for this Brown Derby Cocktail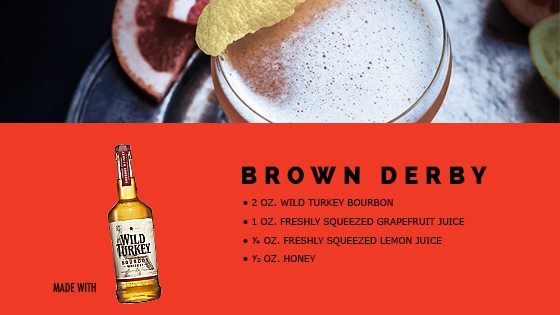 2 oz. Wild Turkey Bourbon
1 oz. freshly

squeezed grapefruit juice

¼ oz. freshly

squeezed lemon juice

½ oz. honey
Here's what to do
First, you need to throw all the ingredients into a shaker. 
Second, fill the shake with ice. Crushed or cubed, so if that's all you have it'll work.
Next, you need to shake everything together. You want to give it a good shake to blend everything.
Now, it's time to strain all the goodness out. If you don't have a strainer (get one), but you can just as easily pour out the liquid while using a spoon to hold the ice from falling out.
Lastly, garnish your drink with a lemon peel. This is what will make your Instagram post-rock.
Cheers,
MAN'edged Mag
Show us your whiskey cocktail creation
Make one of the above drinks?
Snap a photo of your cocktail via Instagram and tag us @MANedgedMAG to be featured on our Instagram feed.