Traveling these days is already a pain, but our travel gear for men roundup should make it a bit easier for you
Searching for decent travel gear for men can sometimes leave us feeling a bit dumbfounded. For instance, you might stumble upon a list or two that highlight some luxury men's travel essentials, but they don't actually like help us.
Yeah, we've been there too. This article is going to highlight 5 pretty rad travel gear items for our guys out there that are actually looking for something to elevate their travel experience.
Best Travel Gear for Men 2021
Whether you fancy yourself a week at one of Jamaica's Best Luxury-Five Star All-inclusive Resort or prefer to take in the great national monuments like Mount Rushmore, packing can be a tedious job.
Especially when you have no time to pack. We've heard horror stories from folks where they describe throwing all their personal items into a small carry-on and hoping for the best. Our ADD can't even begin to comprehend.
Not having a strategy in place about how to pack is one thing, but not knowing what to pack is another. In fact, if you need help building an actual packing list we suggest checking out our bro's over at TrippedTravelGear.com to check out their ultimate packing list for men by clicking here.
That's why today we're helping you out by rounding up 5 Best Travel Gear for Men Essentials that will make your life a bit easier and a whole lot more comfortable on a flight.
Best Travel Gear for Men Items At a Glance:
Weekender Bag
Weekender Bag 2.o
Water Bottle
Neck Pillow
Here's how we're breaking down this travel gear round-up
Each item has been hand-picked to help you tackle a key traveling problem. We then will highlight a specific item and help you understand why it's a travel essential.
Oftentimes when you're perusing the best travel gear items you'll just find a long list of products, but they don't really go into depth about what problem they help.
Hence, we decided to get creative and break down a truly helpful piece for you.
Let's dive in.
Problem: Not Leveraging Your Personal Item's Space
Don't just pack a backpack simply because it's the easiest bag to find. Although we hold a special place in our hearts for two-strapping it, it might be better for us to opt for a different type of bag. Like a weekender bag.
This bag is a game-changer that women are hoarding for themselves. The Beis weekend bag is, of course, marketed towards women (they always get all the good stuff), but we've been rocking it around NYC for the past month and both women and men comment on it.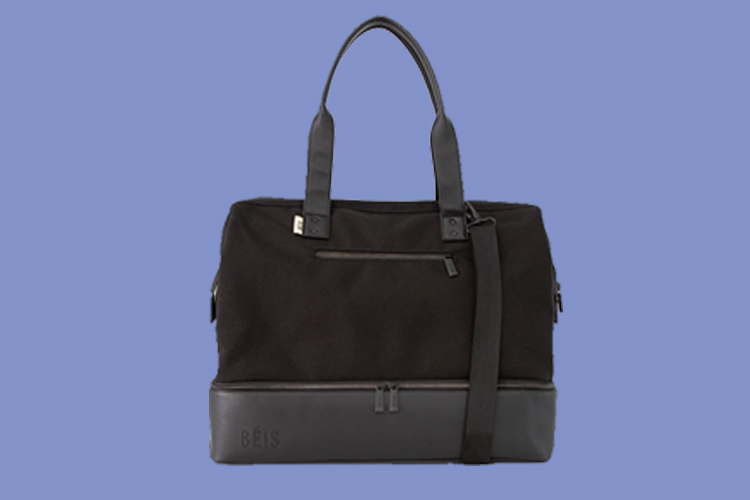 We've traveled with it and it's fucking dope. This bag reimagines a typical duffle style bag by stacking compartments. The main zip-open compartment offers a really cool open structure that if opened will literally stay open so you can access your items.
Additionally, it has plenty of space inside with pockets so you can easily pack up your favorite travel items. Another great detail is the handsome crocodile fabric detail throughout the bag.
Did we forget to mention the removable zip-off bottom where you can store additional items perfect for all of your toiletries? The bottom zips off and you legit have yourself a handy messenger style bag to go exploring with. This bag has been a game-changer and one that you should use to maximize your carry on space.
Problem: Juggling all of your items through security and the airport
There's nothing worse than running to a connecting flight only to find yourself fumbling with all of your personal items as you travel. Cramped seats and sore muscles can leave you feeling like lugging your items on board another flight is nearly impossible.
This is exactly when you need something that will run smoothly from security to boarding.
Solution #2: See Solution #1
That is why we have to yet again give love to the Bias Weekend Bag. We know, we know, but hear us out. This bag not only has all of the various details we mentioned above, but it has one small detail that literally solves both problem number 1 and problem number 2.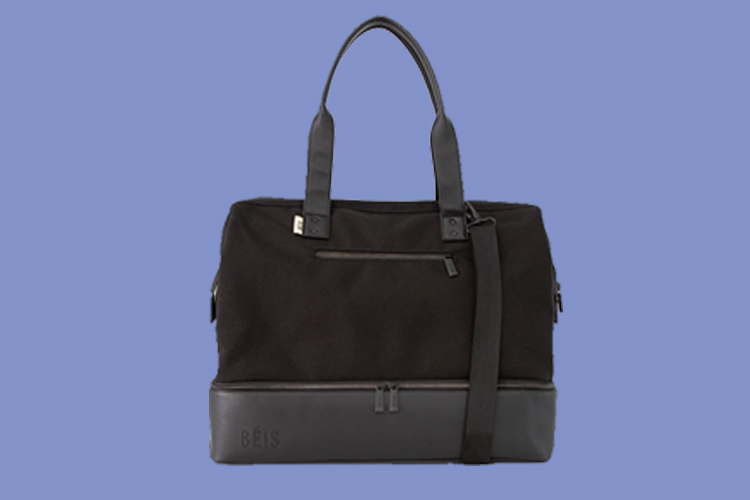 It offers a zip strap feature that easily allows you to stack the bag on top of your rolling carry-on bag without it toppling over. We've tested it and it's pretty amazing. We literally zip from one flight to another effortlessly with only 4 hours of sleep.
As we said, The Beis weekend bag is a game-changer.
Problem: Paying too Much for Water
Tired of paying for those overpriced drinks at the airport?
We know how important it is to stay hydrated especially with traveling and the dry air in planes, but it can be nearly impossible to find a water bottle for less than $8.00 especially here in NYC.
That's why our solution to this problem is opting for a reusable water bottle. We're not talking about just any collapsible or bonding looking water bottle, we've found a really unique one.
It's canteen-style offers you not only a stylish looking water bottle but one that carries 32 oz of water for your drinking pleasure.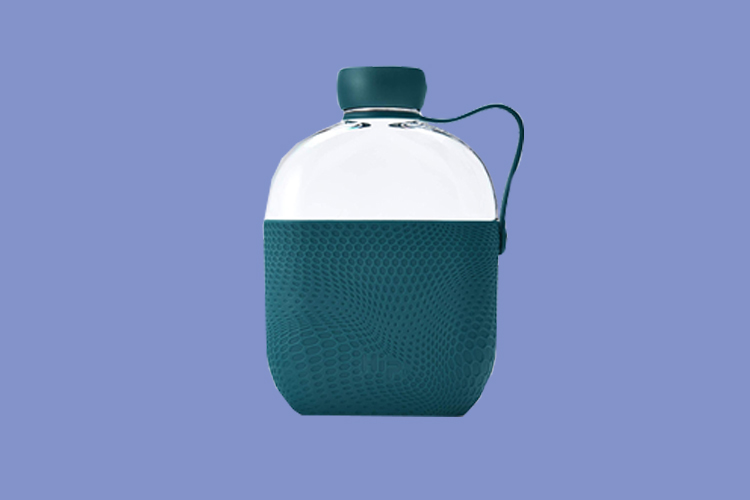 Fill it up at your airport's hydration station and boom. You'll be quenching your thirst in a uniquely stylish bottle that is as cool as you, man.
Problem: Sleeping on a Flight
There are 3 things that hopping on a flight can do. It can provide uninterrupted time to catch up on work, your favorite Netflix shows or some sleep. For those of us that want to catch up on some zzzs, finding a comfortable sleeping position can be nearly impossible. Especially if we're trapped in the dreaded middle seat. The traditional neck pillows can help, but they can sometimes leave your neck feeling horrible.
We are obsessed with this travel pillow. It actually helps hold your head up so you can sleep.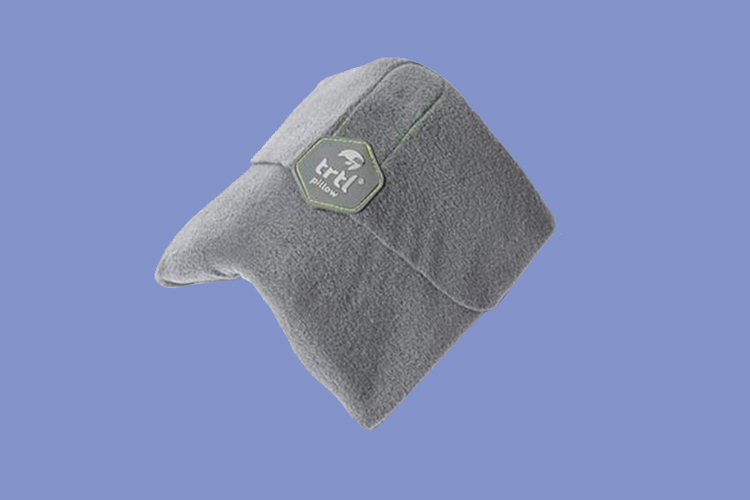 Sleeping on a plane is so tough because our heads just kind of hangs there, but this neck pillow should do just the trick.
Problem: Looking Professional and Comfortable During Travel
They say you should be ready for anything and that's particularly true during your travels. You literally never know who you might meet while at the airport. It could be a love interest, potential client, or even your next dream job. This means that we need to find a way to dress in a business casual way, but the problem with most men's collared shirts are extremely uncomfortable.
They're already annoying enough to wear during work hours, but we couldn't imagine wearing them during a cramped flight.
At least, until now.
Solution #5: Meet the World's Most Comfortable Men's Shirt by Buttercloth
This men's shirt which we have recently featured as our number one choice in our best wrinkle-free men's dress shirt roundup has been a game-changer. So much so, that we decided to write up an entire feature about them that you can check out here.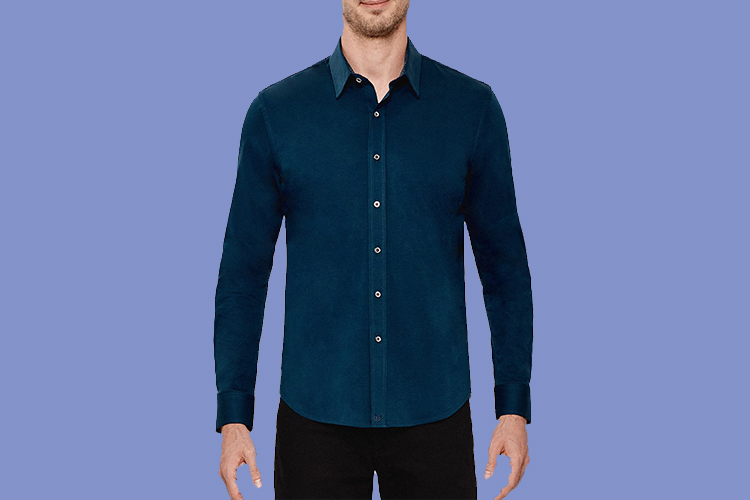 This shirt feels like the shirt you'd wear to the gym but has you looking like a million bucks.
One of the best things we love about it is the shirt's 6-way stretch, breathability, and wrinkle-resistant technology.
Conclusion About Choosing Solid Travel Gear for Men
In the end, we've got to play it smart when it comes to traveling. It's already so stressful, so why not make it a bit easier with some solid travel gear that'll elevate your experience, right?
For us, after solving each of these 5 main issues using the above items it helped make travel a bit easier and took away some stress that we have usually encountered before.
Safe travels.
-The Team at MAN'edged Magazine