Stop searching and start getting pumped about the adventure that awaits
Tired of searching all over the internet for a solid place to unplug and unwind?
If you're like most people searching online for the best weekend cabin getaways near NYC, it's probably been about 5 hours since you started.
It's beyond us why it's so freaking frustrating to find a decently priced cabin adventure.
In fact, another problem that often comes up is that when you do find a cabin that's affordable, it looks like crap. 
Tired of old and decrepit looking New York Cabins?
Well, get ready to turn that frown upside down.
Today, we're going to highlight a gorgeous property that will have you feeling like a brand new person.
Single Island Shores is located in the Fingerlakes region of New York.
Specifically, on the East side of Seneca Lake nestled between a hillside and Seneca Lake.
Full disclosure: we found them via some Time Out New York article but were totally dissatisfied at the lack of content.They didn't do the property any justice. There wasn't even a photo. Sigh.
This place is literally magical, so we decided to truly dive deep into what it has to offer and share all the content we can.
The Cottages at Single Island Shores
So, technically they refer to each of the spaces you stay in as cottages, but they're a mixture of a cottage meets cabin. Especially given the gorgeous woodwork of the structures.
For instance, take a look at how cozy and cool it looks when you wake up inside of a cottage.
The cottages are rustic, clean, and offer everything you need to unwind
They are beyond spacious, ultra-clean, and have everything you need to become one with nature.
We were told that if we wanted to see a full view of the lake and surrounding areas without anything blocking our views that we should stay in the property's Upper Lakeview section.
Don't worry, below we have a property map to give you the full lay of the land, but first we have to share all the details about the cottages.
Remember how we said it's hard to find a decent cabin in New York?
That is until now.
These cabins are not only luxurious, they're functional and fully capable of handling the dream getaway you deserve.
Quote us on that Single Island Shores.
Here's everything our cabin came equipped with:
An ultra-comfortable queen-sized bed
A large dresser with plenty of space
An adjustable rack for your wovens
An iron
Two tv's
A spacious stand-in shower
A spacious bathroom
A comfortable sleeper sofa
A microwave
A small refridgerator
Wine glasses
Paper towels
A table and seats on the deck
A wine opener (upon request)
They hit every mark.
Sources tell us that the actual owners have an architecture background, so it's no wonder that they've taken into account every element that a guest would encounter during their stay.
We cannot stress enough at how safe we felt inside of the cottage
What is the property doing to ensure the safety of it's guests?
Single Island Shores keeps the safety of their guests at the forefront of their operations.
In fact, they're staggering when guests are able to book each cottage.
We were told that there is a minimum of 48 hours between each guest's stay to ensure their safety.
In addition to this, the cleaners do not enter the rooms until at least 24 hours after a guest's checks out. So, kudos to them for caring about their employees as well as their customers.
Literally every inch of our cottage was sparkling clean.
From the shiny bathroom sinks, sparkling mirrors, and what looked like freshly polished wood, it was immaculate.
When we entered the cottage, to say that it felt clean would be an understatement.
This place has very high standards when it comes to cleanliness.
The Property of Single Island Shores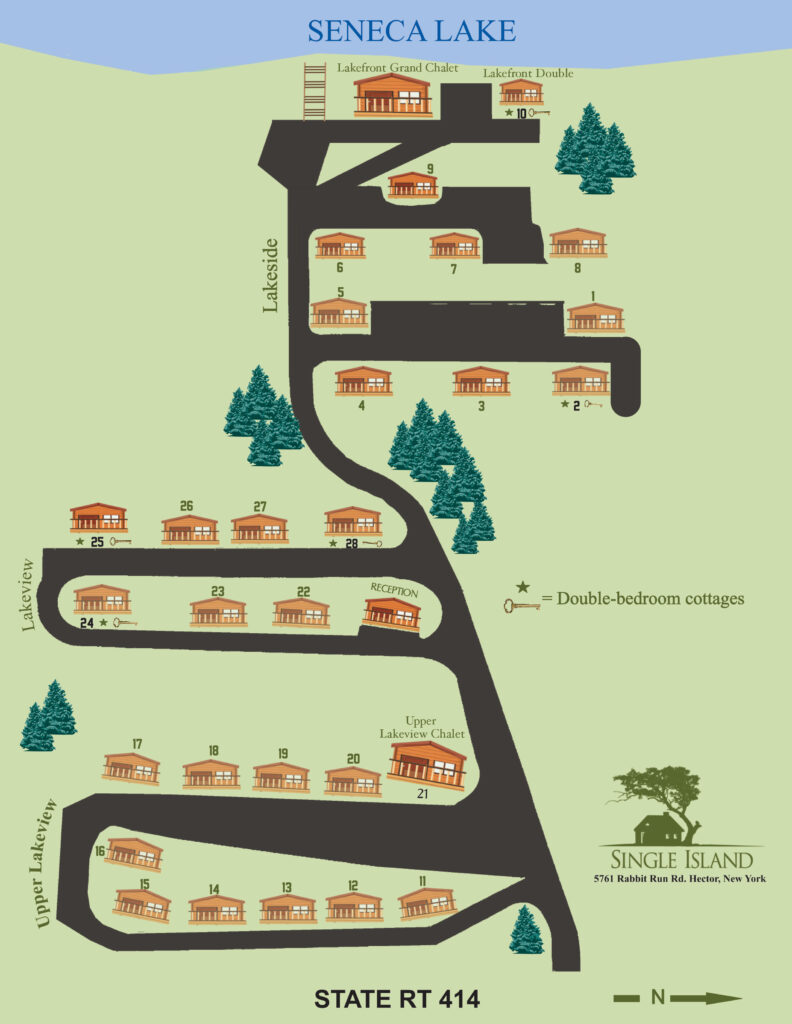 As we mentioned, this property is located in a great area in New York's Fingerlakes.
First, let's start out by giving you the lay of the land.
Here's a map of the entire property courtesy of the Single Island Shores website
As you can see there are 4 main sections of the property:
Lakefront
Lakeside
Lakeview
Upper Lakeview
Every section comes with their perks.
For example, their Lakefront cottages are right smack next to the water. They're also running roughly at $600 a night and are completely booked out every weekend over summer 2020.
So, what about the Upper Lakeview cottages that we stayed in?
Don't for a second think that just because the Upper Lakeview cottages look far from the lake, that they're somehow far away from the action.
They're incredible.
The Upper Lakeview cottages are located on the hill of the property, so that you have a full panoramic view right from your front porch.
These cottages will run you roughly $220-$250 per night.
The Property Management
Another key element that adds to any adventure is the responsiveness of management should you need anything during your stay.
During our stay, we had a wonderful experience with the property manager who answered all of our questions and who's response time was phenomenal.
The team here definitely wants you to enjoy your stay and you can feel that they genuinely appreciate your business.
The Location
The location of Single Island Shores is perfect in relation to nearby breweries and wineries.
Forget something at home? Take a 20 minute drive and there's a Wal Mart.
Feel like experiencing a local brewery?
Then head over to one of our favorite spots called Grist Iron Brewery.
Craving some fresh farm to table food?
Don't forget to stop by the delish STONECAT Cafe which is only about a 7 minute drive down the street from Single Island Shores.
Go behind the scenes and check out our video of the property here
Note: this is a vertical video so please expand to view full version on phone or desktop.
Not your ideal trip? Check out our 3-part series of great places to visit post-quarantine.
In this article we take you on a full tour of three epic getaways that are just under a 5 hour drive from NYC.
-Stay safe and healthy.
The Team at MAN'edged Magazine