Everything you need to know about whiskey and a brand called George Dickel.
Back in May, we had the chance to head to Nashville to go behind-the-scenes for an exclusive look at how one whiskey brand is creating a new variant.
At first glance, this simply looked like a fun trip to take.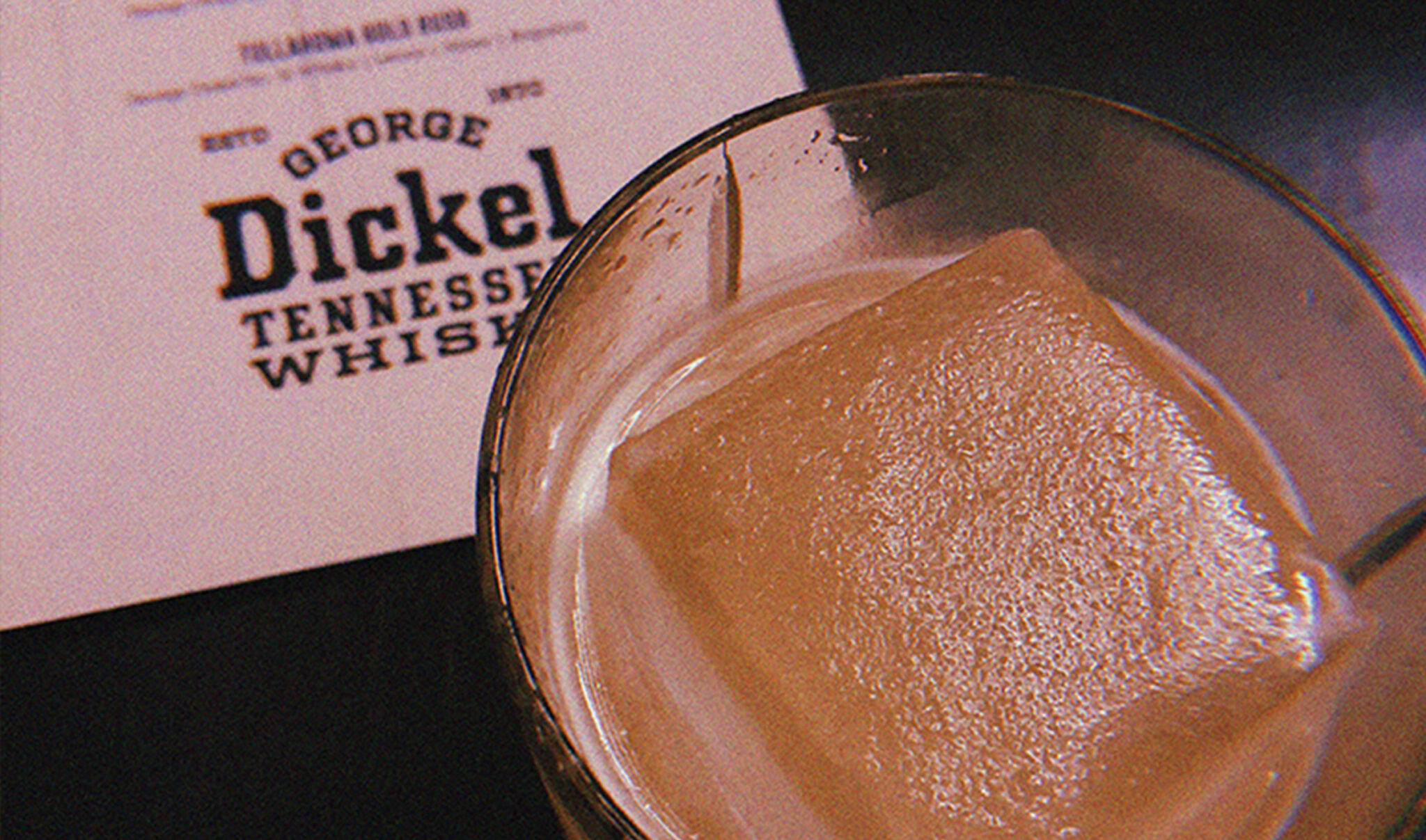 Booze, paid airfare and a chance to get out of the concrete jungle made it no-brainer.
It wasn't until we were greeted by the general manager of the distillery that made us really perk up and think "there's something happening here."
OUR TRIP TO THE EXCITING LAND OF NASHVILLE
We flew out from NYC and got in early. We stayed at a really great hotel in downtown Nashville called The Bobby Hotel.
This hotel is our new go-to spot anytime we're in Nashville.
It was a classy joint.
Not stuffy, but modern and edgy.
If you ever have a chance to check it out, be sure to check out the epic chandelier they have in the lobby made out of various Cadillac parts.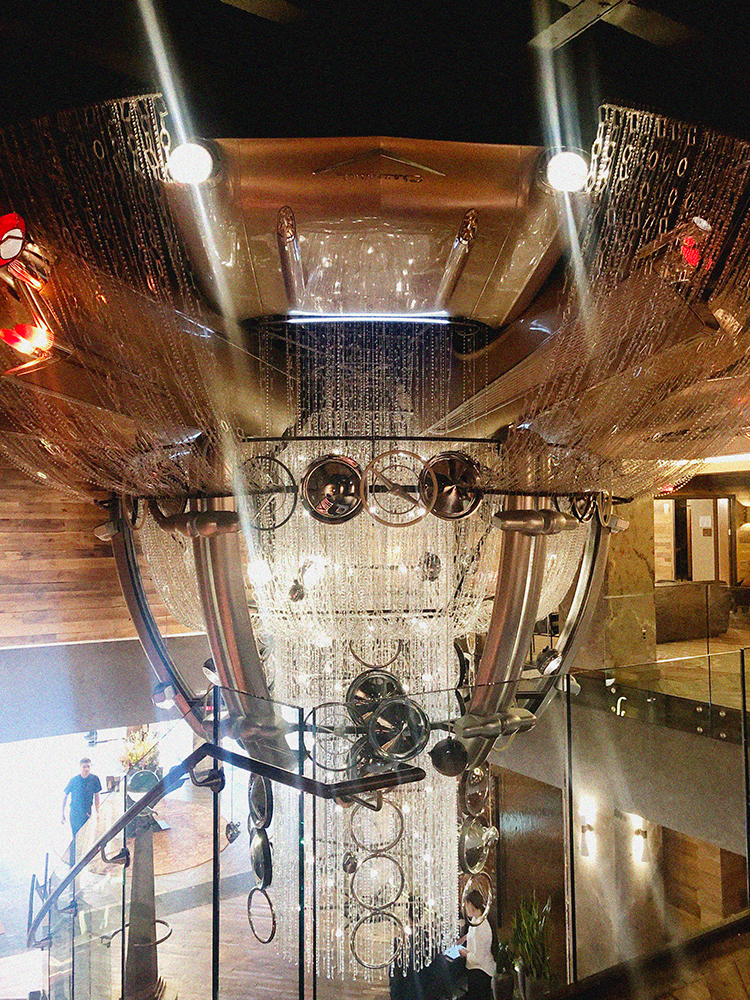 On our second day in Nashville, we were shuttled to the Cascade Hollow Distilling Co. property located in Tullahoma, Tennessee.
Imagine a lush green property filled with trees and of a course, a distillery. This atomic distillery was warm and welcoming. You sense that its heritage was alive, but you could also smell the excitement in the air.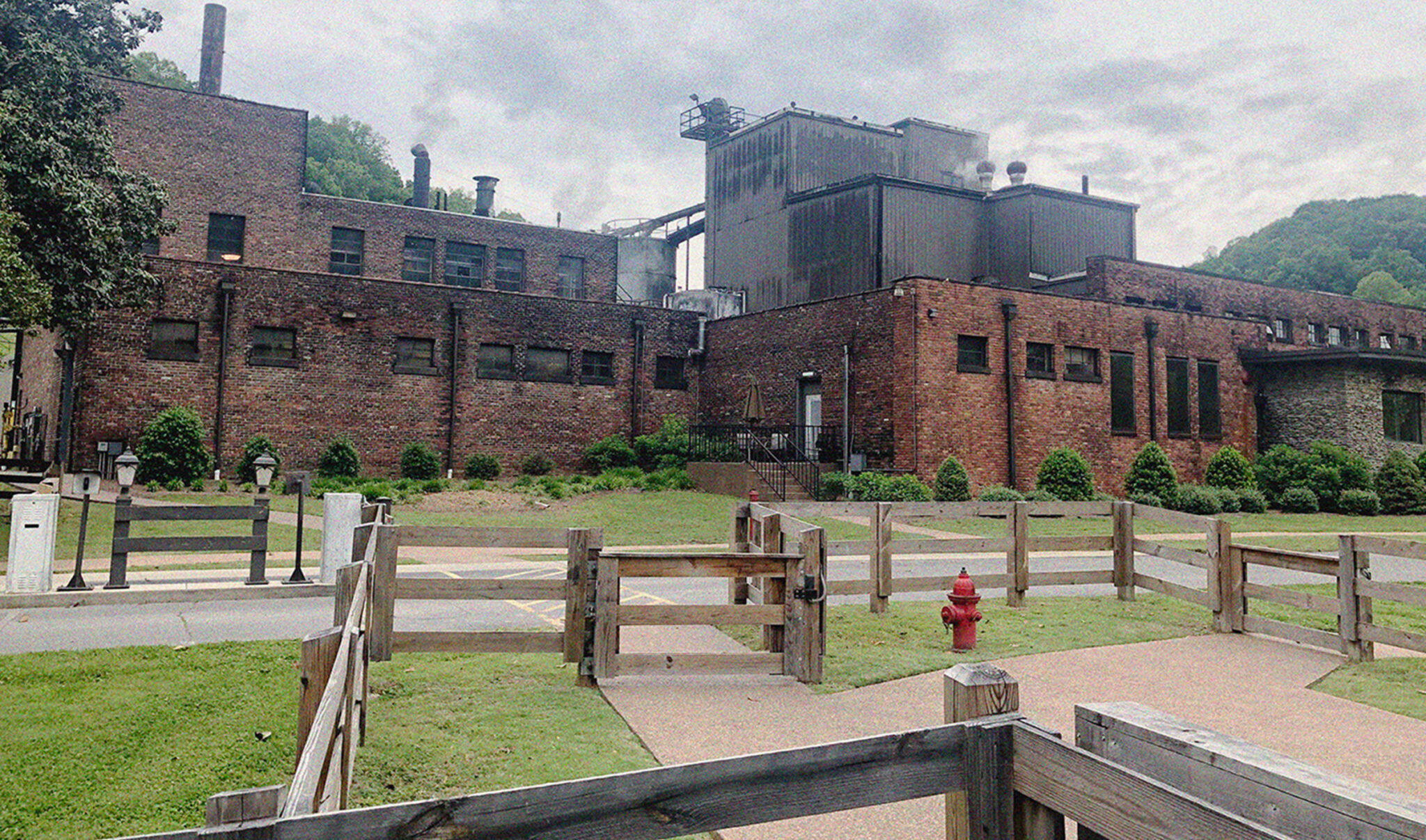 As we first descended into the main entrance of the distillery, we were greeted by customary brand reps and after a two-hour ride…well, nature called.
If you have a chance to check out the Cascade Hollow Distillery, definitely check out the bathrooms. The sinks rest upon two big oak barrels and the lights are made up out of George Dickel whiskey bottles like this.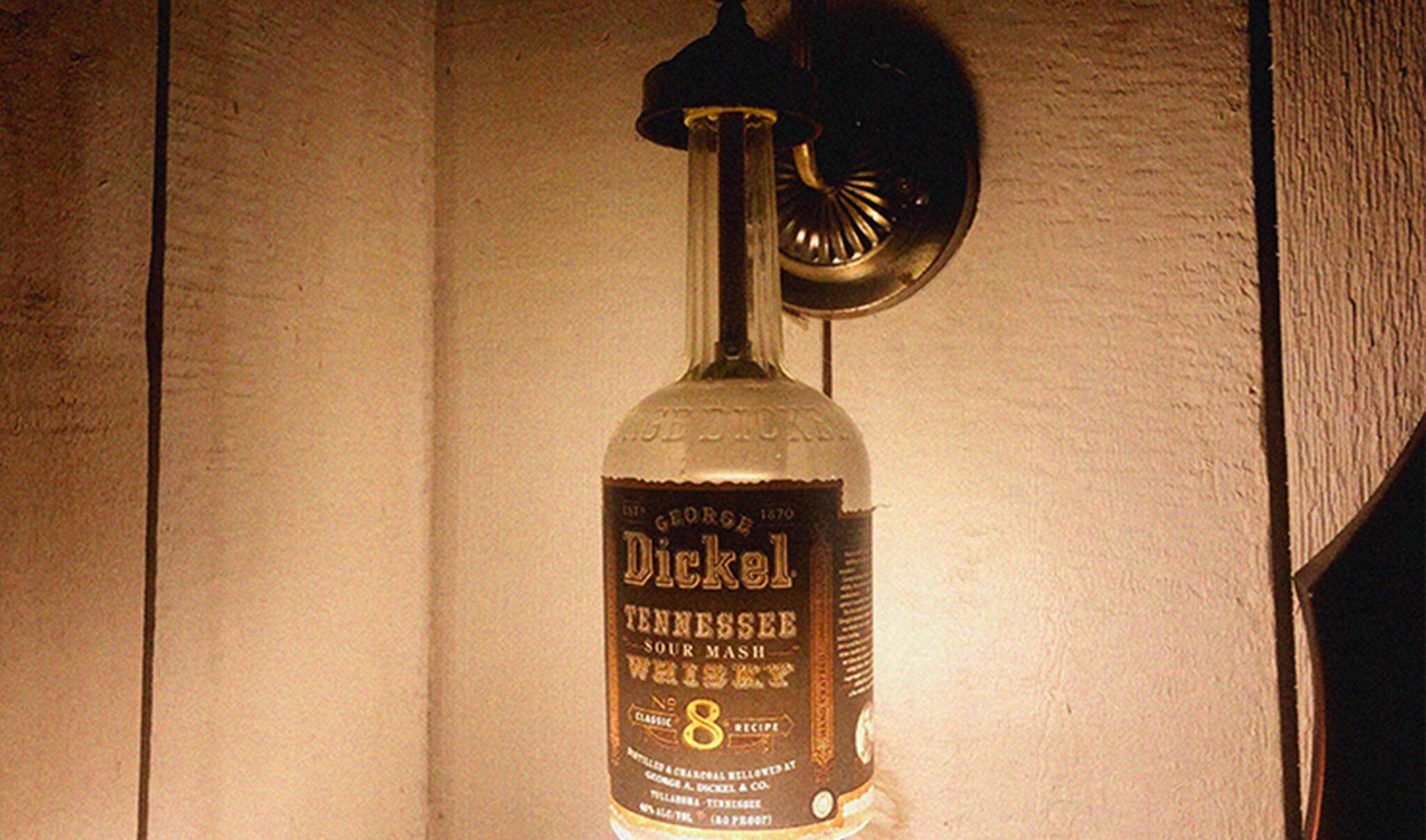 Once we freshened up, we ventured into the back hall where we had the safety talk.
Then suddenly, in walked the woman of the hour. We've heard whispers of her brilliance, her energy and her sparkle.
She did not disappoint.
Yes, it was Nicole Austin – General Manager and Distiller of Cascade Hollow Distilling Co. We were shooketh.
Photographed below, Nicole Austin, General Manager and Distiller of Cascade Hollow Distilling Co. photographed with MAN'edged Magazine Founder, Michael William G.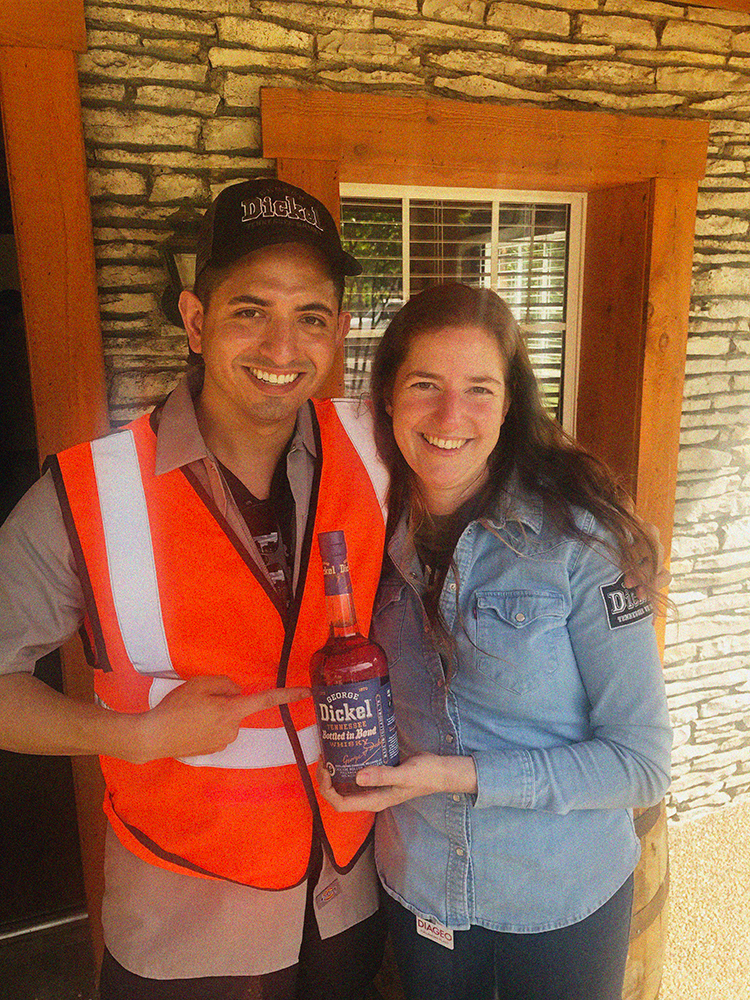 Our main takeaway after speaking briefly with Austin over lunch is that she's beyond intelligent, she's intuitive, and she's ready to take on the world of whiskey.
There's underlying energy when you're around her.
It's like watching those beginning moments before someone explodes onto the scene in popularity. You simply just have to be around her.
Don't let that charm fool you though. Austin is no stranger to putting in the work and hustle, which is something we enjoyed about her. She's trained tremendously hard for this role and we're trying to figure out why the folks over at Food & Wine have not yet featured her.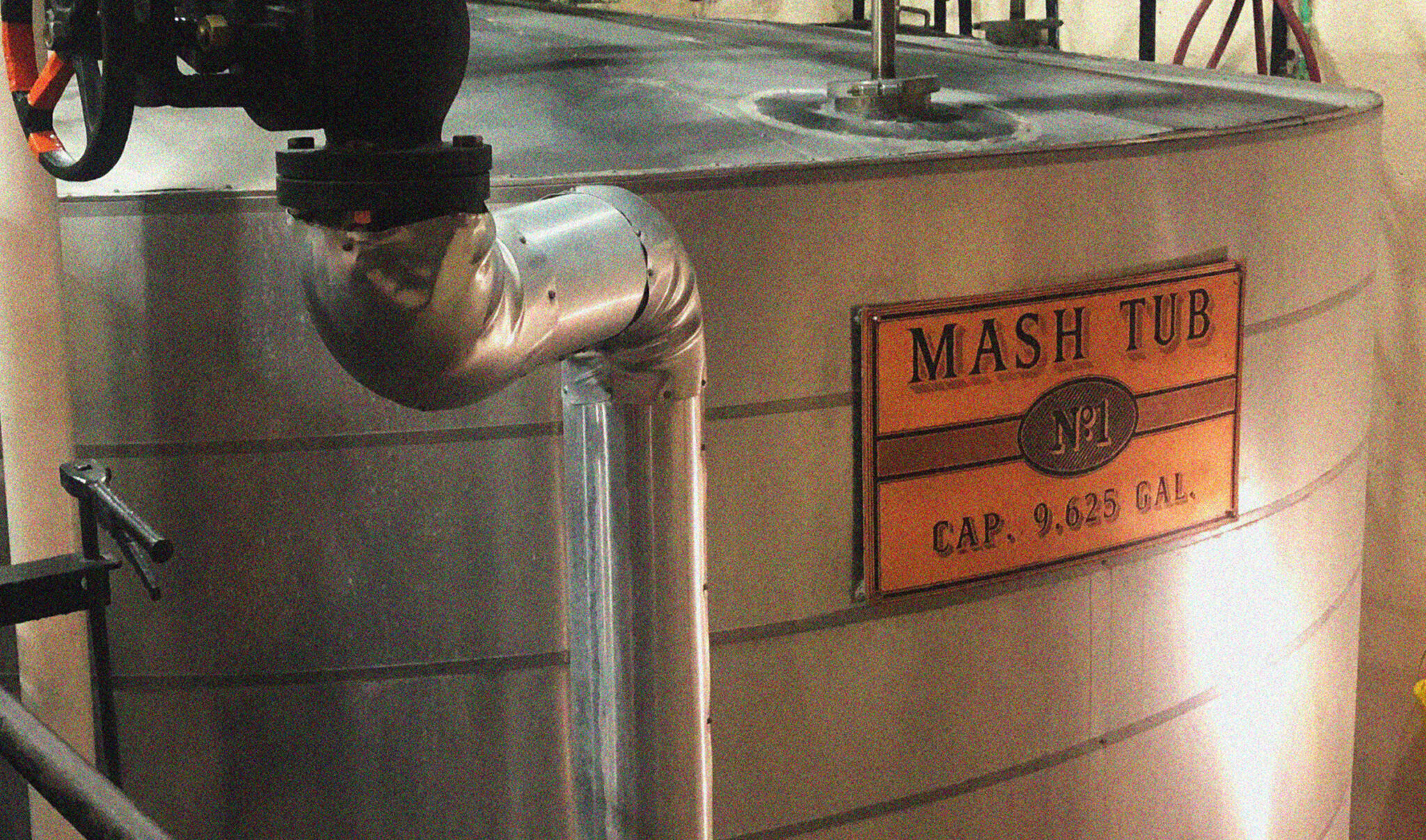 During our trip, Nicole not only lead us through a private tour to give us an up-close look at what's happening at the distillery, but we also had the chance to "intern" under her for a day to truly experience everything that goes into making George Dickel and its new Bottled in Bond variant.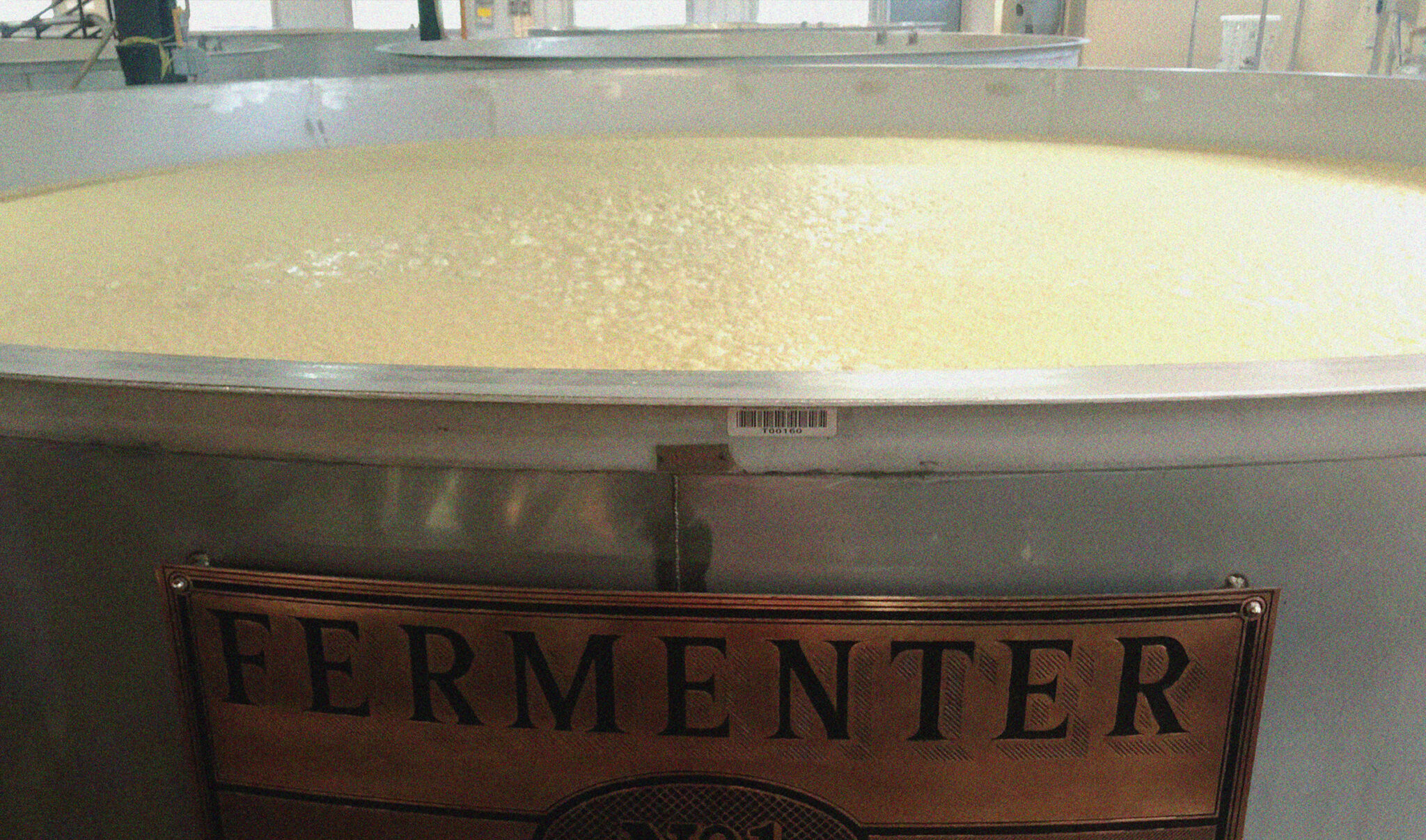 WHAT MAKES THIS WHISKEY SO SPECIAL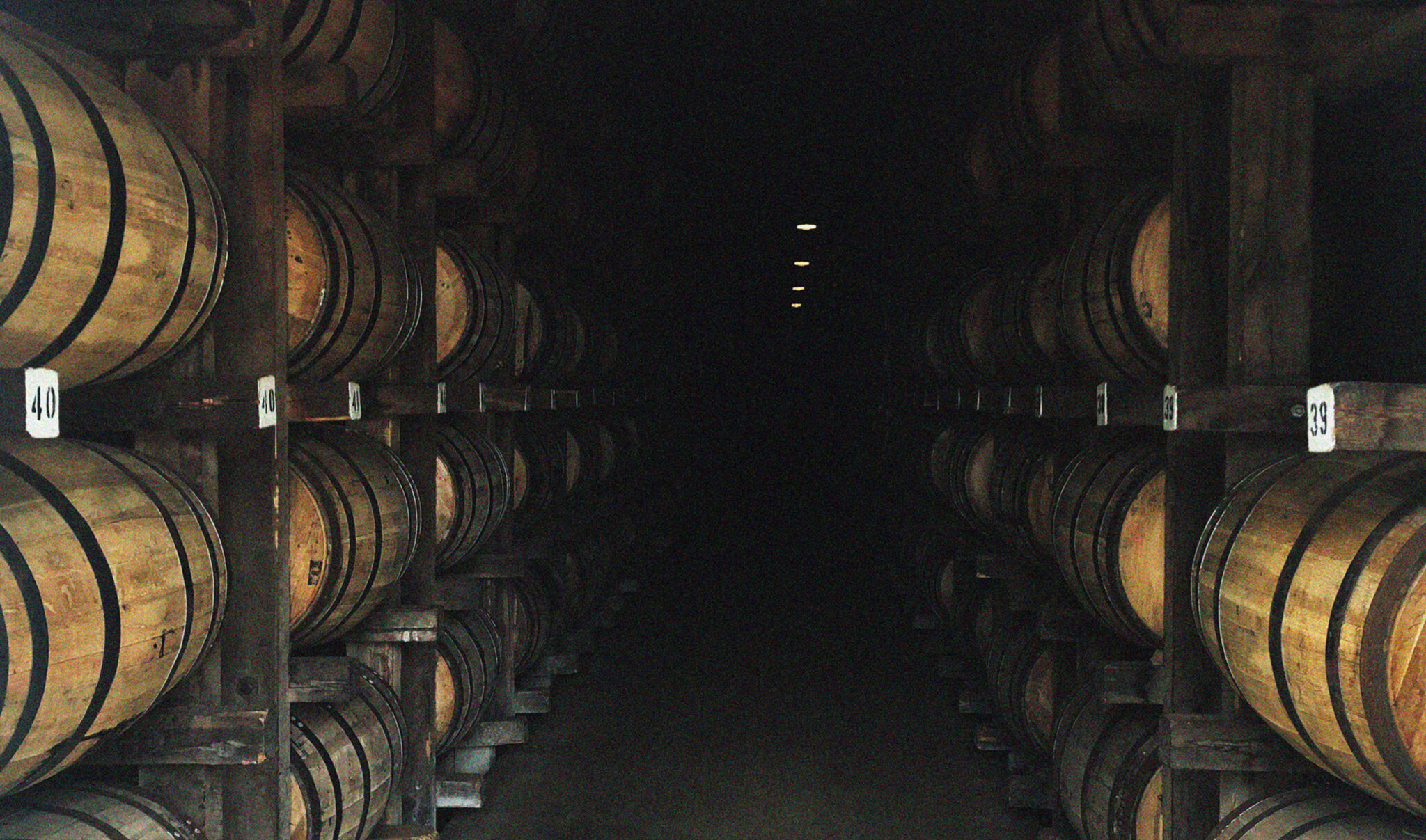 For starters, it's the first new whiskey innovation led by Austin who came on board a little over a year ago. It's also the first time that George Dickel is entering the Bottled in Bond Category.
Unlike a typical whiskey, a Bottled in Bond Whiskey has some cachét.
Here's a quick history lesson.
Back in 1897, the Bottled in Bond Act was enacted in order to help guarantee a spirit's authenticity and level of quality.
In today's world, we as consumers really enjoy brands that are transparent, right?
ENTER BOTTLED IN BOND WHISKEY
For a brand to label a product as Bottled in Bond, a spirit must be aged and bottled according to a special set of regulations from the U.S. Government that includes:
Product of one distillation season by one distillery (George Dickel Bottled in Bond has been distilled by Cascade Hollow Distilling Co. at Cascade Hollow Distillery, DSP-TN-2, during the fall season of 2005)
Be stored in oak containers a federally bonded warehouse under U.S. government supervision (George Dickel Bottled in Bond was stored at Cascade Hollow Distillery in Tullahoma, TN) for at least four years (13 years old)
Bottled at 100 proof (50% ABV) and reduced in proof only by the addition of water to not less than 100 proof
Yeah, so the main takeaway here is a Bottled in Bond Whiskey is legit.
It also begs the questions, why create a Bottled in Bond variant as your first whiskey innovation?
AUSTIN HAS GUSTO
Listen, for Austin to be the only woman we saw on the property takes guts.
Of course, there was the woman we saw at the register (hey boo), but everywhere else we went we saw a lot of dudes. We can only imagine how much "man-splaining" she has to deal with, but it doesn't matter.
Austin sits at the top. She's wise, she's quick on her feet, and she's making things happen.
For example, when Austin sat with the press who asked intriguing questions, she met each and everyone one with candor, intelligence, and accuracy. We'd imagine it be easier for someone to create a basic whiskey to play it safe.
Instead, Austin wanted to uplift and change things up by making a Bottled in Bond whiskey as her first whiskey innovation.
"We wanted George Dickel Bottled in Bond to be rooted in authenticity, quality and truth, reflective of the values we feel are most important when making Tennessee's finest whiskey," said Austin. "The aged whiskey stocks we have access to here at Cascade Hollow are absolutely beautiful, and it's important to me that we create whiskey that's sure to be a great value for the quality you're getting."

Nicole Austin
That's is so freaking awesome.
Oh, don't forget that Austin's new innovation also scored her a Gold Medal at the San Francisco World Spirits Competition.
Casual, right?
LET'S TALK GEORGE DICKEL BOTTLED IN BOND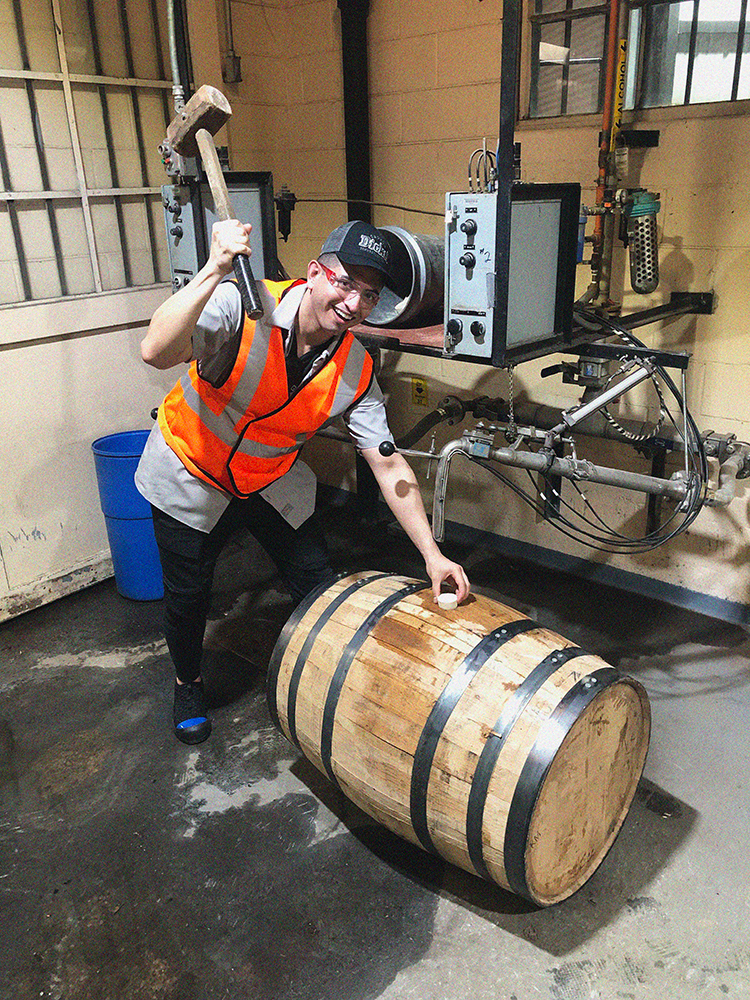 MAN'edged Magazine Founder, Michael William G., shows Us How to Close a Filled Oak Barrel.
During our "internship" we were shown each of the 6 steps that go into making this gem of a whiskey.
From unloading the corn, malt, and rye to getting to go inside the aging barns, we saw it all.
We also have to shoutout our station mentors who made us feel welcomed and taught us so much. Also, a huge shoutout to the lad who effortlessly picked up a barrel because we asked him to. That was pretty rad and also not-human.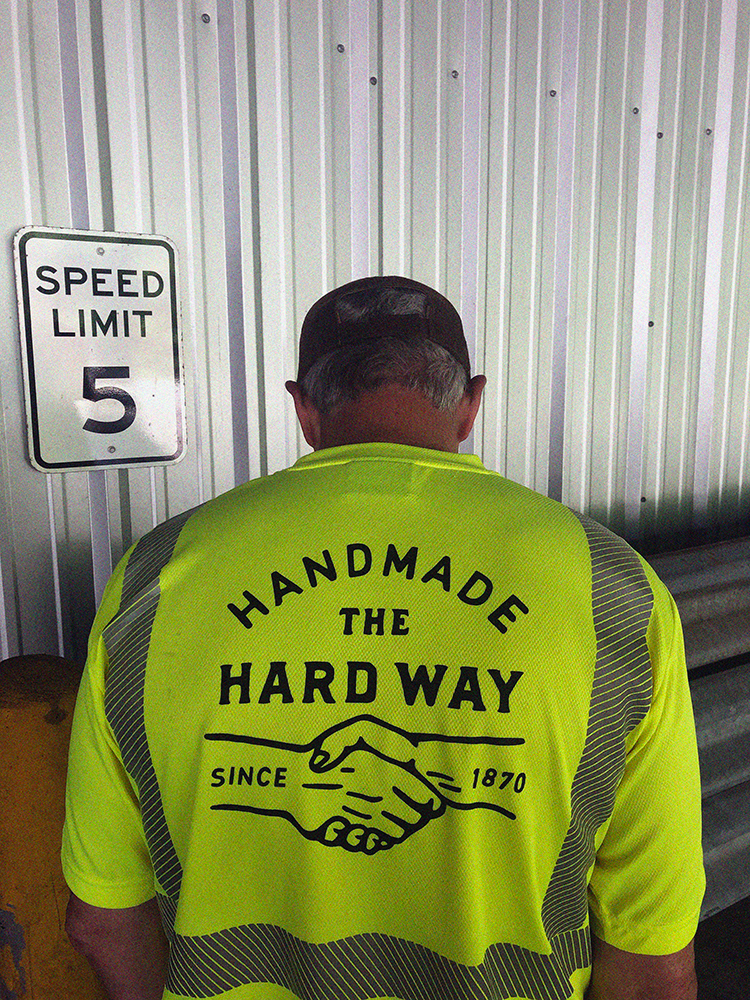 LET'S TALK ABOUT THE GEORGE DICKEL BOTTLED IN BOND BOTTLE PACKAGING
The bottle looks charming with its deep blue color and hints of gold placed throughout. The bottle is tall and offers some great reading material.
In terms of gifting this, you'd want to make sure the recipient truly engages what they're drinking and the work that went into it.
LET'S TALK ABOUT THE TASTE EXPERIENCE
Austin recommends first trying the whiskey neat or on the rocks to realize the full flavor profile. This particular variant has is chill charcoal mellowed which helps it get that smooth mouthfeel that the brand is known for.
This whiskey offers a long finish with complexity. There are hints of sweetness and oak placed throughout. One very interesting note we picked up on was a nutty character along with a hint of orange peel.
OUR CONCLUSION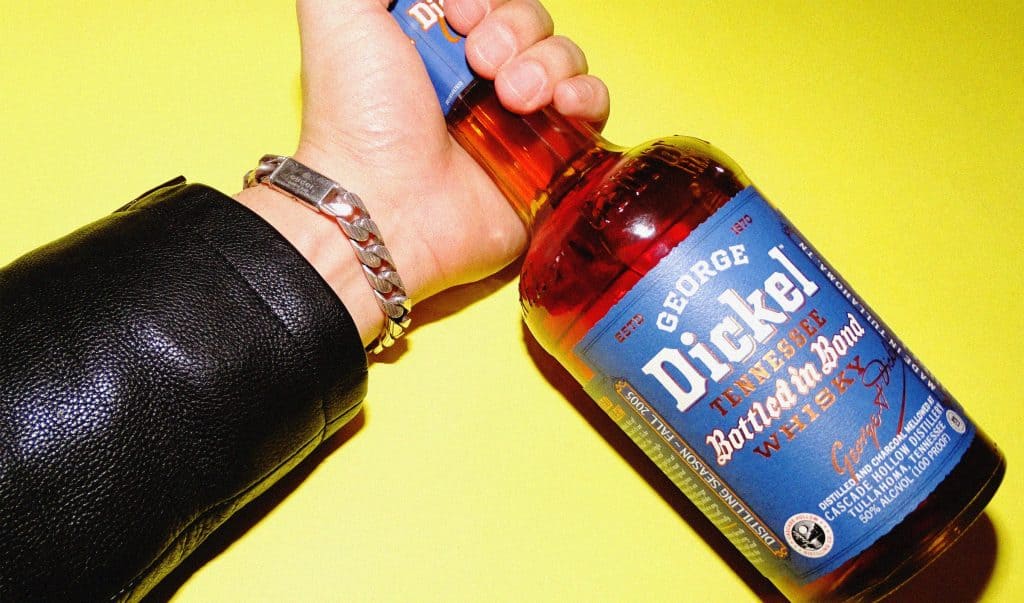 This variant is the best Bottled in Bond whiskey you can find on the market under $50 (retails at $35).
We cannot wait to see what else Austin has in store for the new Cascade Hollow Distillery. If her first whiskey innovation gives us any clues, we're sure that she'll keep uplifting this whiskey world one variant at a time.
There really is something happening.