Get ready to unwind at the best luxury five-star all-inclusive resort in Jamaica.
Looking for The Best Luxury five-Star All-Inclusive Resort in Jamaica can be challenging.
Chances are that if you've stumbled upon this article then you fancy yourself the ultimate getaway that is oozing in luxury, right?
Before we dive into today's article, we wanted to show you a quick overview of the 21-reasons why we dubbed this property the best luxury five-Star all-inclusive resort in Jamaica.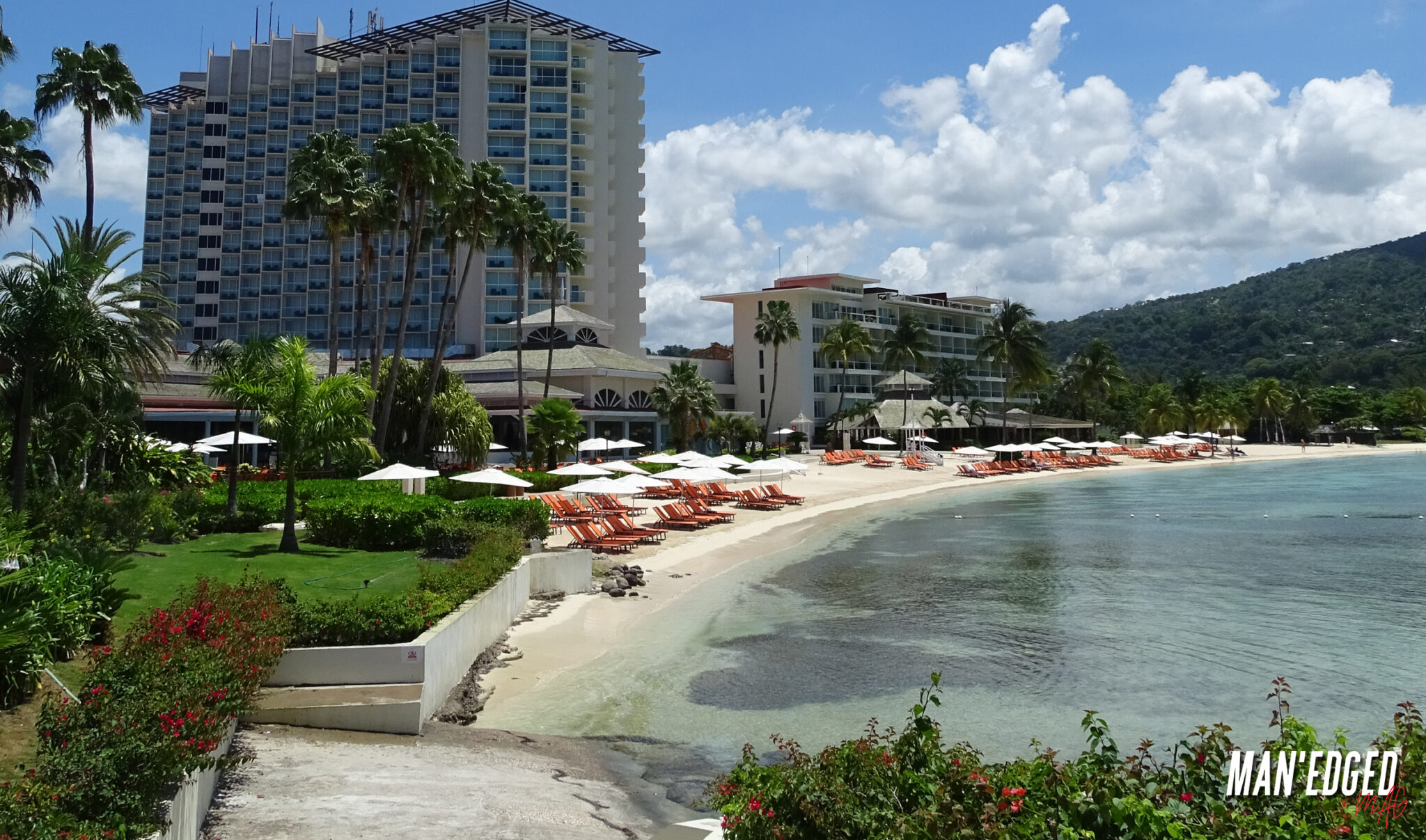 If you're like us, you want your getaway to encompass both an adventure and a relaxing experience.
A getaway should leave you feeling like a changed man (or woman) once you arrive home. It should leave a smile on your face every single time you think about your trip. This place will leave you smiling for years.
Here's a quick look at the 21 reasons why you should stay at this beachfront property in Jamaica.
Astonishing beachfront views of Jamaica
World-class five-star service
Delicious Cocktails for every craving
Plenty of Entertainment
Spectacular Cuisine
Snack Options Galore
Top-notch Waterfront Dining
Daytime Entertainment
Nightlife Memories
Elevated Bathroom Amenities
Spaciousness of Room
Ample Bar Stations
Room Service
Location of Property
Sunbathing Options
Nighttime Swimming
Top-Notch Gym
Complimentary Spa Treatment
The Scent Experience
Dolphin Experience
Luxurious Moments of Delight
That's exactly why we've dubbed Moon Palace Jamaica as the Best Luxury five-Star All-Inclusive Resort in Jamaica.
Now, get ready to dive a bit deeper as we take you deeper into your new favorite vacation spot.
Here are our 21 Reasons Why You Need to Stay at Moon Palace Jamaica
1: Astonishing Beachfront Views of Jamaica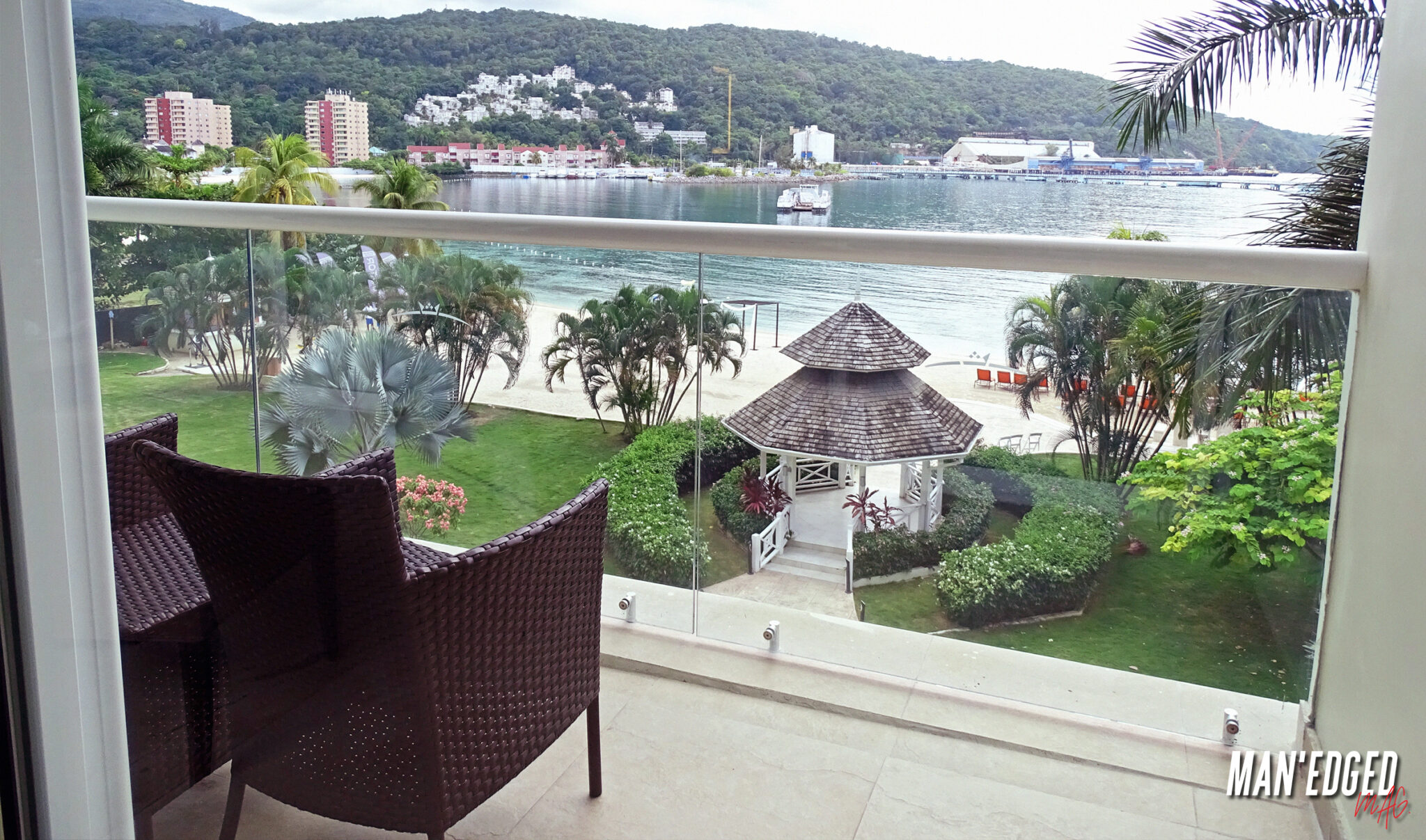 Looking for that perfect beachfront view right from your hotel room? Better yet, why bother moving when you could just look out the window from your bed?
The moment we walked into our room at the Moon Palace Jamaica , we literally dropped our bags as we just stared out of the window.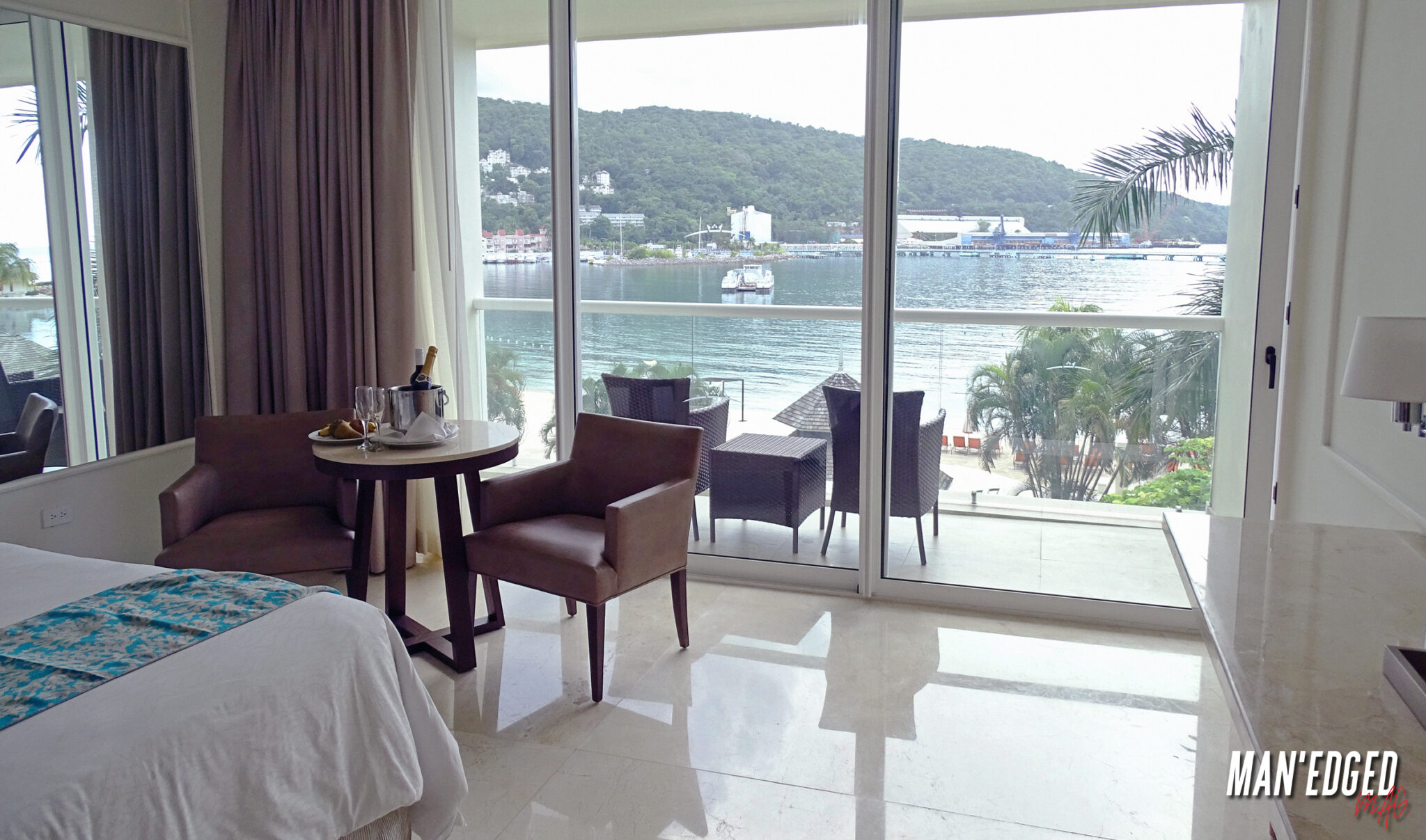 A huge floor to ceiling sliding glass door opens up to a private and spacious balcony with views of luscious greenery and shimmering water.
Every morning, we ordered coffee and fresh orange juice as we sat and took in the beauty of this property.
2: World-class Five-star Service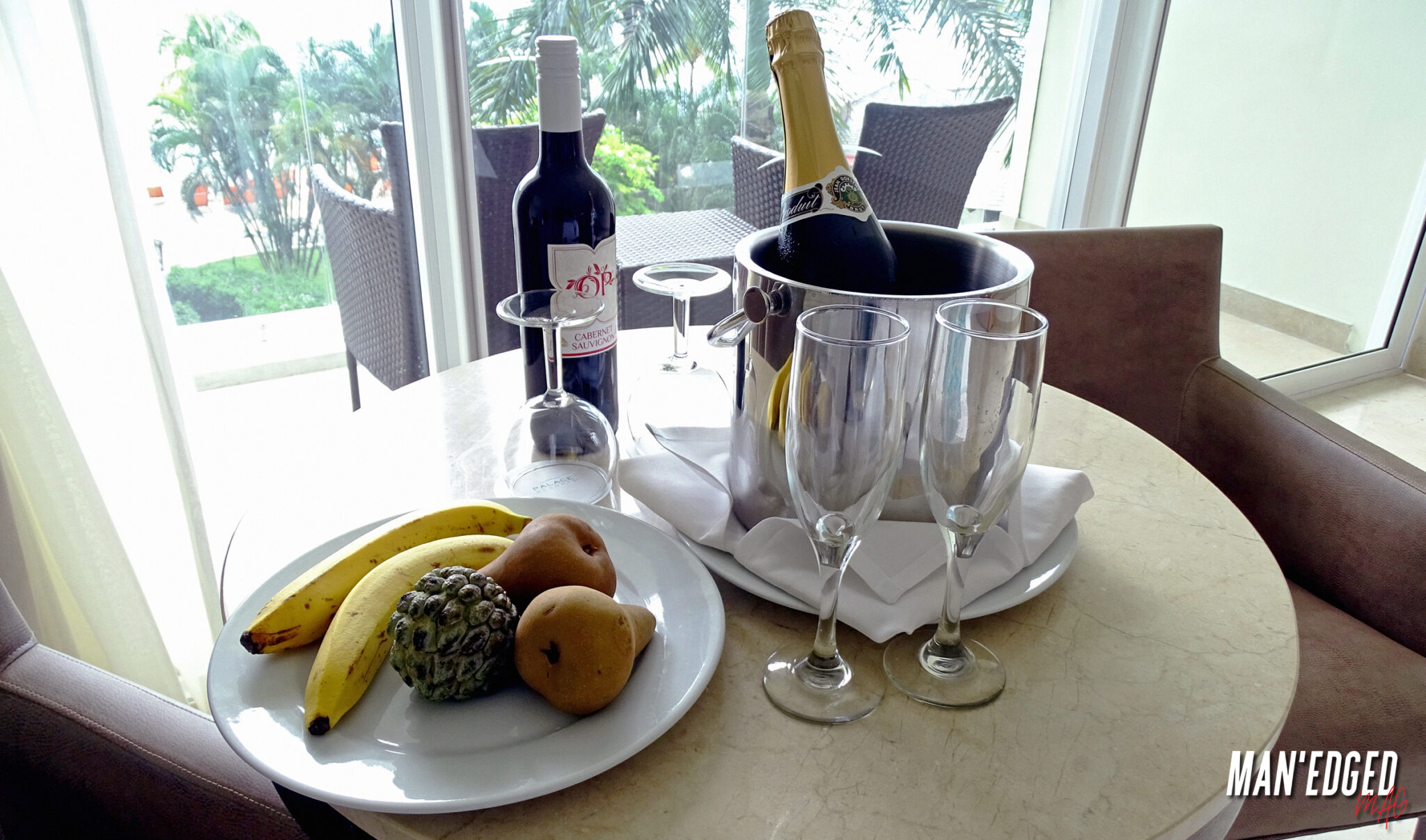 Nothing truly shows the caliber of a luxury resort quite like the service that is received. That's exactly why we give this 5-star Jamaican resort two thumbs up. At every point during our stay, the staff ensured that we had everything we could possibly imagine to ensure our stay was amazing.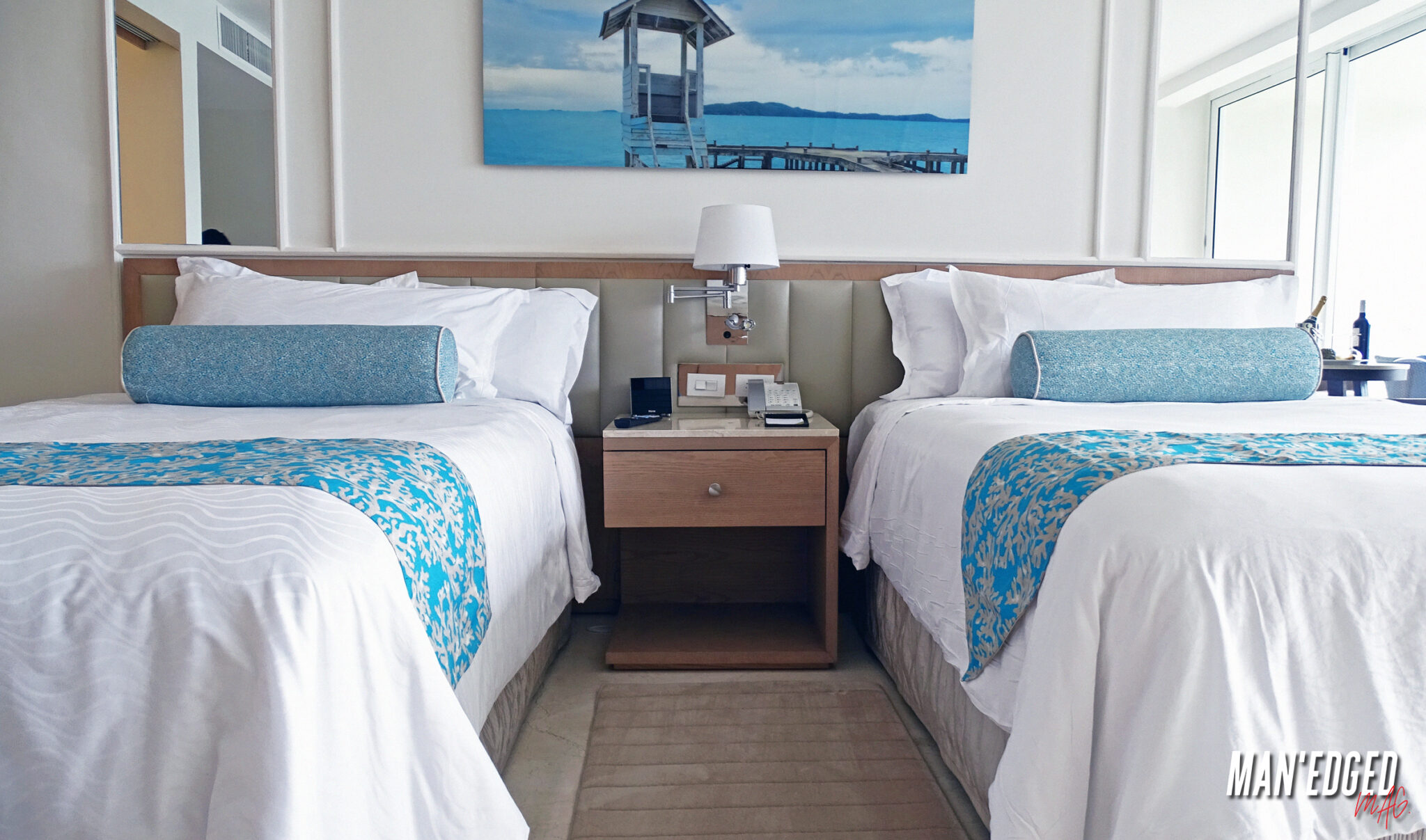 Whether it be asking for a custom sushi roll at the resort's sushi bar or asking for that late-night pizza room service that you know you'll crave, every single touchpoint was stellar.
In fact, one of the most memorable interactions we had with every staff member, was when we said thank you.
Every single employee would respond with a big smile and say "no problem". Something that seemed reminiscent of the Jamaican culture and encompassed the easy-going nature of the land.
3: Delicious Cocktails for Every Craving
Next, the cocktail experience at Moon Palace Jamaica was outstanding!
No matter if you wanted to indulge in the traditional Jamaican rum-punch or saddle up with a top-shelf spirit, there is an option for your palate.
Are you a sunbather that enjoys a solid cocktail whilst you soak up some rays?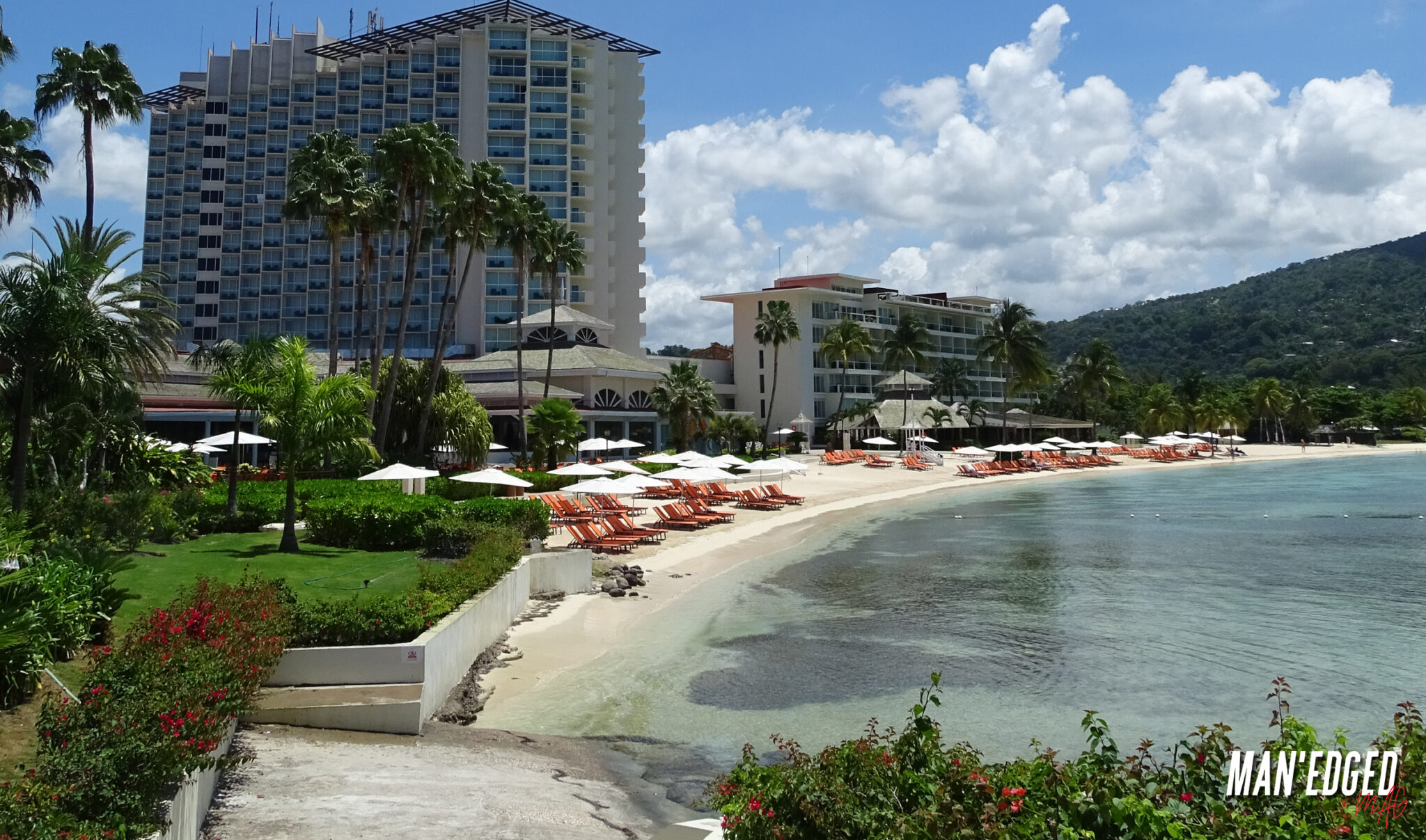 Perfect.
Not only could you effortlessly order a cocktail from the staff attendants that walk by, but you could also take a quick stroll to stretch and visit the Wet Bar Moon Palace Jamaica.
It offers a great view of the entire resort, a fully stocked bar with top-shelf spirits and of course allows you to cool down as you sit in the pool and order.
Feel like something a bit more classy?
Then you're definitely going to want to visit The Piano Bar Moon Palace Jamaica.
This intimate and upscale venue serves up signature martinis. Whether you prefer yours shaken, not stirred; dry or dirty; chocolate, banana or guava, there's a Martina here with your name on it.
Plus, the ambiance offers a very romantic vibe and elegant vibe.
4: Plenty of Entertainment Options
Another great component of our entire experience was that there were plenty of activities to enjoy during our stay.
For example, feel like kayaking around the beachfront property to truly become one with nature?
Perfect. You can totally do this.
Is paddleboarding more your thing? Great because you can do that too.
We totally suggest booking a sailboat session to truly appreciate the island's beauty.
Do you prefer to stay on land for your entertainment activities? Don't worry, you're not left out of the fun.
One really fun activity to try out is called the Flow Rider.
The FlowRider Double Wave Simulator creates two lanes of perfect, endless waves. It offers a great surfing experience no matter your age or abilities. You could start on the bodyboard and as you get more confident and comfortable, switch to a standup board.
5: Spectacular Cuisines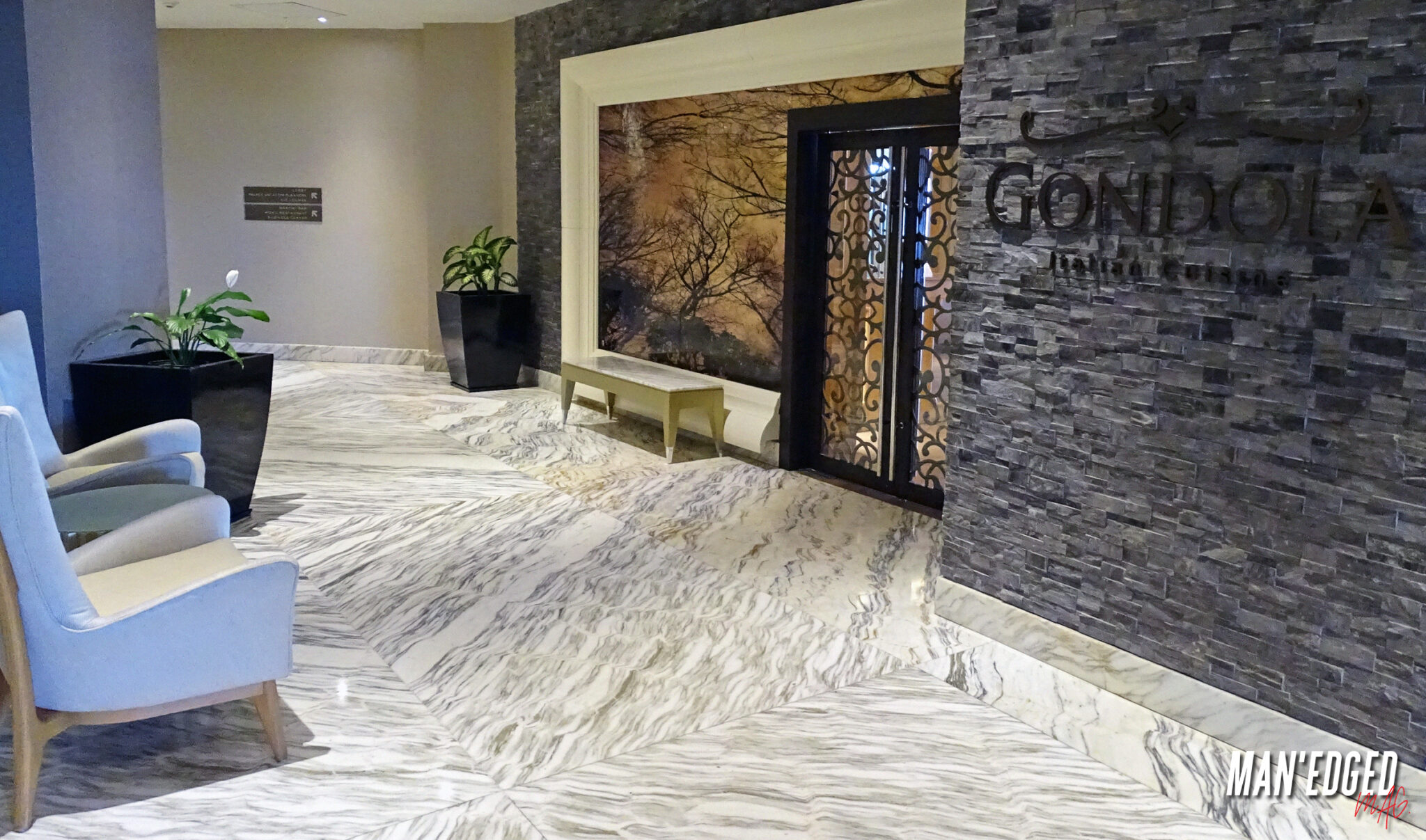 Next on our list, we're going to talk about the cuisines on this lovely beachfront property.
Seriously, we ate so much during our stay that all of our hard work at the gym kind of went out the window. We were here to enjoy and uncover the experience for our readers, so you're welcome. As you could imagine, work was super hard during our stay.
You have over 7 dining choices to choose from not including room service. Here's a quick breakdown of some of them.
Gourmet Corner
If you're in a bit of a hurry and need to pick up a quick bite, then you're going to want to explore the Gourmet Corner. It offers on-the-go guests a tempting variety of pizza, sushi and paninis so you can get back to vacationing.
The Boulangerie
Got a sweet tooth? Perfect because the Boulangerie is going to be your best friend. It offers guests fresh pastries, crepes, flavored coffees, ice-cream and hand-painted chocolates 24 hours a day. You'll know where to find us for those late-night cravings.
Buccaneers Reef
The Buccaneers Reef is the main dining room that guests can visit for breakfast, lunch and dinner. We've only visited this for breakfast and we were truly amazed at the assortment that was offered. Whether your craving an omelet, oatmeal or a classic eggs/potatoes breakfast, they had it all.
Momo
Need a break from the jerk chicken? Then you're going to want to visit Momo. Momo offers the most innovative Asian cuisine in Jamaica.
Would you like fresh, elegant sushi, made to order by an experienced sushi chef? Or would you prefer the delicious fare and dramatic flair of a hibachi table?
We opted for the hibachi table that was a real delight. Not to mention, the food was delicious. It was fun and smiles around the restaurant's tables could been seen from wall to wall.
La Gondola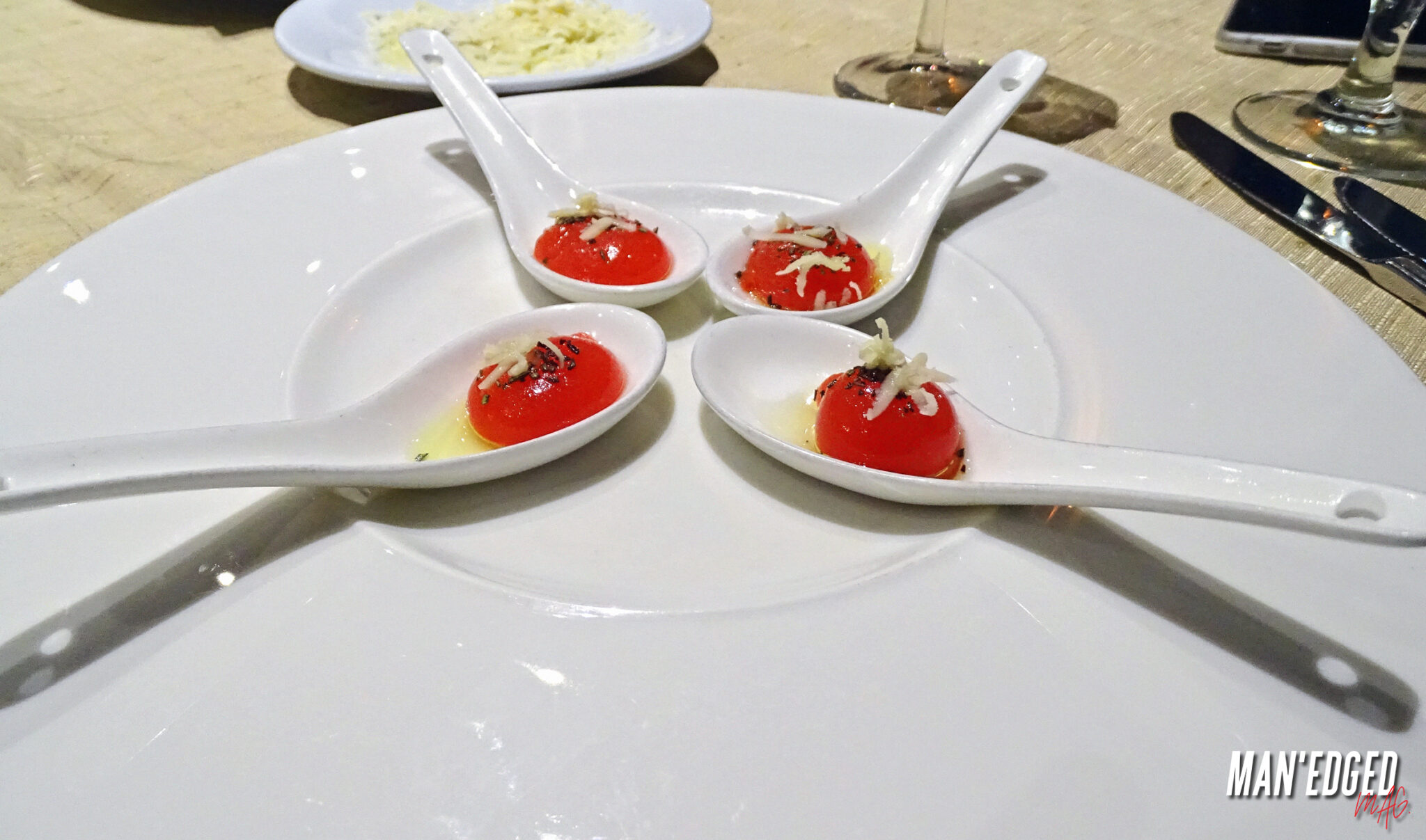 For our last night's stay at this gorgeous five-star Resort, we were craving Italian food so we visited La Gondola.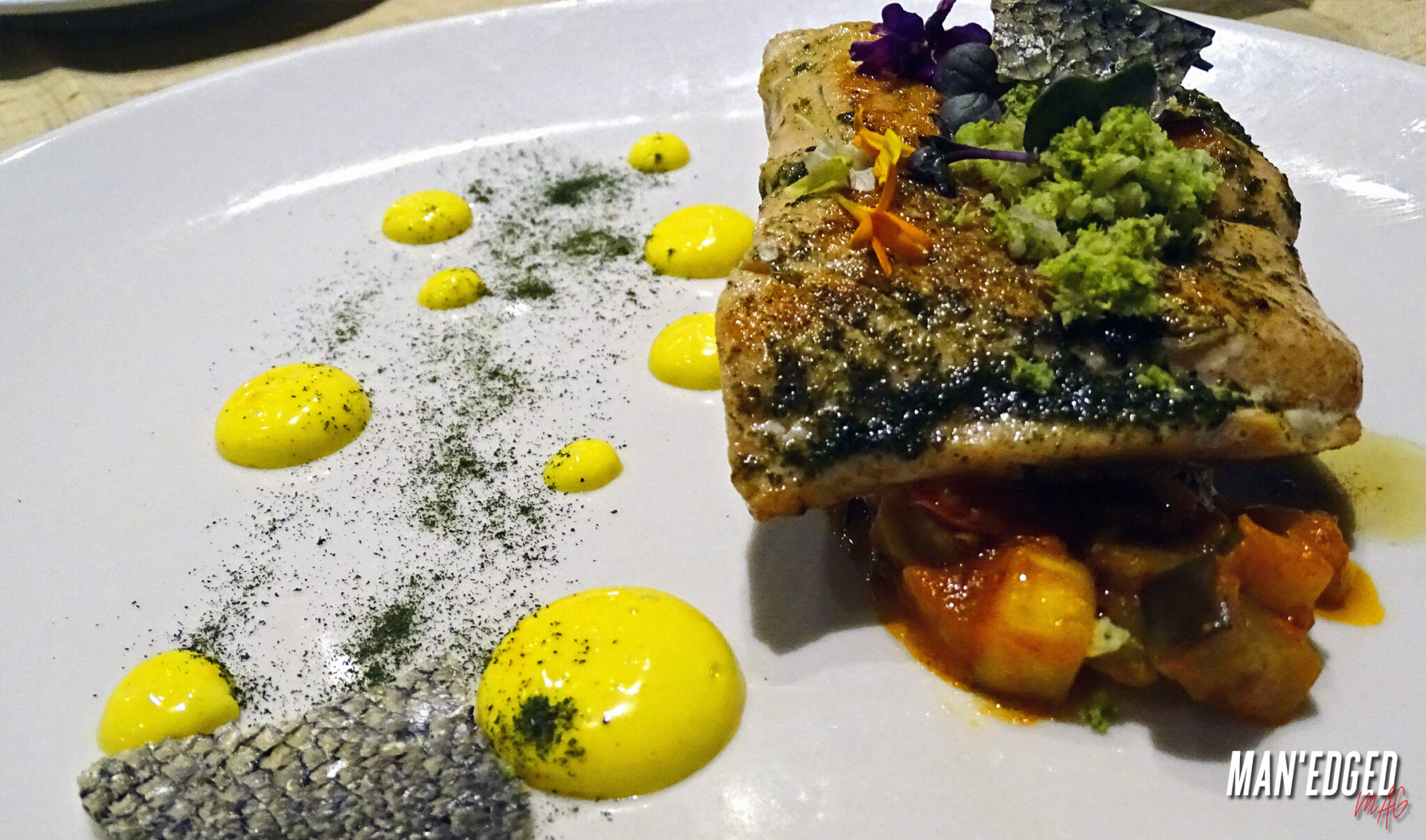 This restaurant is magical. One second you're in Jamaica, the next you're transported to an elegant Italian villa.
Every single bite was delightful. You could taste that each item was carefully prepared with only the finest and freshest ingredients.
Here's a look at some of the dishes that hit our table.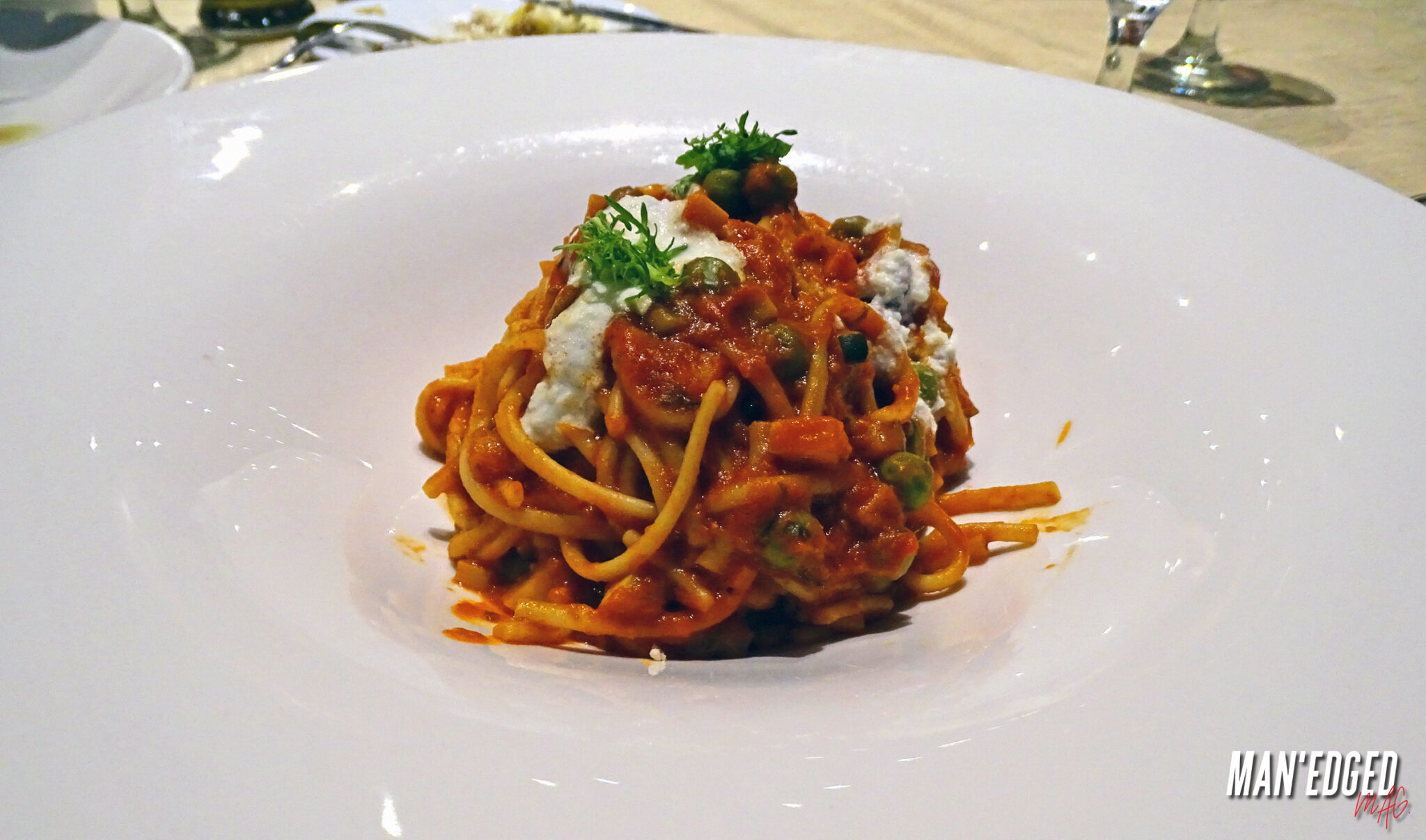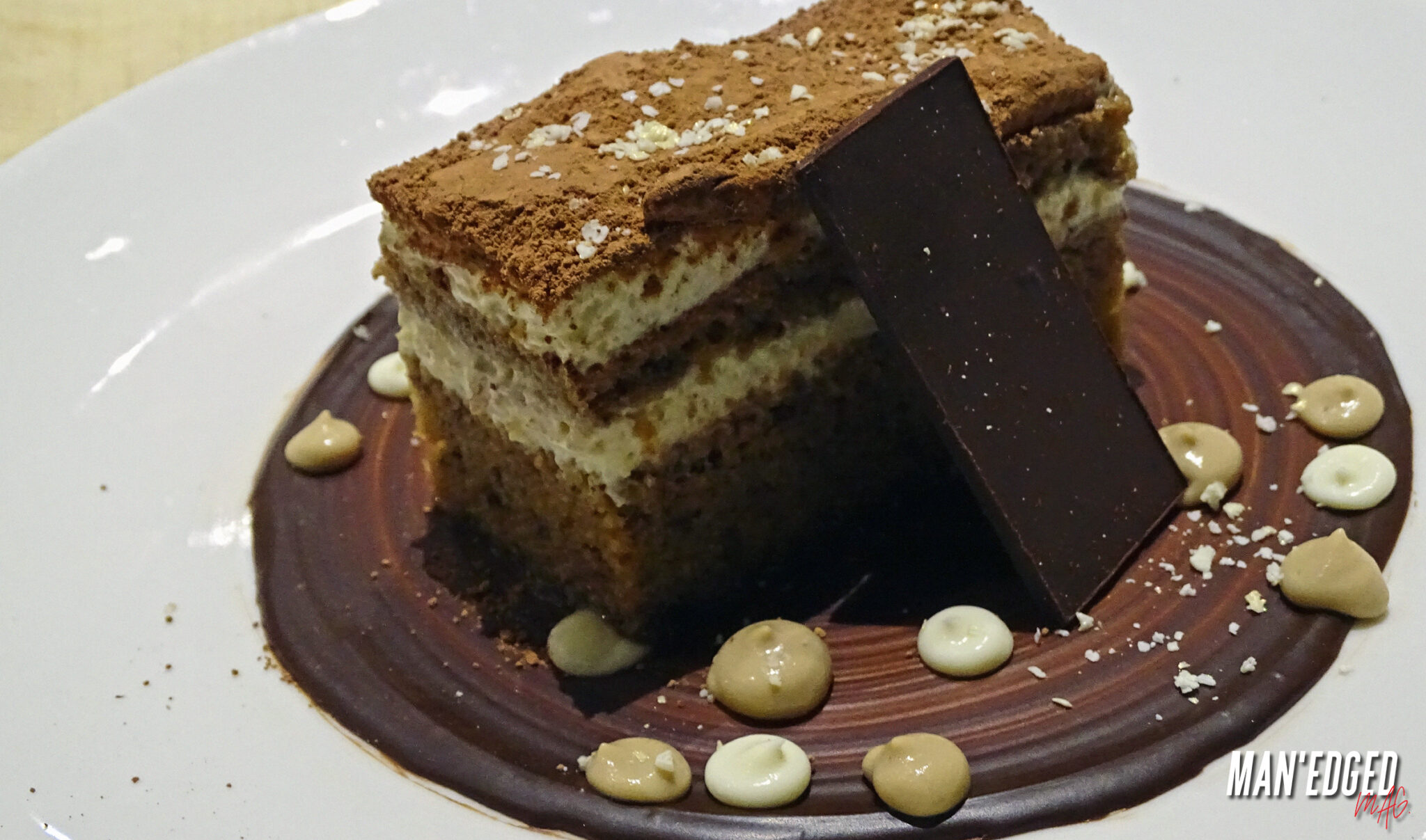 6: Snacks Options Galore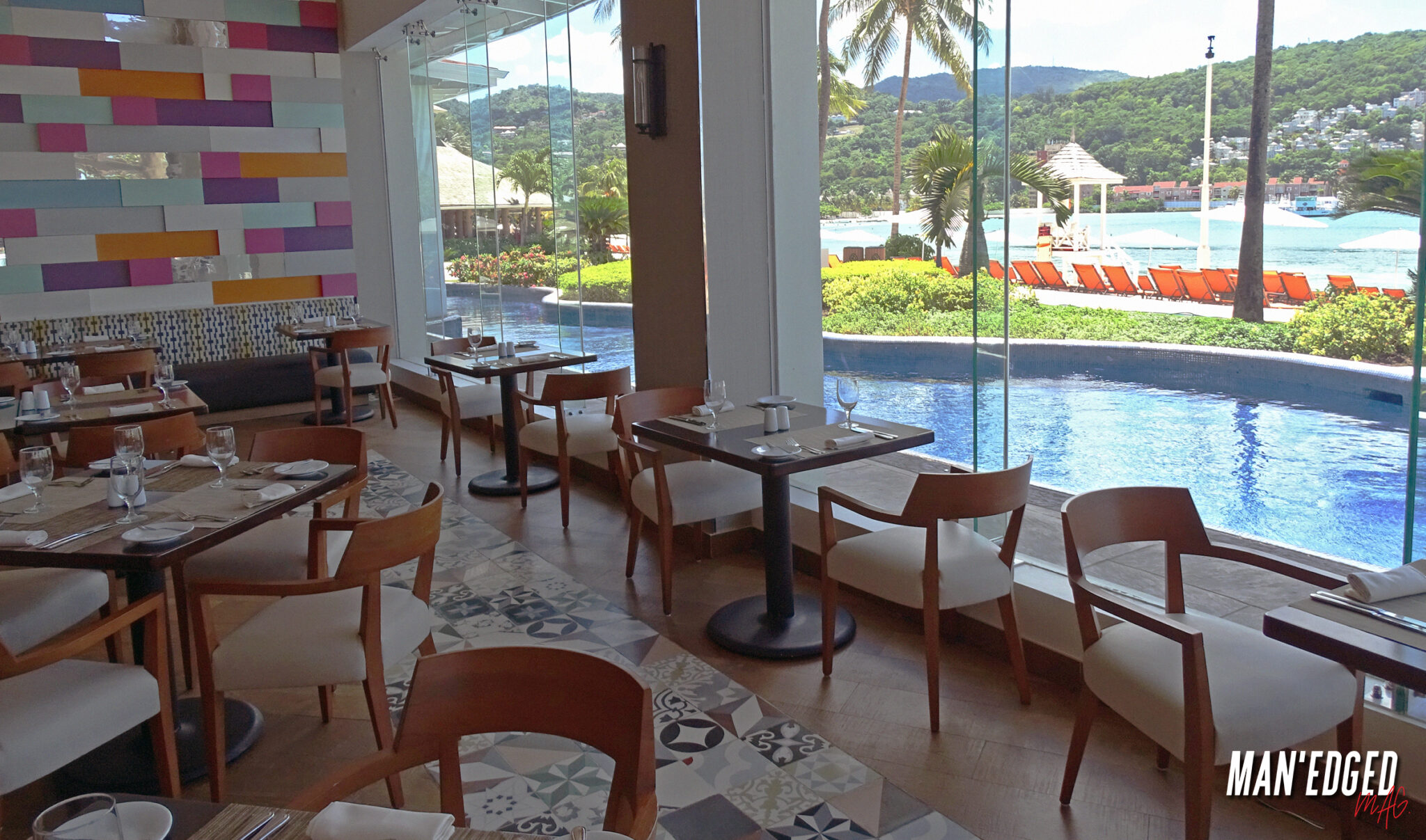 Are you more of a snacker?
Then you'll be thanking yourself for booking your vacation at this property. Not only do you have the various options from the extensive list of restaurants above, but you also have plenty of snack options at your disposal.
For example, you could grab a couple of pieces of jerk chicken being made poolside.
Need something a bit more substantial?
Perfect – be sure to stop by a little place called The Snack Bar.
7: Top-notch Waterfront Dining
If you're looking for one of the best beachfront resorts in Jamaica, chances are that you're also going to need to experience waterfront dining, right?
Although we've already touched on some of the dining options above, we've held off on one special place called The Sundeck.
Wow. No other words could even begin to describe the picture-perfect views as we enjoyed our food.
If you do choose to dine here, then be sure to book a reservation during sunset.
Just don't be surprised if no one at the table is talking. You will be so mesmerized by the views and delicious tasting food.
8: Daytime Entertainment
As we've hinted before, there are so many daytime activities to enjoy, but one of the best ones are the pool activities.
Oftentimes, when we cover various travel destinations, we're given VIP press treatment, but sometimes we want to be with the people. After all, our readers are the everyday guy, right?
So, we decided to head to the main pool area and it was a ton of fun. There was music blasting, people dancing and of course various live-games happening which allowed us to meet some great fellow vacationers.
Be sure to give the games a try. You never know who you just might meet.
9: Nightlife Memories
This 5-star resort offers so many gems when it comes to nightlife.
One bar that is really great to visit is called the Loud Bar. It offers plush leather seating, plenty of tv's to watch your favorite sports teams and multiple pool tables.
Feel like dancing into the wee hours?
Well, you must visit Club Noir.
Get ready for a great time. Club Noir offers a live Dj spinning to keep you dancing through the night.
Matched with friendly bartenders, premium drinks and cutting edge audio/lighting equipment this place stays "popping" all night long.
During our stay, we met a group of amazing travelers from Brazil and let's just say that they knew how to party. Club Noir will always hold a special place in our hearts.
10: Elevated Bathroom Grooming Amenities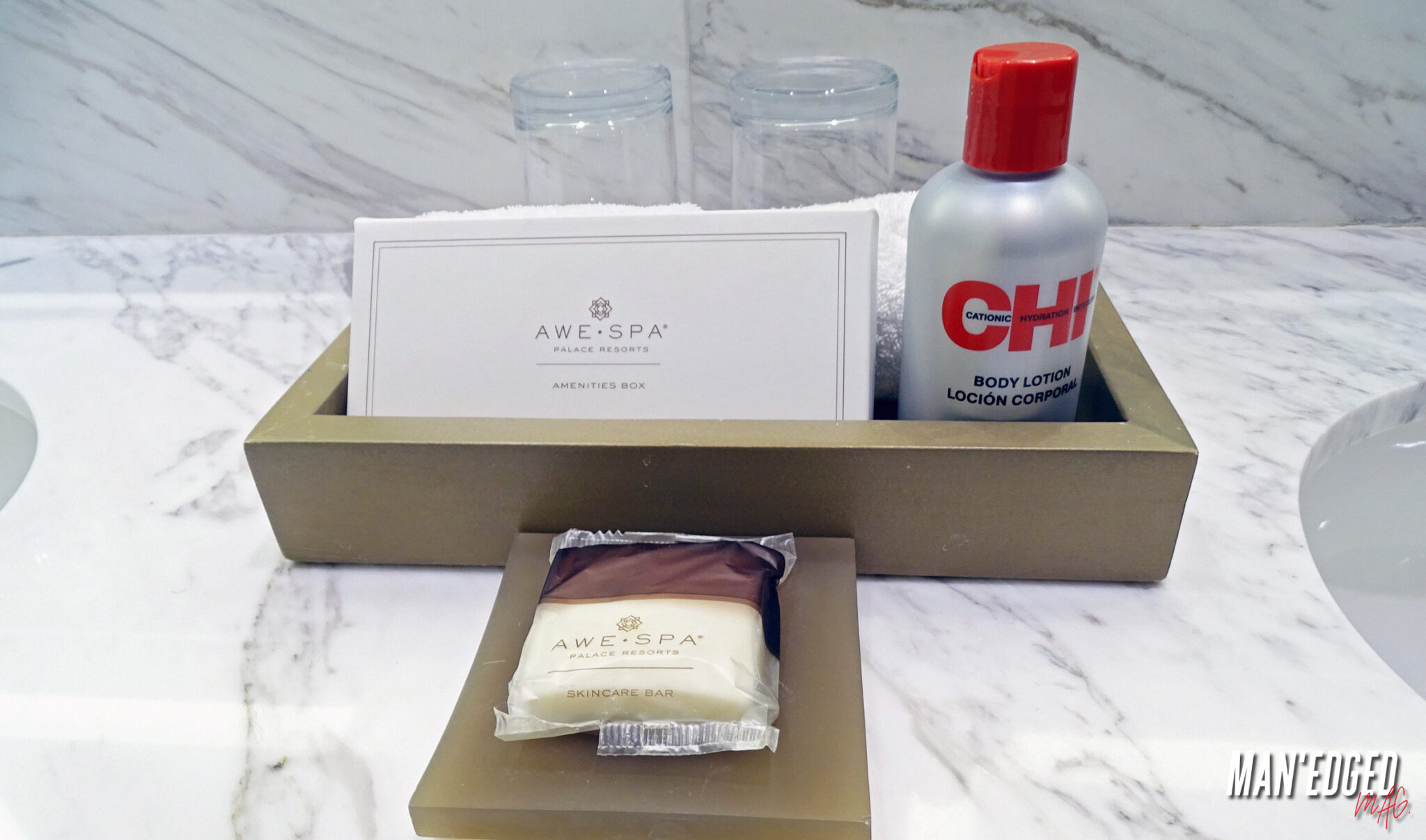 For those of you that have been following our grooming series, then you know just how important bathroom amenities are. Especially whilst on vacation.
One of the aspects of our trip that we really appreciated was the CHI bathroom products. From body lotion to shampoo and conditioner, these luxurious touches made our stay memorable.
11: Spaciousness of Room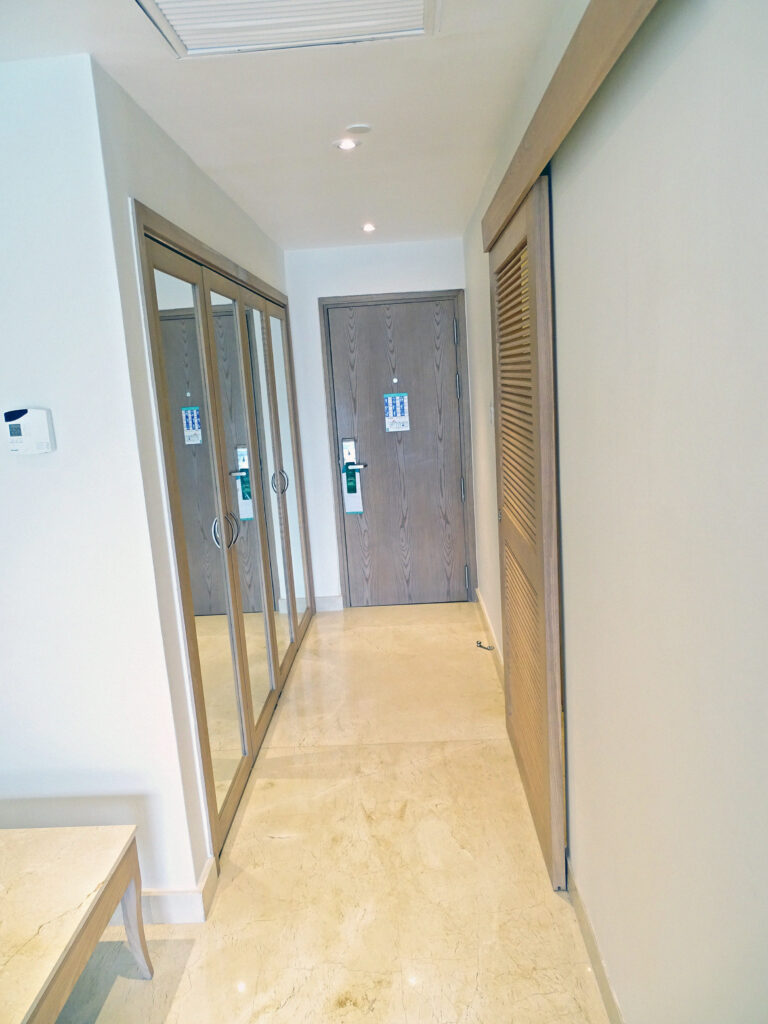 There's nothing worse than getting to your hotel room and feeling like you have no space to unwind. Especially, coming from New York City.
Lucky for us, our room has an ample amount of space to unwind in.
Officially called The Walk Out Suite, this suite was literally an oasis of comfort. It offers a private patio and spectactular ocean views.
Check out how large our entry was.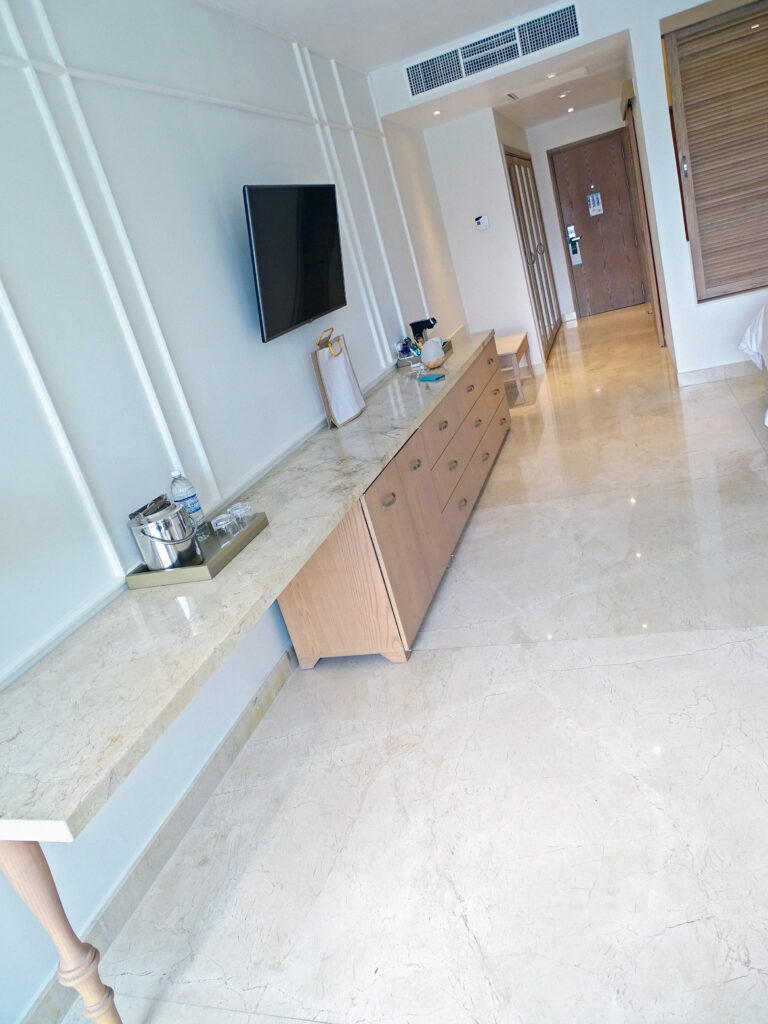 Pretty epic right?
There was plenty of space to hang our clothes, hide our luggage, layout our personal items and space to work if needed.
The bathrooms can also help make or break a vacation.
This Moon Palace Jamaica did not disappoint. We could sit here and tell you how amazing it is, but we'd rather show you. Check out our gorgeous bathroom here.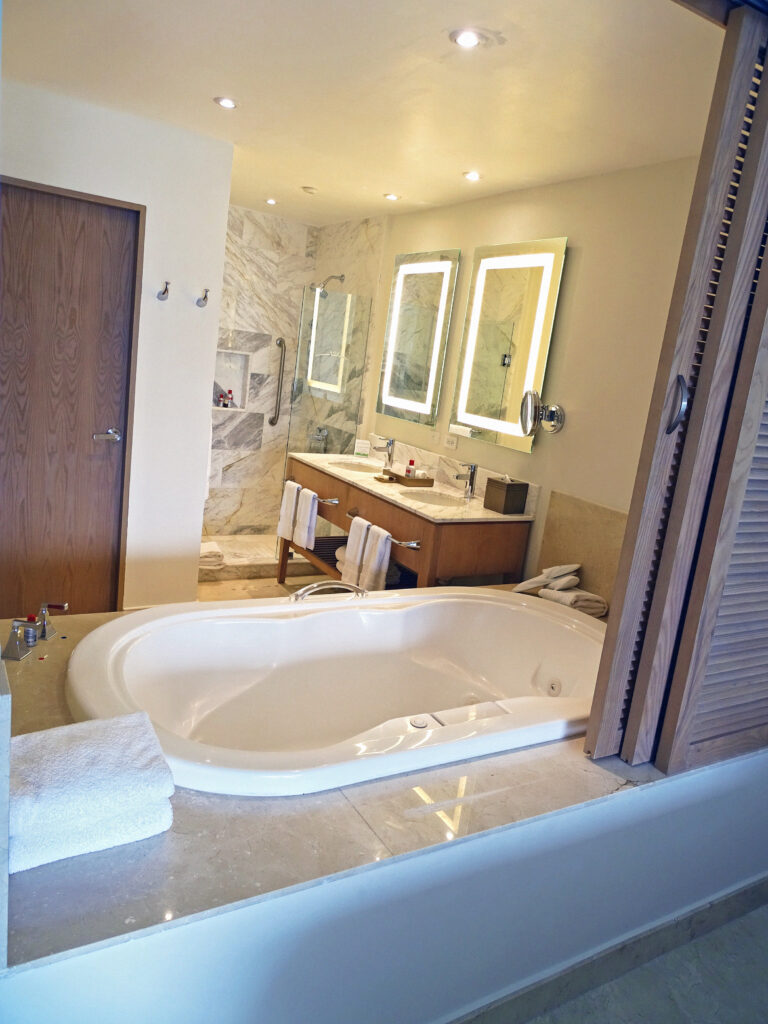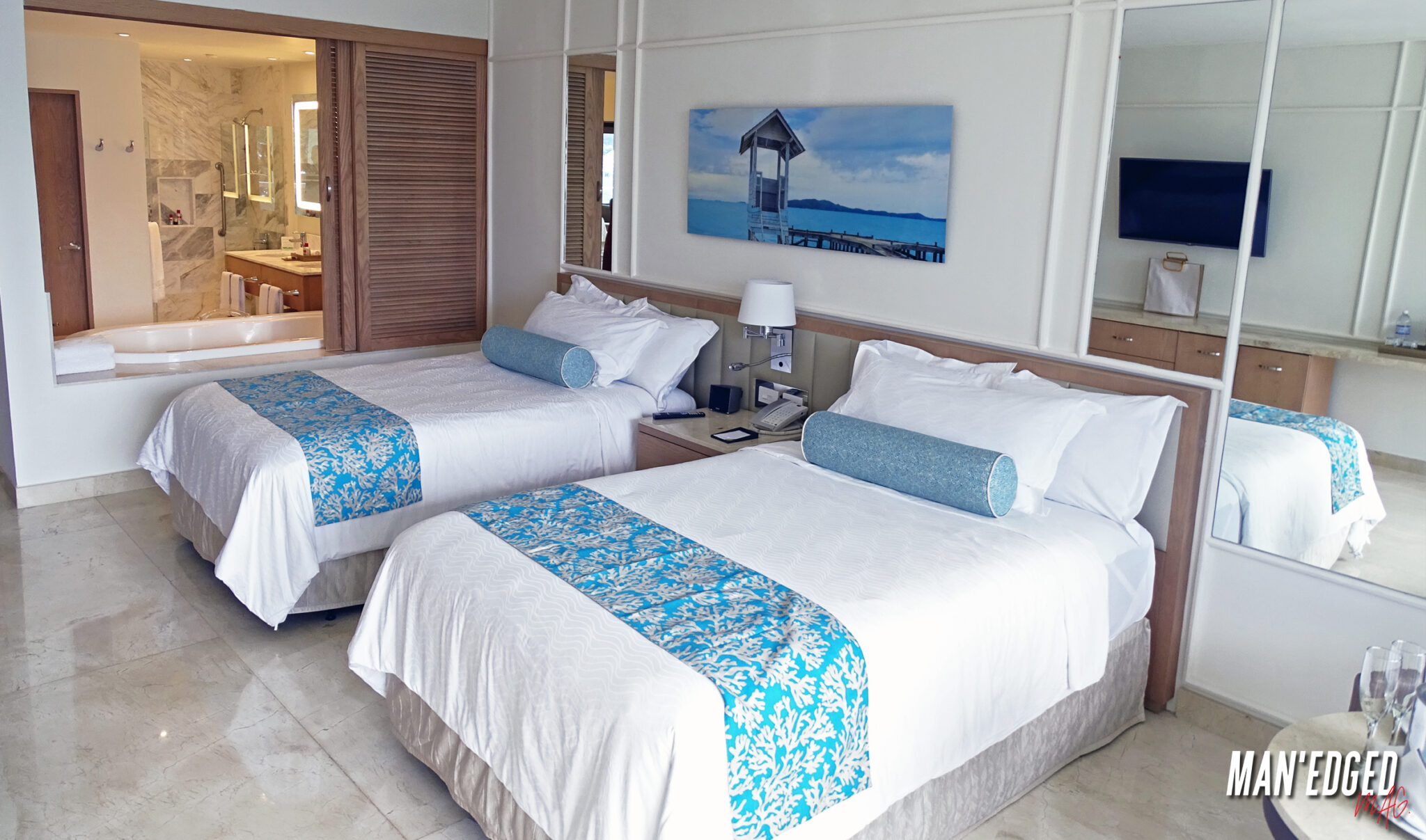 12: Ample Bar Stations
If there's one thing that every luxury beachfront property needs to be a winner is to have an ample amount of bar stations available.
There's nothing worse than getting to a destination where their promo photos show one thing and the real-life experience is completely different.
We visited this resort in September and it felt like we had the entire place to ourselves. So, although we did have to imagine the property filled to capacity, we know that you could easily grab a cocktail in no time.
Whether that be at the martini bar, the wet bar, the outside bars, the lobby bar, or at any dining establishment, getting your perfect cocktail is a breeze.
13: Room Service
The room service provided was out of this world. Not only did the team somehow manage to tidy up our room every time we stepped out, but they also provided a soothing turndown service.
Turn down service is a service where your housekeeper comes in usually towards the evening time, to tidy up the room, turn on a lavender scent diffuser, fold down your blankets and truly make your room a relaxing oasis to come home to.
This service truly made each evening pure magic.
14: Location of Property
The location of the property was situated perfectly in Ochos Rios.
Should you want to escape the 5-star luxury resort to be amongst the people, you could easily do that.
We did manage to venture out and met a vivacious market place where we grabbed some memorabilia.
Of course, if you don't feel like venturing off the property, you could also shop the resort's upscale gift shop where did manage to scoop up a precious marble turtle statue.
15: Sunbathing Options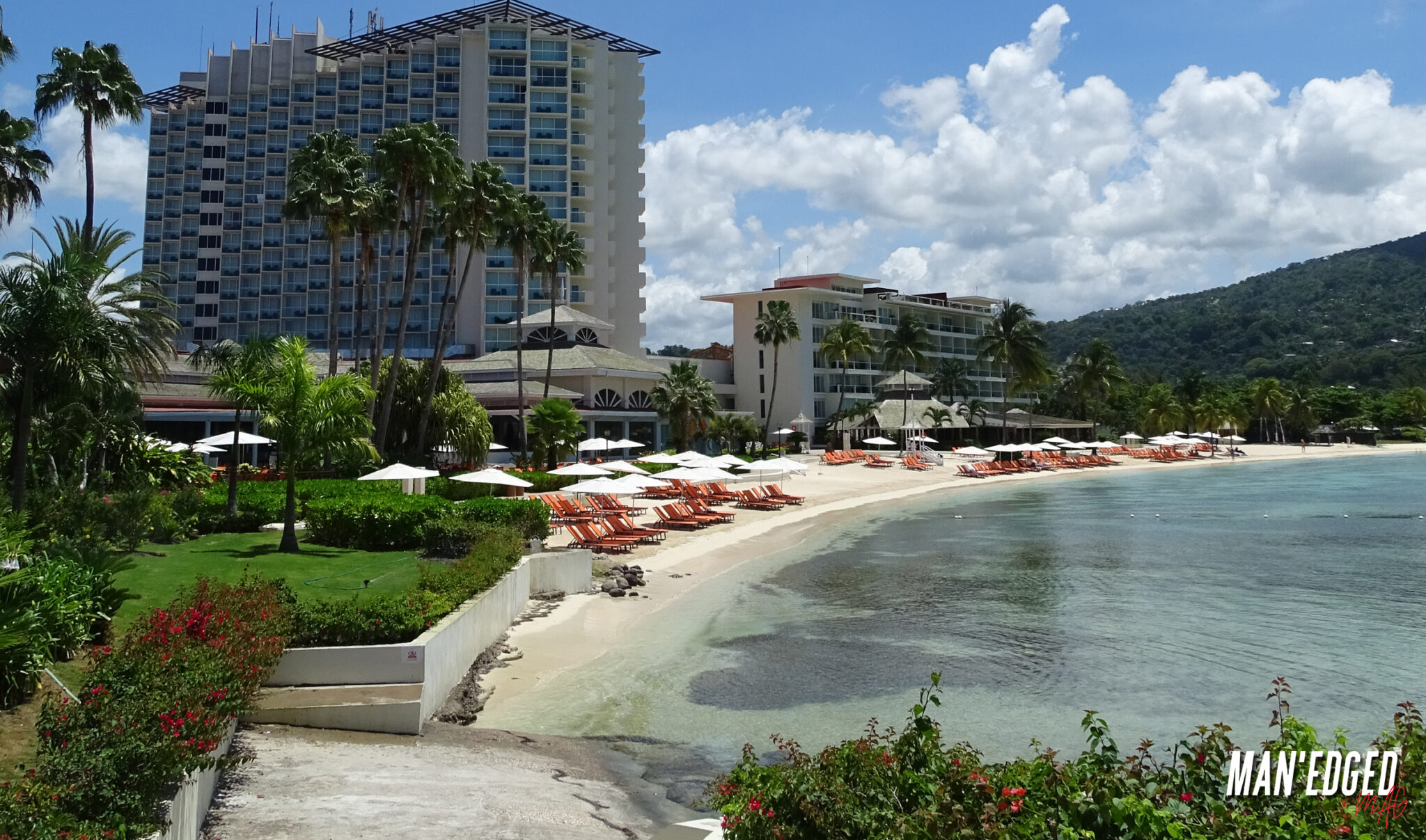 Looking to get that perfect tan?
You have plenty of options to explore when it comes to soaking up those sun rays.
As you can see in the above photo, there's an ample amount of sun chairs ready for your disposal.
If you plan it just right, the chairs photographed here are the perfect place to watch the sunset.
16: Nightime Swimming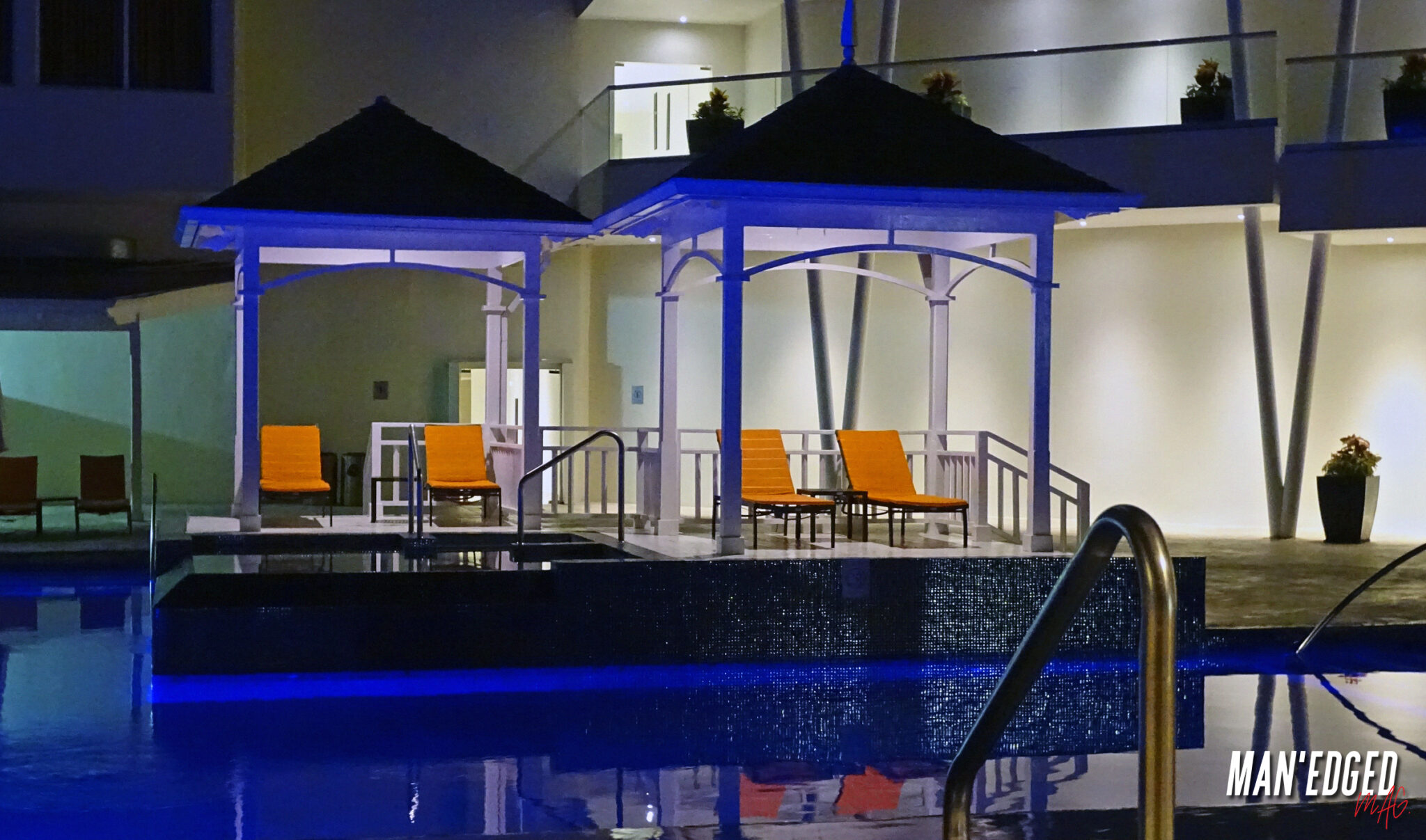 Do you prefer to take your swims at night?
Great.
The glow of the blue pools at night will illuminate as you go for your evening swim.
Now that we think about it, going for a great night swim and coming back to a newly cleaned room with dimmed lights totally helped us unwind.
17: Top-Notch Gym
If you're like us, fitness plays a huge role in our vacation experience.
The Moon Palace Jamaica offers a stunning fitness center packed with top fitness gear, cardio machines and classes.
This way you won't feel so guilty for all that food you'll be enjoying.
18: Complimentary Spa Treatment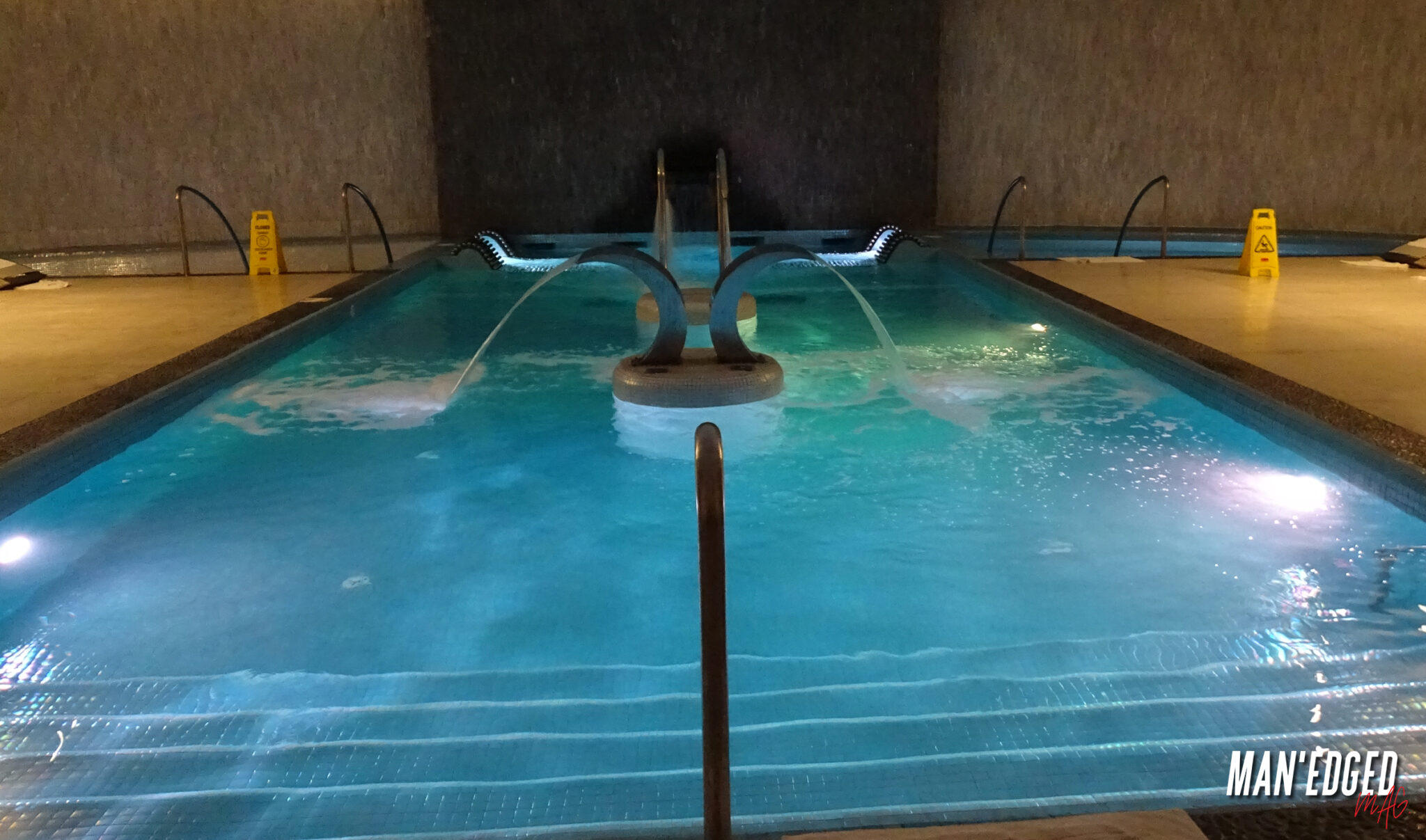 Do you enjoy pampering yourself during your vacation?
If you're willing to peele yourself out of the oversized jacuzzi tub inside of your room then you'll want to head to the Awe-Spa at Moon Palace Jamaica.
It's one of the most relaxing places on the planet.
It's one of the largest spas in the whole of Jamaica where expert hands ensure you relax, rejuvenate and reenergize.
Pro tip: Be sure to explore the spa's hydrotherapy journey where you will get to experience a luxurious steam room, sauna, ice room and relax on stone chairs where you'll definitely fall asleep with your mouth wide open.
Oh, did we mention that the fountains in the photo above are actually used as a massage mechanism that you stand under to relieve tension in your back?
Pretty damn neat.
19: The Scent Experience
Previously, we've visited another Palace Resorts property in Cancun and noticed that there was a scent the moment we walked in.
Well, this property did not disappoint. It's a unique fragrance that you can actually take home with you too.
Just another small touch that enhances your experience.
20: Dolphin Experience
Although we did not have a chance to experience swimming with dolphins first hand, we did witness a few guests have a chance of a lifetime.
Guests are able to swim with some ultra-cute dolphins, take the perfect Instagram photo and connect with nature. Just be sure to book in advance.
21: Luxurious Moments of Delight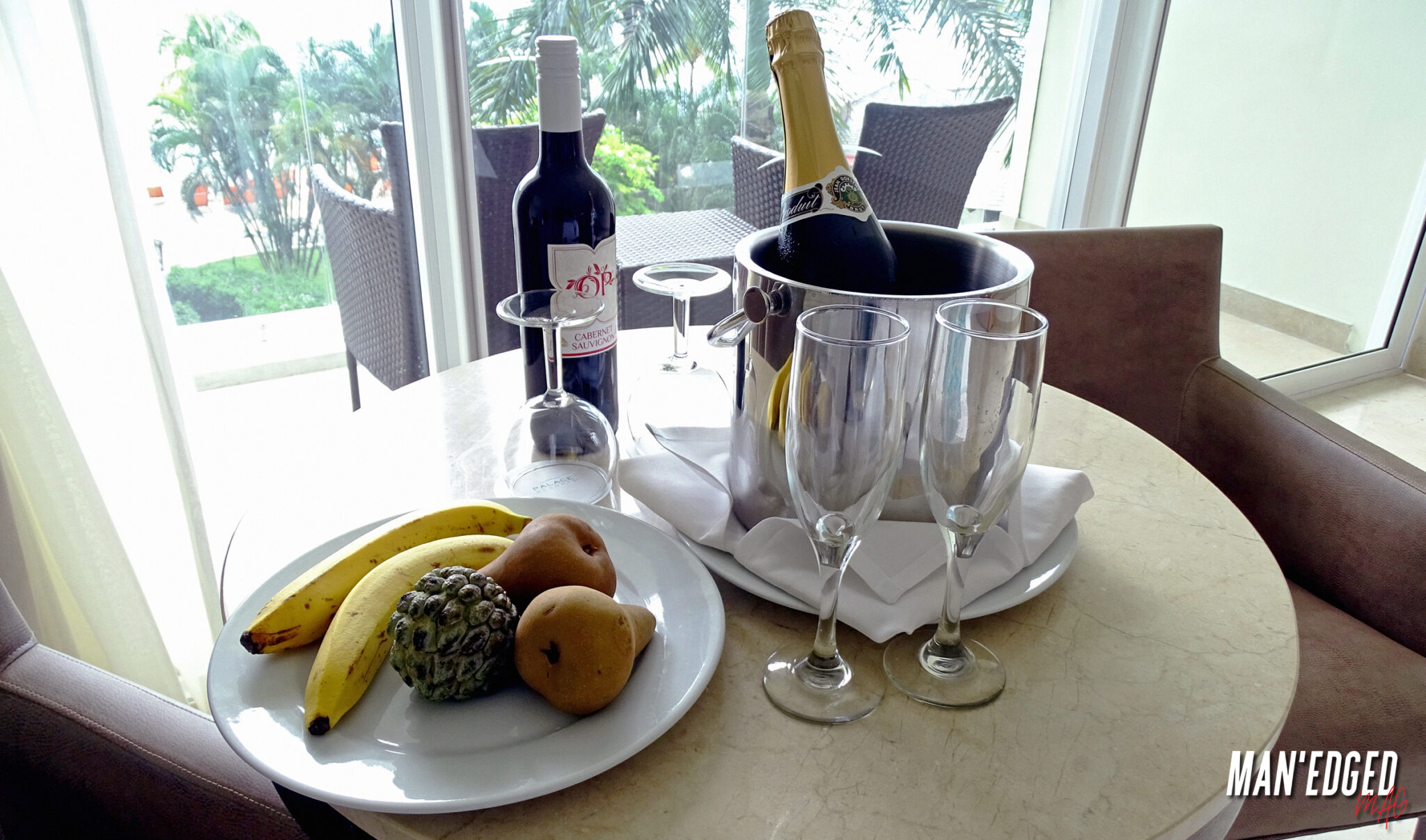 At the end of the day, every single moment during our stay was filled with small magical moments.
From the champagne welcoming to turndown service, this vacation was one that has forever changed us and we cannot wait to visit again.
Although there are way more than these simple 21 reasons why this is Best Luxury five-Star All-Inclusive Resort in Jamaica, it's truly a place that you have to visit to appreciate.
It will not disappoint.
Looking for even more vacation ideas?
In the event that you are looking for a different location, Palace Resorts offers a vast variety of property locations.
How does Cancun sound? No, we're not talking about the Cancun experience from our college days.
We're talking about another elevated five-star experience. Sound like something you might be into?
Check out our previous article featuring the Palace Resorts Moon Palace Wellness Suite.