Ryan Hurd talks having an entrepreneurial attitude in music, staying the course and how to stay camera ready
It was a cool March evening in New York City.
We trekked to the famed Gramercy Theatre where we were scheduled to sit down with a little Country Music Artist by the name of Ryan Hurd.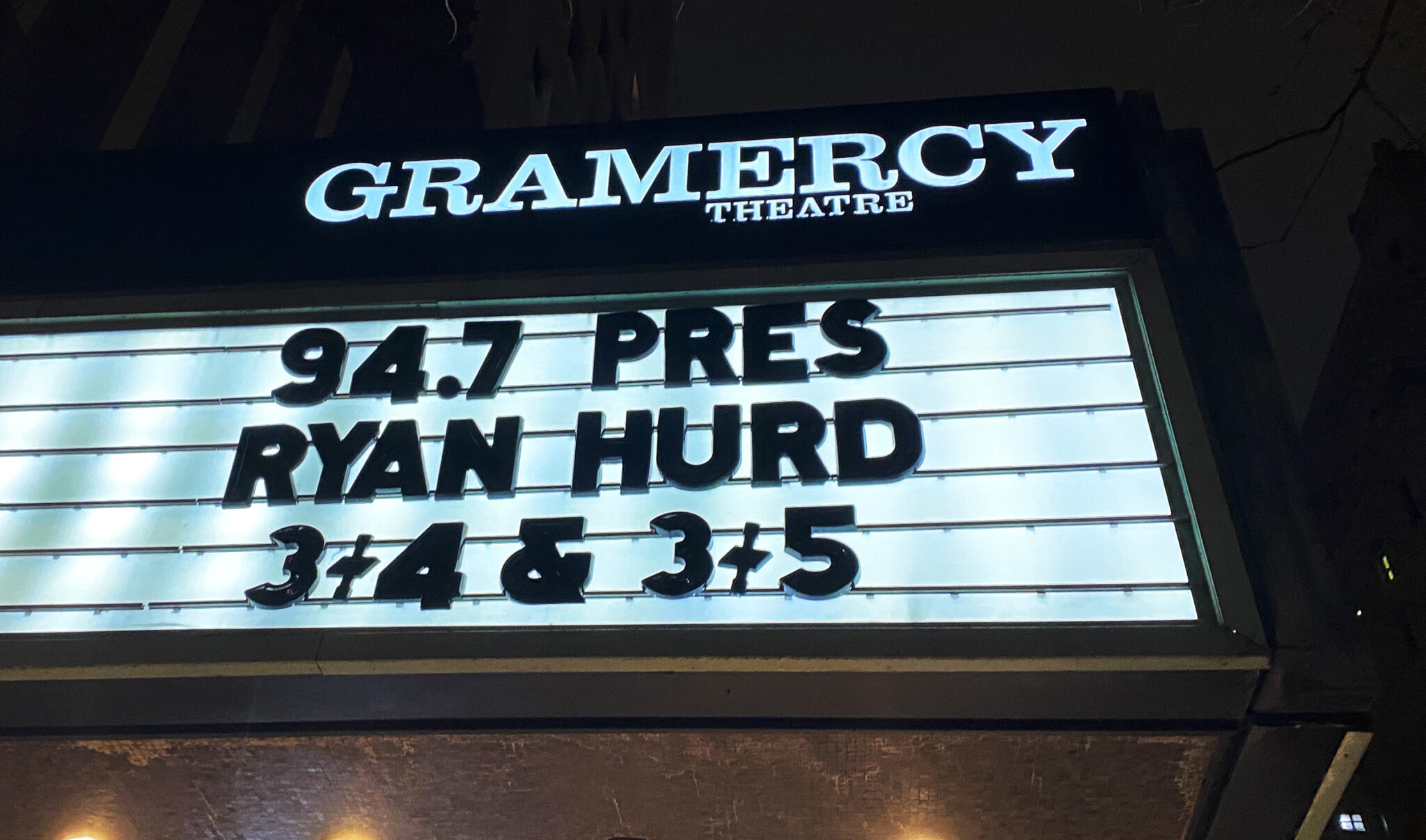 Okay, so he's not that little anymore.
In fact, he's 6 foot 3 inches and is literally selling out every venue he plays.
People Magazine has called him "a rising superstar who is already a force". Earlier in the day, Hurd took over the Today Show by performing his latest single "To a T", which was epic, to say the least.
Now, we had a moment to sit down with the talented artist himself to learn more about him and his music career.
Be sure to check out a sneak peek at his show in our video below.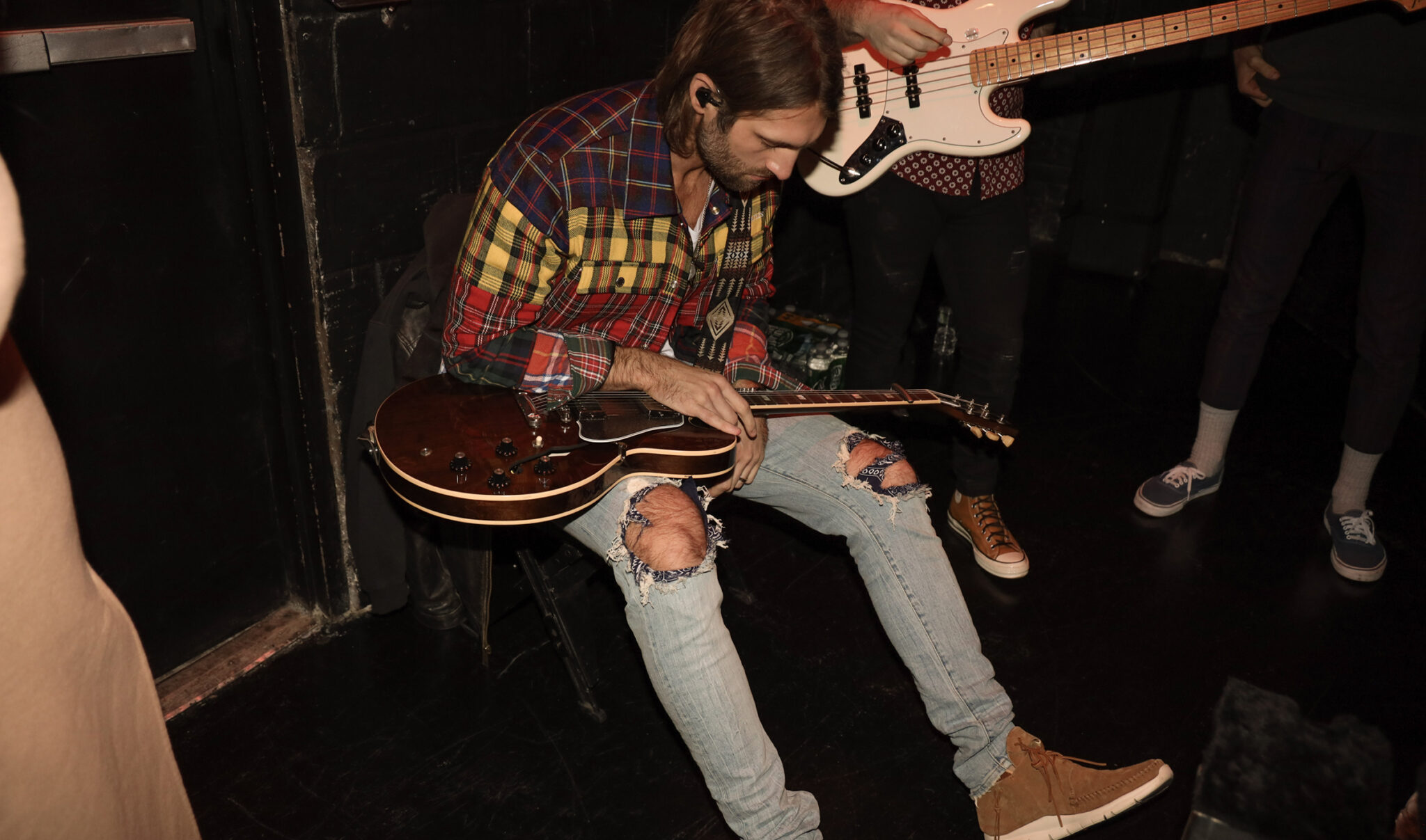 As you can see, Hurd looks fresh AF, so if you're wondering what he's wearing his stylist gave the 411.
Who is Ryan Hurd?
We've been covering Ryan for a while now.
For example, here's a snap we caught of him during New York Men's Fashion Week where Hurd hit up one of his favorite restaurants in NYC called Vandal.
We've also featured him in our Top Country Music Songs to Listen to When Sipping Whiskey here.
Some of you might know of him as the husband of Marren Morris, whom of which is expecting the couple's first child.
As some of you may have heard, just 24 hours before our meeting with Hurd, a deadly tornado ripped through the couple's hometown in Nashville destroying much of their neighborhood. Luckily, Morris who was home is safe People.com reports.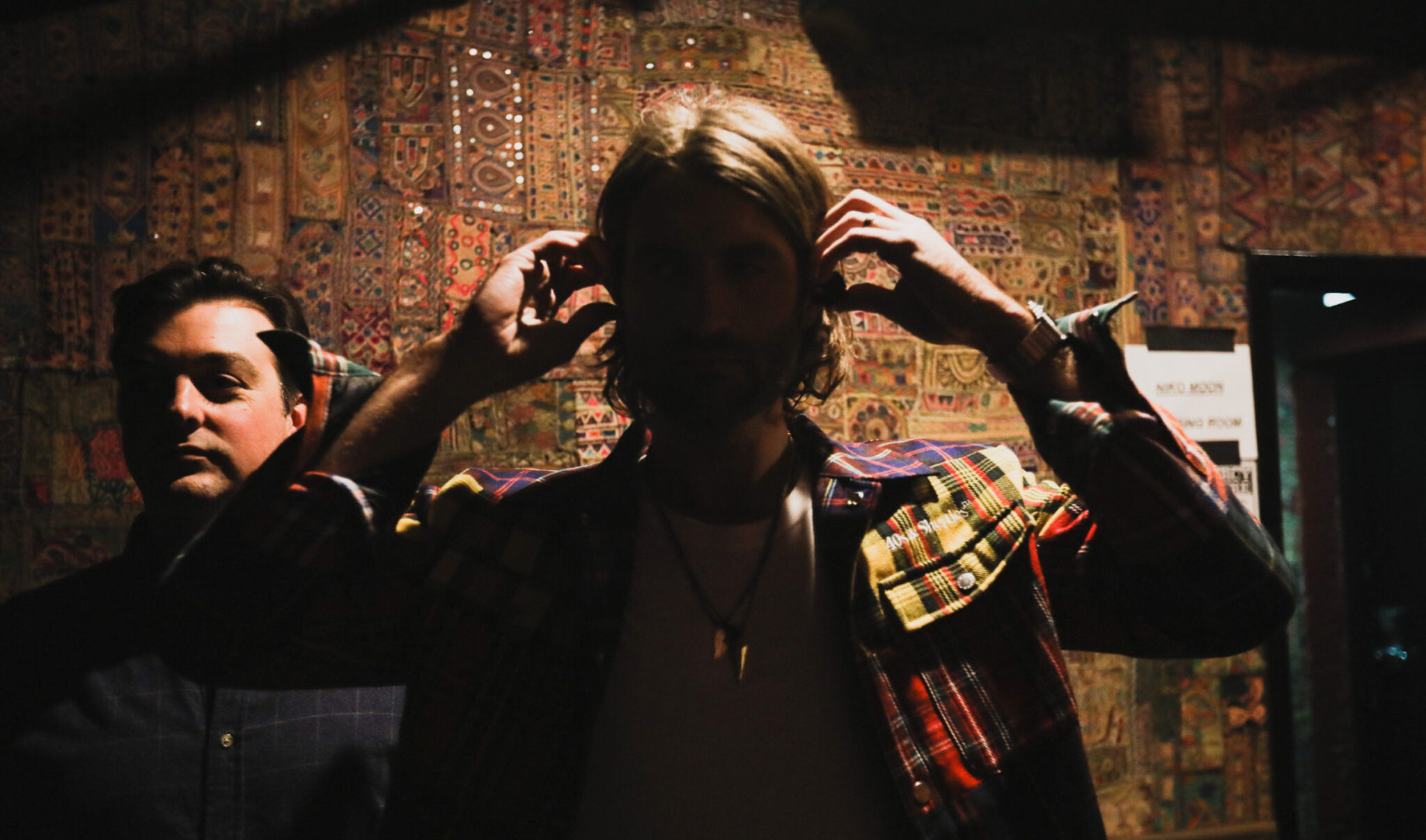 Now, for our Ryan Hurd Interview
We entered the intimate backstage holding room where Hurd wrapped up a phone call with who we assume was his wife before our interview.
As the room shifted into "interview mode" Hurd's true charisma began to illuminate as he brought up a chair to sit closer to us. This guy is the real deal. His charm is just one of the many talents Hurd graces us with.
MAN'edged: Today, People magazine calls you "a rising superstar" who is "already a force" and has written songs for big names like Blake Shelton, Luke Brian, and Lady Antebellum. When a legacy media company like People call you the rising superstar and a force in the country music scene, how does that make you feel especially being from a small town in Michigan?
Ryan smiled and took a breath.
RYAN: I don't know. It's kind of strange.
*Laughter in the room*
RYAN: "I feel like we've just done just a really good job at keeping our head down. I've enjoyed learning how to do all the parts of this business. It's not simple. Being an artist is not easy or a simple thing. There are so many components.
I've been lucky to watch Maren come up like a rocketship and she's done every single part of it so I've gotten to borrow things from her. A lot of this is trial and error and getting comfortable. I've learned how to do my own thing and build my own show and create my own experience. It has to do with everything from the way you look to the songs you pick to put your band together.
I guess having a little bit of recognition and validation is cool because it just means you're doing something right."
MAN'edged: Today you debuted your single, "To a T" on the Today show which is your first Top 20 single and is certified gold. We would imagine that to feel incredible. What were you thinking in those initial minutes leading up to that performance?
RYAN: "Well, we got there at 5 in the morning, so we had been there for almost 5 hours at that point. I've been there quite a bit with Maren so I was comfortable, I've been in that room, that building a lot. So it was sort of like, weird to be the one who's face and name were up.
It's kind of strange and felt a little backward for me since I've been there in a support role before. As it was going on, they say go and you go. It was really fun to do a different version of it. It was all stripped back. I caught myself halfway through the song and told myself, soak it up. Enjoy it.
I got to look around and see my manager's faces and my brother was there."
MAN'edged: Did we see a group photo?

Ryan: "Yes! We took a group photo. I think that like when you are a kid you see stuff like that you never imagine that that's going to be you. You're on the Today show. This is a massive moment for us, so it was a really special morning. "
MAN'edged: Our readers totally dig men's style and fashion. So, we're going to get asked, who were you wearing on the Today show. Specifically, that denim jacket with that epic collar?
Ryan: "That's Dolce. I put that jacket on and was like, yeah. I'm wearing this. The things that I find myself loving are the things that you put on and fit amazingly.
Armani has been really good to me. Every time I put on an Armani suit I don't have to tailor it. It fits me perfectly. I love pieces that fit. Fit is everything. I'm a long dude and really tall, so when I put something on like that jacket, yeah you say we're doing this. It feels right.
Figure the rest of this out."
MAN'edged: To our readers who might not have heard the song yet, can you tell us what made you write this song, what it means to you and what you hope listeners take away from this piece of work?
Ryan: "The coolest part about that tune is that it doesn't sound like anything else on the radio. Especially in that market. There are country elements to it. I think it's just a universal sentiment about wanting to know your partner in a more intimate way.
The wordplay in the chorus I think is really unique. It catches your ear. It wouldn't mean anything if it didn't have any substance to it. I think that's the coolest part of that sound. I think we're really lucky to have captured that. It's really unique and the math of it is correct. At the same time, it still hits you where it supposed to. Right in the chest.
I'm excited to perform it for you all tonight."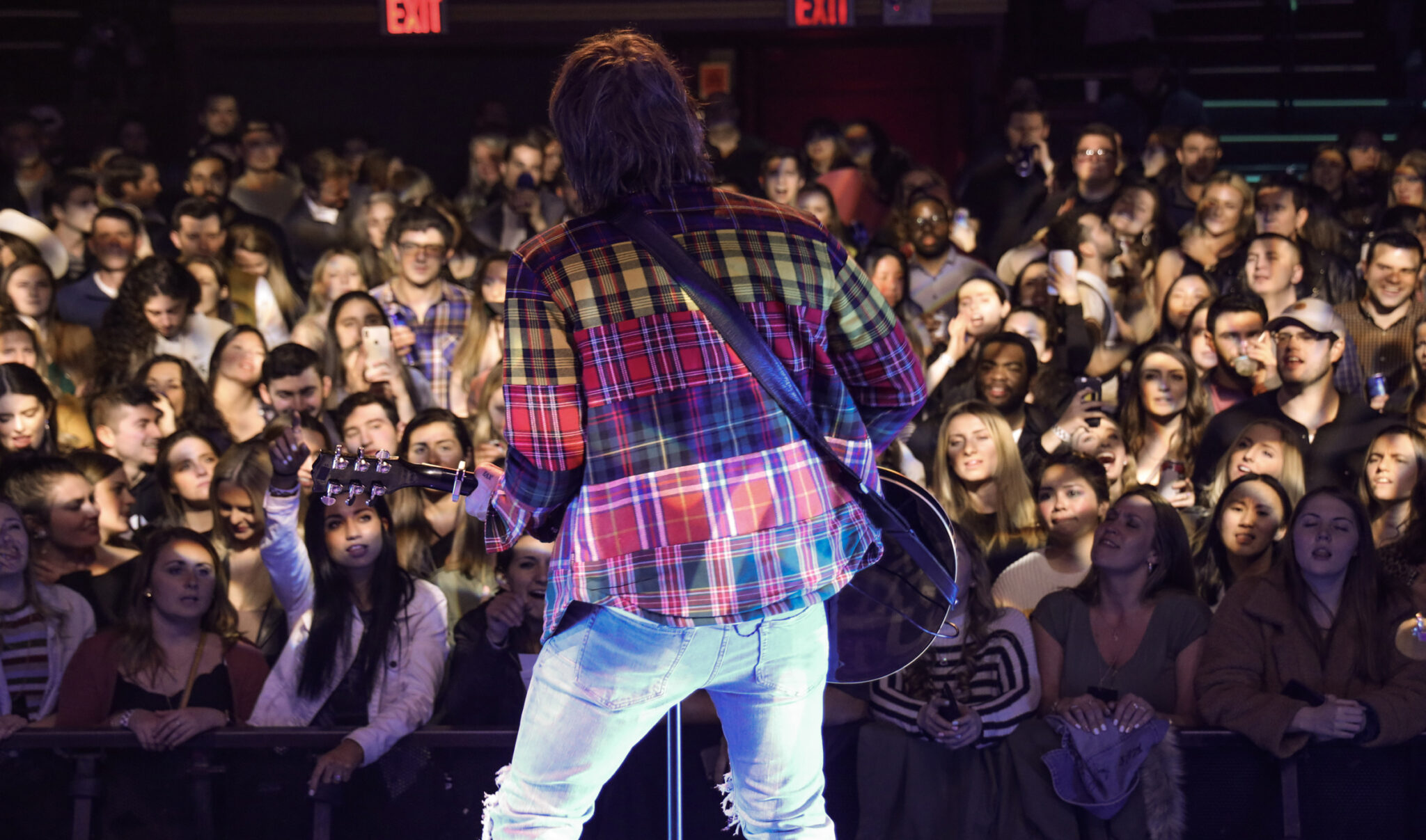 MAN'edged: So, we do get to enjoy this tonight?
Ryan: "Yes! It's cool seeing the crowd's reaction to it. I start playing it and all the phones start going up. I mean that's like most of the show too, but that song is definitely its own energy.
It's funny because it's like my second to the last song usually and you see people leave afterward. Then you realize, those people came and sat for 3 hours to hear that one song. That's kind of cool to have a song that people sit around and wait for. A lot of people consume the whole catalog and become invested in that. But like when it's like I came to hear that one thing and finally heard it but I gotta go to work tomorrow. It's kind of funny to watch that.
I'm thankful for those people just as much as the people that buy front row VIP."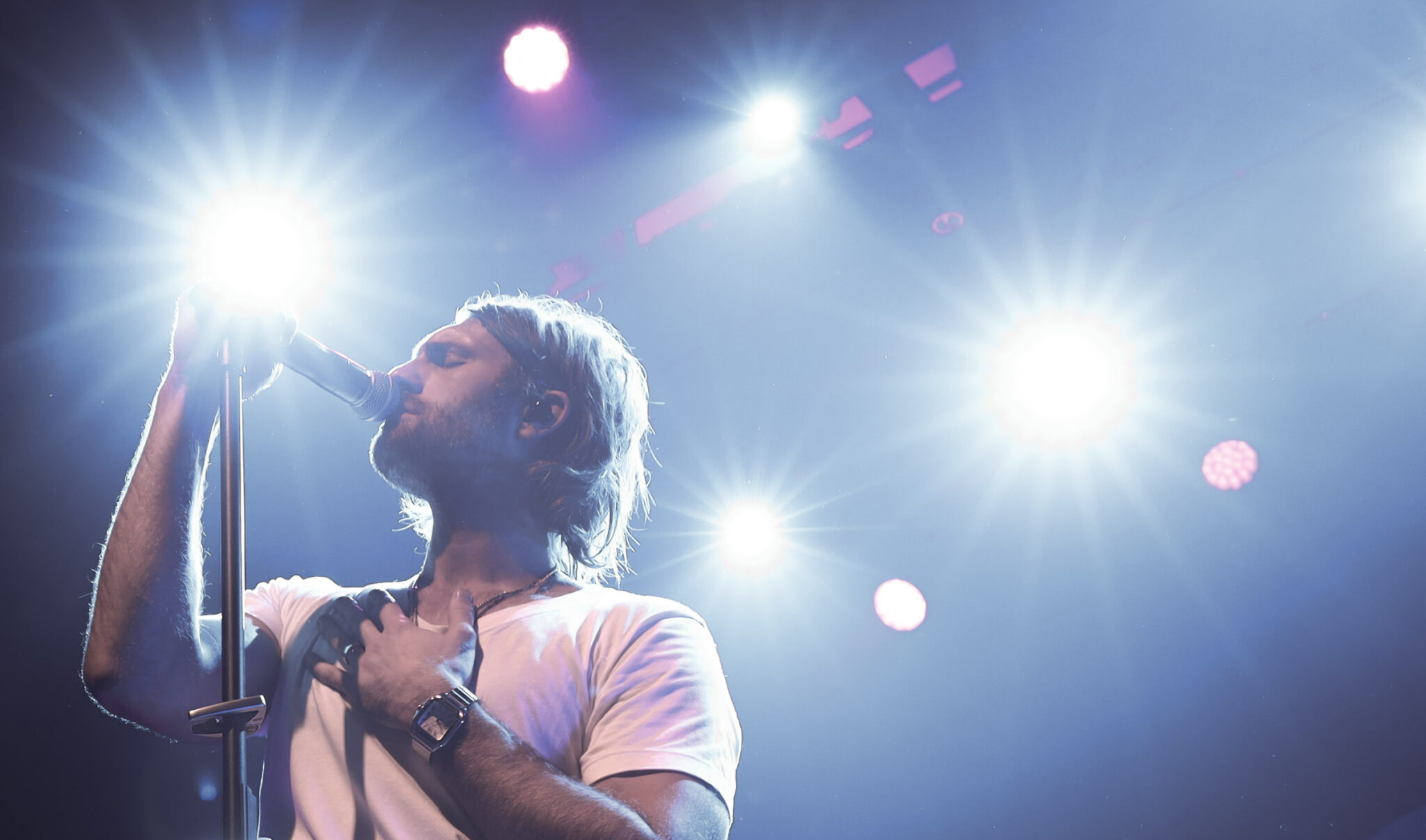 MAN'edged: People.com mentioned that you sold out the Famed Cannery Ballroom in Nashville. Now, sitting here with you, your two New York shows at Gramercy Theatre are sold out.
What does that feel like knowing that people want to hear your music, your thoughts, and your voice?
Ryan: "I haven't even been out in the room yet to see it."
MAN'edged: We took a peek. It's pretty filled.
Ryan: Heck yeah!
*We high fived*
Ryan: I always think that people are going to find something better to do so I'm still surprised when people show up. But you should be a little nervous when you have a room full of people.
At the end of the day, of course, people are paying for tickets and the money part is important, but for me, it's time. People want to spend their whole nights.
It could be up to 5 hours. Like our VIP sold out and that blew my mind. Like people want a photograph with me. They get here early. They spend 5 or 6 hours sometimes.
We're seeing a lot of people from last year come back, so we're onto something special. I'll go try something once, but to come back? That's a big deal.
How many times do you go see a movie twice? All that stuff is a little overwhelming, but it's the reason you go on tour. It's really special to have this in New York. I mean this is New York City."
MAN'edged: Many of our readers have side hustles. In today's world, to reach our goals, we all have to have some grit. Thinking back to those early days, what advice would you to readers especially our younger audience to help them stay the course.
Ryan: "I've always been good at doing the things that are in front of me…for that day. We all have dreams, but I've always been good at doing what's in front of me in order to get there. Especially in music.
If people knew what went into it [music], fewer would try. The mountain is massive. There are so many artists. Our markets are exploding. There's never been more music or competition.
It's amazing how much our genre has grown.
I tell people when they find something special, stay where the heat is. It might take a couple of years. I think everyone wants something to happen right now.
The reality is if you do good work and you put left foot, right foot for long enough you're going to have your opportunity. You'll know when the opportunity is there. So, I tell all the people that are working with us to stay where the heat is. We're going good stuff here.
Stay where the heat is. Don't let that itch get to you."
MAN'edged: We feel like your the whole rock start package. You have charisma. You have talent. So much so that other artists are coming to you to write their songs. In addition to all this, you look so damn cool doing it. Where do you get your style inspiration from?
Ryan: "Thank you. Love Nikes! I find that one thing and use it up. I wish I could be like John Mayor, but I'm tall.
I'm big on fit, so when I find something that fits I hammer on it. I'm really tall. 6 3. Hair is a big deal. I don't have a lot of tattoos. I wish I did, but I don't have time. That's like its own accessory.
I think you know finding a look is just finding what works and variations of that. I can do denim jackets and like sneakers and blazers. I actually got to do a Zegna Masculinity project called what makes a man. It was really cool to be recognized and even be in that area.
I do keep up with other people who are having their photographs taken all the time. It's fun to find brands that you really connect with. I like shoes. Shoes are my favorite."
MAN'edged: You know you brought up a point about being in front of people. Your skin looks awesome. So do you have a grooming regime that you use?
Ryan: "Yeah! I think that's part of being a grown-up. Like figuring out what facial hair fits your face. Spray tans too. It doesn't look good on camera for a dude as clear as me to be without it.
You know I've been getting into retinol lately. I got it a little too close to my eye last week. You know, Pharell exfoliates a lot, so I exfoliate."
MAN'edged: We'll share our facial regimes with your team.
In case you're reading this and want to check our grooming guides too, click here to check them out.
Ryan: Please! I'd love to be a part of that. It's really a thing. That was my favorite question of the day.
I'm going to tell muy wife that you guys asked me about my skincare routine. She'll be thrilled!
MAN'edged: Last question. Right now, you're 33 years young. You're selling out venues. You're having a huge publication say you're a rising star and a force.
If you could go back in time and give your younger self some advice whether it be about music or internal thought about yourself, what you say?
Ryan: Be patient. Somebody told me don't be an asshole on the way up and don't be an asshole on the way down.
That's pretty good advice. It ends for everybody at some point so I think I would tell myself to be patient.
Everybody has their own timeline to get where they're going. I love this work.
I soak up every day."
Here's a look at his show